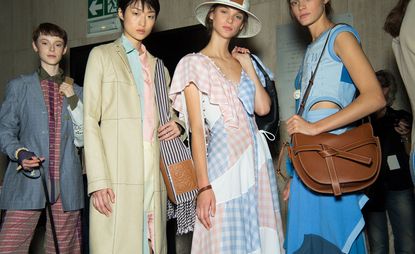 (Image credit: Jason Lloyd-Evans)
Mood board: It's difficult to say what's more astonishing in Jonathan Anderson's take of Loewe: is it the incredible craftmaship and the way it puts artisanal and technological savoir-faire together? Is it the fact that, wherever you look, there seems to be some unexpected detail? Or is it the manner in which he came, saw and conquered the Spanish heritage of the brand, making it his and reworking it in recognisable ways without ever resorting to the obvious? In yesterday's show, the latter was more apparent than ever. Anderson thought of a well-traveled woman as the starting point of her collection, the kind that feels as comfortable at the Ritz as she does at a guest house in a small fisherman's town in rural Spain. And the kind who appreciates her local, artisanal finds (maybe babouches from Morocco or mantillas from Seville) more than any other of her garments. Frankly, who wouldn't want to be that woman?
Best in show: Pastel knitwear opened the show, followed by a series of gabardine jackets, coats and trousers lined in overblown vichy squares in shades of baby blue and pink. Tops and trench coats were shredded, their fringes twisted to create movement. Towards the end, one-shouldered poplin dresses had just the right amount of flamenco influence. But what got heads turning were the accessories, specifically the pointy trainers which looked a bit like Harlequin shoes. 'They're inspired by babouches I bought in Morocco', explained Anderson backstage, before simply adding: 'they're just fun!' There was a lot to choose from in the collection, but, ultimately, two dresses really stood out. They were both made from what looked like deconstructed spanish shawls which with jacquard, silk fringes and all, were some of the dreamiest pieces we've seen all fashion week.
Team work: Upon arriving at the Unesco - Loewe's venue of choice in the last few seasons - guests discovered an array of tiny ceramic scultptures and overblown printed tapestries. They were the especially commissioned work of Mo Jupp. The London-based artist had silk-screened Steven Meisel's campaign images as well as a selection of 19th and 20th century photographs (the 'suddely last summer'-like images featuring mostly naked boys on beaches which have so often inspired the designer) into fabric that had been later woven by artisans in the French town of Limoges. Even when it comes to the set, Anderson can't help but being extraordinary.
Receive our daily digest of inspiration, escapism and design stories from around the world direct to your inbox