Prada S/S 2017
Miuccia Prada and David O. Kelly deliver a cinematic poem onto a metal show space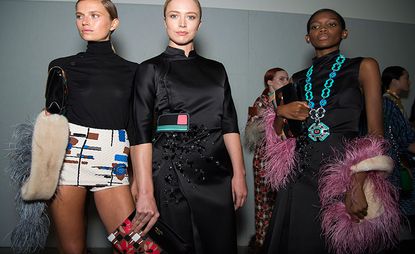 (Image credit: Jason Loyd-Evans)
Scene setting: This season, Miuccia Prada upped the ante on her usual OMA-designed fashion show space with a short film directed by Hollywood heavyweight David O. Russell. Streaming on screens that hung from the show's central metal grate ramp runway, the film was a 'cinema poem' – that is to say totally silent (save for the blasting show music), definitely dreamy and somewhat surreal – all of which was probably a good thing since most audience members didn't have the bandwidth to follow a whole logical narrative as well as watch what was unfolding on the runway below.

Best in show: This was a tame show by Mrs. Prada's own mammoth measures. But she jazzed up her boxy puff-back jackets and her signature pencil skirts with swaths of dancing ostrich feathers. It was a light, wonderful touch that looked smashing on the ankles and wrists of colorfully printed pajama trouser sets, not to mention on evening coats shimmering with glossy sequins.

Finishing touches: Whoever says shower shoes have to be ugly? Or, who says ugly shower shoes can't be pimped out? Certain not Mrs. Prada, who hoisted her plastic pastel flat water sandals onto giant flatform bases and covered others with oversized candy-colored PVC flowers in a granny-meets-hippie collision.
INFORMATION
Photography: Jason Loyd-Evans