Milan Fashion Week A/W 2022: Prada to Bottega Veneta
In this extended report, Scarlett Conlon reports live from the Milan Fashion Week A/W 2022 shows, with rolling coverage as they take place on the runway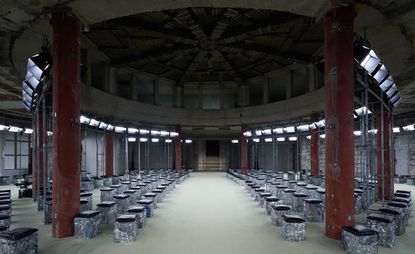 (Image credit: press)
After two years in shallow waters, Milan Fashion Week is back in business for autumn/winter 2022 with a full-capacity schedule of 67 physical shows and a bevy of big hitters and first timers keeping the fashion pack on its toes. As well as welcoming Alessandro Michele's Gucci back to the schedule after a hiatus, the hot ticket is Matthieu Blazy's debut at Bottega Veneta.
Elsewhere, stalwarts Fendi, Giorgio Armani, Prada, Versace and Dolce & Gabbana are joined by young guns at Ferrari, Blumarine, Roberto Cavalli, Trussardi and Diesel. As they say, it's all in the mix; here's everything you need to know about Milan Fashion Week A/W 2022, as it happens.
Milan Fashion Week A/W 2022: Giorgio Armani
A voice of god came over the tannoy as the Giorgio Armani show was about to commence. An address from Mr Armani via a translator informed guests: 'My decision not to use music in the show was made as a sign of respect towards the people involved in the unfolding tragedy in Ukraine'. His statement of solidarity preceded a catwalk with the clicks of cameras on the riser the only noise detectable. As the louche and languid silhouettes that he has perfected as his signature over his incredible career walked in silence, the show became symbolic of the importance of uncensored freedom of creative expression and of outspoken support. The designer has been equally vociferous and reactive amidst the pandemic, not hesitating to postpone shows over the last two years – most recently in January - when he's felt it unsafe to hold them. Milan fashion week, however, doesn't really feel like Milan fashion week without Armani and in returning this week he proved his presence is affirming in more ways than one.
Ferrari
There are few things as universally associated with a country as Ferrari is with Italy. From its glossy scarlet red and the prancing horse to its history in Formula 1, it is synonymous with sports, salubrity and speed. They're attributes that Rocco Iannone is determined to tap into in his role of creative director for its recently introduced fashion line that has a prominent position on the schedule. After debuting the line last year, this was the second show under his stewardship which is a hybrid between hype merch and high fashion. Satin boilersuits, trench coats with branded storm flaps, padded leather pants and bomber jackets embossed with the Ferrari monogram sat alongside knitwear depicting its equine logo in intarsia and waistbands bearing the brand's name. Iannone said he wanted to 'reinforce the idea that Ferrari is a system whereby aesthetic research is never separated from the ethics expressed in its history and values' with this collection'.
MSGM
MSGM creative director Massimo Giorgetti has been stargazing. Inspired by 'the recent discovery of a new celestial body whose existence had been predicted by mathematical modelling but never previously observed' we were informed, he was destined to design a collection that was heavy on galactical glitz. The show notes relayed that the collection was a step out of the Milan favourite's usual territory given its inclination towards minimalist tailoring and a darker, mooder palette, yet for all the stripped-back silhouettes it had Giorgetti's unmistakeable idiosyncratic mark. Twinkles, more twinkles and lots of stars could be detected on everything – as plexiglass on dresses, showered on dropped-waist jeans and arms of blazers and woven into intarsia knits. Joining the constellation came firework prints on silk dresses and references to the celestial artwork from Bjork's 1990s album covers on a stretchy jersey catsuit. 'In recent years, I have looked to the sky on more occasion than I ever have done before,' said Giorgetti. 'It has been therapeutic, a diversion, even just a game.' There's plenty of fun to be had in these cosmic creations.
Bottega Veneta
Matthieu Blazy's debut for Bottega Veneta was the hot ticket of Milan Fashion Week A/W 2022 as the long-term behind-the-scenes creative took the top spot. It was, he said backstage, about motion and emotion. 'Bottega Veneta is in essence pragmatic because it is a leather goods company. Because it specialises in bags, it is about movement, going somewhere; there is fundamentally an idea of craft in motion. It is style over fashion in its timelessness. That is part of its quiet power.' This idea was realised in the most resounding way with a collection that was both technically brilliant and tantalisingly chic. It started off with what appeared to be a white tank and a pair of straight-leg jeans, but it transpired the trousers had actually been engineered from ultra-supple nubuck, printed in order to appear like denim. This engineering brilliance extended to oversized shirting, again crafted from paper-thin nubuck; thigh-high leather boots in the house's signature intrecciato weave, woven as a single item; and asymmetric pinned-together mini dresses that had been printed three times, giving modern dimension and depth.
Elsewhere, embroidered sequined slips popped with tulle trim, A-line leather skirts were hemmed in leather fringe, and knitwear and double-breasted pea coats instilled a nostalgic note. Back to those bags: the 'Kalimero' bag was slung over the shoulder, while pillow bags were cinched and clutched. Deliberately presented on a cross-generational cast ('It's very important to think about who wears what and who has the money to afford it; I'm really against the idea of just youth,' Blazy relayed), the collection was something of a coming of age for the designer. 'I really think [it's] the right time. I feel secure enough, I know how to do my job, which is a job, so voila! I'm happy.'
Marni
On Saturday afternoon in an abandoned warehouse in the up-and-coming Segnanino district of Milano, Francesco Risso created a bamboo forest utopia and filled it with his Marni family. As with last season and his uproarious life-affirming performance, this was a theatrical exhibition of inclusion, body positivity and togetherness, where ironically, it's less about what you wear but who you are. Staged in the round, models drifted among the audience followed by an electric-torch bearer lighting up clothes that appeared to be precious repaired relics, as though descendants of Titania and Oberon (a sentiment compounded by the spoken-word verse soundtrack). Post-show, the audience was fully immersed in a midsummer night's dream as we came together with the stars of his show to enjoy a bountiful and sun-drenched banquet. 'What do we need except what most needs us?' Risso mused in a handwritten note to guests. As ever, this was an invitation into Risso's authentic, free-spirited world and we were only too lucky to witness it.
Dolce & Gabbana
If we didn't already know it, Dolce & Gabbana affirmed it: sexy is back in Milan. The design duo were happily direct about it, sending suspenders and stockings as the show invite and informing us that "The main characteristic of this heroines is being sexy"). The collection, however was a sophisticated take on sensual. Black dresses featured satin appliqué so to resemble a corset, bomber jackets came with built-in bustiers, and cinched-waist blazers accentuated silhouettes. Later, the collection took on an imposing edge - with exaggerated wide shoulders and structured outerwear that was pulled up and over heads - and struck a playful note, too. The design duo has collaborated with the cartoon designer Gianpiero D'Alessandro this season that saw his cartoons appear on hoodies and t-shirts.
Jil Sander
'Sharp with an overarching feeling of elegance' is how Jil Sander chose to describe its A/W 2022 collection, and it was spot on. Watching husband-and-wife design duo Lucie and Luke Meier evolve the house codes that have been established under their helm makes for a schedule highlight that didn't disappoint this season. Wool-bouclé skirt suits in ivory, forest-green and tobacco hues set the tone for a textural collection that would incorporate sleeveless coats crafted from Tuscan wool, cut-out pussy-bow dresses in mercurial silk, and quilted taffeta that featured hand-drawn zodiac signs. A knitted jumper-and-dress duo was hand-knitted from four different silk and wool yarns, and collarless, padded coats were belted with leather bow belts, while footwear, when not pointed cowboy-infused ankle boots, came in the shape of kitten-heel mules with paper-thin leather enveloping the foot. 'Every silhouette is bold and inviting at the same time,' read the show notes. They're right every time.
Palm Angels
Star-print trench coats, blaze-embellished bomber jackets, lamé PJ sets, and lamé-tweed tailoring: Palm Angels founder and designer Francesco Ragazzi piled on the glitz for A/W 2022. His message was 'one of laid-back individuality' and it showed. This was a collection that looked like someone's bonafide wardrobe rather than a collection ticking category boxes. Pieces mixing and melting together in an effortless way, the way they do in real life, with skater shorts, slouchy suiting, chunky knitwear and trench-coat silhouettes providing a constant nonchalant thread. Footwear, meanwhile, was courtesy of collaborations with Vans and MoonBoot, both of which felt so right for this mood. Ragazzi, said the show notes, 'nurtures a fantasy that is real, with a dash of magic, inviting his angels to come as they are'. It sure looked that way.
Versace
Here's what you need to know about Milan Fashion Week: the bustier is back in a big way and on Friday night Donatella Versace reminded the world that it is, in fact, her MO. Each of the 60 looks in her A/W 2022 collection came with corsetry; it was incorporated into suiting and puffer jackets, gave structure to LBDs, and featured on its own. It arrived in tweed and denim, in pinstripes and in satin, reframing itself as bonafide daywear, albeit super-charged. 'Never shy or retiring, the Versace woman has a powerful and seductive sense of mystery, shifting in and out of sight,' read the show notes. Both revealing and enveloping, this sentiment spoke throughout the collection as models – a stellar line-up featuring the Hadid sisters, Precious Lee, Emily Ratajkowski and Avanti Nagrath among others – appeared in both contrasting layers of latex and tweed, and dripping in crystals in the barely-there. Elsewhere, Versace, ever ready to make a season statement, emblazoned T-shirts with 'I love you but I choose Versace', and 'Never too much Gucci', and adorned tailoring with chain belts dripping in the Medusa head.
Gucci
MIA from the Milan schedule for the last two years as it took its shows to faraway shores, Gucci returned to fashion week to Gucci HQ with an Adidas collaboration under its Bamboo-bag-clad arm. Fusing sport with haute, those famous three stripes popped up on knitted swim and baseball caps (the latter with front and back peaks) on cycling gloves and tennis headbands. Under the watchful eye of Rihanna and A$AP Rocky on the FROW, the stripes stretched to the underarms of blazers with the Adidas crest on breast pockets, was blown up on shearling-trimmed capes, adorned the frilled waistbands of Victoriana dresses and framed the busts of hybrid zipped corsets with Gucci's double-G monogram stretching around the back. Following the brand's acclaimed North Face collab last year, expanding the Gucci vernacular with the sports juggernaut surely spells success.
Etro
Fringed macrame dresses, embroidered cutaway waistcoats, patchwork bombers: for her A/W 2022 show, entitled Etro Remix, creative director Veronica Etro embraced 'a medley of textures and a mix of motifs and patterns, energetically assembled following instinct'. Etro isn't lacking in the latter; this was a show that celebrated the house's famous bohemian-on-life's-road codes – see those floral jacquard catsuits, fleece anoraks with a magnified paisley motif, aviator jackets and lived-in denim shirts. Like many of the brand's Italian contemporaries following the pandemic, there was an emphasis on the craftsmanship behind the brand. 'Everything invites to be caressed, to celebrate the hands that made it: weaving threads, hammering metals, knotting ropes; a new take on arts and crafts,' read the show notes.
Sportmax
In setting out to redefine the concept of 'the femme fatale', Sportmax found itself in provocative territory. Citing paradoxical femme-fatale references – Hitchcock muse Kim Novak, Catherine Deneuve in The Hunger, the legacy of Jessica Rabbit, Rachael in Blade Runner, and Lilith, the 'she-devil' first wife of Adam (in Jewish mythology) among them – Sportmax's siren was Tiffany from The Matrix-meets Catherine Tramell in Basic Instinct. Which is to say this was strong and sexy with palpable undertones of sinister intrigue. Body-con bandeau dresses in glossy patent leather and all-over rhinestone were sculpted around the bodies of models and teamed with sheer tights and stilettos; strict suiting came shrobed in shearling; and dropped-shoulder leather dresses and built-in-bustier dresses (an emerging trend) were worn with animal-print boots and accessorised with vice-like arm bands. The lady was a vamp.
Missoni
If bath time is getting a little boring, look no further than Missoni: in pursuit of presenting a duality between privacy and the collective, the brand famed for its knitwear and zigzags delivered not one, but two sequin-embellished robes in the prerequisite Missoni pattern for A/W 2022 that will have you RSVPing, 'washing my hair'. This sense of duality and opposing forces permeated the collection, picking up from where the brand left off last season (the first show since long-term creative director Angela Missoni vacated the role), resulting in a streetwear, workwear, beachwear mash-up that covered a lot of bases. Bikinis were worn with extravagant coats and snakeskin boots, boilersuits arrived in patent red and white leather, and baggy cargo pants and jeans loomed large. Elsewhere, macrame dresses and deliberately lived-in knits ('to add an aura of affection') completed the line-up.
Tod's
The digital artist, Andrea Maria Colombo, was called on to create the backdrop to the Tod's show; a multi-screen installation with visuals depicting the modern-day dolce vita, aka the brand's enduring stimuli under creative director Walter Chiapponi. For A/W 2022, he sought to realise it in 'uniforms of modernity, symbols of an Italian lifestyle where cultural heritage coexists with the pleasure of discovery and the surprise of innovation', informed the show notes. Outerwear took the limelight, with quilted and panelled trench coats with contrasting arms, XL knitted bomber jackets, sculptural bikers and capes that came quilted, knitted and with all-over embellishment. It was a play on proportion and materials that evoked the spontaneous spirit so synonymous with Italy but was rooted in versatile and technical construction.
Blumarine
Nicola Brognano, the new darling of the Milan fashion scene, is the man you have to thank for the current revival of the early Noughties in all its low-slung, butterfly-embellished, glittered glory. The Blumarine creative director attracted a cult fan base following his last show in September 2021, and they were out in force to support him this season. To this show, his third for the house, he brought a level of sophistication that shows he can do the luxe tailored thing and it's a very deliberate direction to take, paying homage to the heyday of Juicy Couture. Here, catsuits were accessorised with diamanté buckles, waterfall 'going-out' tops met handkerchief skirts, and satin shirts with in-built corsetry were worn with straight-leg jeans and corsage-embellished heels. Elsewhere, highly charged thigh-high stockings and leather suspender belts were countered with the house's signature cropped cardigans, giving Cruel Intentions vibes that will have the new Blumarine cult coming back for more.
Emporio Armani
Mr Armani set out to redefine the concept of glamour at his Emporio Armani show, eschewing connotations of sparkle and seduction for 'personal charm'. Printed puffas, jacquard knits, burnout velvet dresses sat alongside soft ribbed- knit tracksuits and their slouchy velvet trouser suits counterparts fusing familiar comfort with the jolt of energy for which this younger arm of the Armani empire is famed. 'Sparkling explosions and frosting effects introduce and capture a new sense of glam,' guests were told, which translated to all-over sequin boleros and ra-ra skirts, glittering LBDs and palette-embellished shifts. Elsewhere, the show popped with abstract light-stroke prints, multicoloured patchwork coats, and blazers in bright green and bubblegum pink – all exuding Armani's very personal brand of charm.
Prada
'A commemoration of life and living – of the occasion of the everyday, affording importance to each moment.' Miuccia Prada and Raf Simons presented 'An Ideology of Prada' that looked to codes of the past and presented them through a pragmatic joint vision that saw a balance between delicacy and determination realised. The classics – white tanks, delicately embroidered sheer skirts, leather bombers and aviator jackets, and rich intarsia knits – came with fresh attitude and new proportions, with all-over sequined embroidery and space-age silver boots giving a strong hit of hype. 'Tradition passes culture between generations – a conduit from the past to now,' read the show notes, a time span that was echoed in the casting and crowd, too. Joining Kaia Gerber, Kendall Jenner and Euphoria star Hunter Schafer on the catwalk were Erin O'Connor, Liya Kebede and Arizona Muse, with Kim Kardashian – in head-to-toe A/W 22 Prada menswear – in the FROW.
Sunnei
Breaking news: running is the new walking. At Sunnei, the dynamic youthquake Milanese brand headed up by designers Loris Messina and Simone Rizzo, models sprinted down the outdoor catwalk (catrun?) after being dropped off by a line of Milan's city taxis as we guests were asked to record the event on the slo-mo setting on our phones. The idea was to make us a part of the 'performance… a moment of irony in the midst of Fashion Week craze, a little pause from the frenzy that pushes us through these times'. Both hugely entertaining and fascinating to watch, it did the trick. Checking back footage, guests were able to study the clothes in detail: the designers had honed their penchant for 1990s and 2000s nostalgia through tight jersey with diagonal zippers, 3D knitwear and fringed technical backpacks. 'Crystallise the moment,' guests were told. How clever.
Max Mara
'How can we motivate people to want to invest in our world if there is no magic there?' asked Max Mara's long-term creative director Ian Griffiths, backstage after the show. 'I think especially with what we've gone through in the past two years, and what we're still going through, people are looking for a magic ingredient.' The A/W22 collection he had just presented certainly had plenty of magic moments: see the signature Max Mara teddy bear coat reinvented as track shorts, huge skirts and even huger bumbags, and a line of exquisite tuxedo tailoring. Inspired by the modernist designer, dancer and architect Sophie Taeuber-Arp, the collection embraced the idea of 'rationalism and pragmatism but with a folkloristic fairytale magic', continued Griffiths; cue chunky intarsia knits with in-built arm plates, enveloping balaclava dresses and the famous camel coat modernised with quilted inserts that presented the idea of protection.
Roberto Cavalli
Seduction, individualism and freedom were the buzzwords for Fausto Puglisi's second outing for Roberto Cavalli on Wednesday night; stimuli that took him in a bondage-meets-1990s-grunge direction with heavy influence from Queen Elizabeth and high society. If it sounds like throwing lots of things at a wall and seeing what sticks, it turns out most of it stuck. Signatures of the house, like its cut-out dresses, were given a fresh invention with silver hardware; its animal print largely abandoned the 'gala' territory with which it is synonymous and arrived in structured suiting with pops of green and yellow velvet; and a new Cavalli tartan popped up in mohair coats and capes, toughened up by chunky biker boots. Puglisi couldn't resist a heavy line in ceramic floral appliqué and all-over encrusted diamanté – an ode to 'the Porcelain boudoir of the Royal Palace of Capodimonte', which we can just leave there – but this was a strong second outing that stuck.
No. 21
Oversized pea coats, bias-cut trench coats, gathered ruffled and laddered-knit pencil dresses, corseted shirts and sequined skirts: No21 creative director Alessandro Dell'Acqua served up a collection 'to be shared in full by women and men', said the designer in order to 'rewrite in an up-to-date key of fashion's now centuries-old techniques and vocabulary'. So, lightweight chiffon met substantial tweeds as diamanté chains swung from under wool-intarsia outerwear and weighty wool trousers and dropped-waist pleated skirts made for sumptuous winter foundations balancing the barely there. Dell'Acqua's pursuit of 'updating the language in order to obtain female and male figures that best reflect the times' presented itself as fresh as well as perennially wearable.
Fendi
You never know when a lightbulb moment might occur; for Fendi artistic director Kim Jones this season it was Delfina Delettrez – the brand's jewellery designer and daughter of long-term menswear artistic director Silvia Venturini Fendi – walking into the studio in one of her mother's printed silk shirts. 'It brings me directly to the history of my family,' Fendi enthused in the show notes. 'I saw these prints on myself, Kim saw them on Delfina… there's always a story behind each piece.' The print in question stemmed from former artistic director Karl Lagerfeld's S/S 1986 collections for the house, which Jones – an archive enthusiast – 'excavated' for inspiration. He coupled it with Lagerfeld's A/W 2000 offering, which resulted in a collection of contrasts: sheer silk-chiffon wiggle dresses sat alongside stricter corseted counterparts; shaved shearling outerwear that gave the impression of fur flirted with leather trench coats and asymmetric bolero blazers; and peplum trousers and skirts introduced a utilitarianism to this otherwise delicate display.
Stay tuned for more Wallpaper* coverage from Milan Fashion Week A/W 2022, as and when it happens.