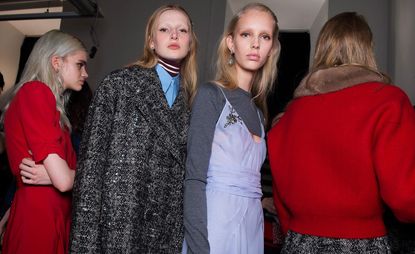 (Image credit: Photography: Jason Lloyd-Evans)
Mood board: Alessandro Dell'Acqua has flown off into the creative realm of complex cutting and layering in recent collections, but for A/W 2017 he fiercely reined in these trendy indulgences, returning to the soft, feminine silhouettes that made No 21 a cool girl mainstay in the first place. The show was more grown-up, and decisively less rooted in the street than seasons past but that shift had no bearing on its desirability.

Best in show: Dell'Acqua can cut pencil skirts and a rhinestone bedazzled cocktail dress like nobody's business. But his real talent lies in taking all of the ladylike codes and mixing them breathlessly with something less sciura. Case in point: a camel knit sweater with a black mink fur pointed collar came in the shape and consistency of your little brother's baseball sweatshirt. Even better were the oversized knitted crew neck sweaters featuring scenes of the slacker beach life in Los Angeles which Dell'Acqua mischievously paired with 1950s tweed circle skirts.

Finishing touches: Footwear is this designer's speciality — surprisingly, he hoisted his models up and off their preferred flat (but wacky) footwear and instead wrapped them into pastel-hued stiletto sandals adorned with large crystals, wrapped up with satin ballerina ribbons around the ankle and worn with coloured socks. Butterfly buckle elastic belts and shiny rhinestone brooch pins completed the twisted vintage look.