John Alexander Skelton A/W 2018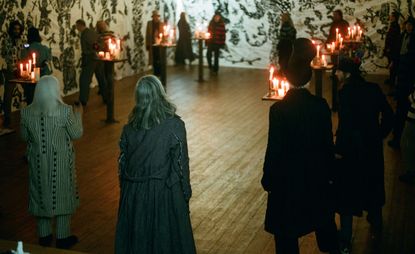 (Image credit: TBC)
Scene setting: On the inaugural evening of London Fashion Week Men's, guests travelled to the church of St Mark in Dalston, to preview Collection IV by John Alexander Skelton – the Central Saint Martins MA Graduate we tapped in W* 214's Graduate Directory. Skelton's inspirations are often charged with historical images and cultural commentary – from the lives of Bolton mill workers in 1936, to the socio political conflicts that erupted from colonial India – and are often worlds away from the champagne-swigging and small talk associated with fashion week. For the designer's off-schedule A/W 2018 offering, guests were welcomed inside the East London church, a space populated with tables dripping candle wax and an interior lined with white sheets. These were decorated with enigmatic black paint strokes, part floral patterns, part Rorschach test markings. While sipping on warm mulled cider from paper cups, guests looked closer at the fabrics and found that the folds were animated by men's heads poking from slits, their faces covered with unnerving white papier-mâché masks, redolent of archaic pagan rituals.
Mood board: Oral tradition plays a role in Skelton's presentations. Last May, when the designer presented his third collection off-schedule, models read all 91 verses of Percy Bysshe Shelley's 'The Masque of Anarchy' aloud. For Collection IV, each of Skelton's long haired and bearded street cast models (many of who appeared in his last show and included set designer Simon Costin), appeared from behind the sheets lining St Mark, reciting the words 'In comes I as have never been seen before', announcing their first names out loud as they emerged. Skelton was inspired by the concept of wassailing – an ancient custom particularly prominent in the West Country of England, where revellers sing to promote a good harvest. In true Skelton style, there was a beautiful bedragglement to the looks he debuted – part Fagin, part Quentin Crisp, part pirate. There were chunky striped jumpers, top hats, exquisitely constructed tweed blazers with frayed hems, waistcoats, striped high waisted trousers, neck scarves and shirts with the same patterns as the sheets lining the walls of the location.
Best in show: Unlike the speed with which most designers send their collections down the catwalks, there is a joyous pace to Skelton's presentations. The show climaxed with models dancing in pairs, to the sounds of a wassailing female singer. As they held hands and twisted together, viewers had the chance to inspect the clothes with an ever closer eye. The conclusion? A selection of infinitely wearable and wonderfully crafted pieces, crafted from vintage and sustainable fabrics. Whether or not you favour the trimmings of a top hat, an expertly tailored coat, a striped trouser or a chunky knitted sweater will make sublime additions to the wardrobe of any fashion-savvy customer.