Well versed: John Alexander Skelton's Shelley-inspired collection is poetry in motion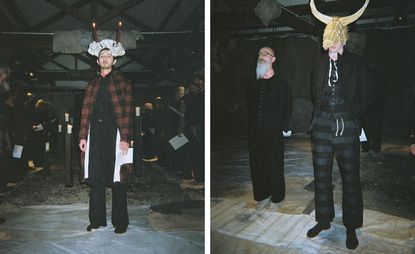 (Image credit: Ryan Skelton)
John Alexander Skelton is a young designer who does things differently, staging his latest menswear show on a windswept Friday evening in March two months after London Fashion Week Men's. The York-born designer, whose Central Saint Martins MA graduate collection was featured in W* 214's Graduate Directory, took over the top floor of the Sarabande Foundation in Haggerston to present his third collection. A designer who places strong focus on materials, Skelton swathed the floors, walls and ceiling beams in stained, dyed and creased fabric. In the centre of the room church candles flickered on wooden pillars driven into a pile of earth.
Models read aloud from Percy Bysshe Shelley's 'The Masque of Anarchy', reciting all 91 verses. Each was dressed in roughly hewn garments that were snagged, sewn and patched as though they had been worn, and loved, forever. Checks and stripes were mixed and matched, and a limited colour palette focused on earthy brown, rust, cream and mushroom.
Every look was completed with a faded red neckerchief and thick socks (but no shoes). Skelton has collaborated with Stephen Jones since his graduate collection, creating both peaked hats inspired by mill workers in Bolton in 1936 and newspaper Gandhi caps. Jones created dramatic headdresses, incorporating animal motifs, skulls and wicker, which added to the moving spectacle of the show.

Skelton was inspired by the Peterloo Massacre of 1918, which saw armed cavalry charge into a peaceful pro-democracy protest in Manchester, killing many and injuring hundreds, and in turn inspiring Shelley's controversial poem. 'I wanted to bring light to... the blood that was spilt at Peterloo,' says Skelton, whose own awareness of the event came about at a time when the shock of Brexit was still fresh.

Frustrated that the event is little mentioned despite its significance to modern-day democracy, he also sees parallels with the elitism of that time. 'After Peterloo, mass meetings were banned, so people showed their allegiances in discreet ways. The way they would show unity was with one singular thing that was incredibly powerful en masse. One of the most discreet was a ribbon between the first and second buttonhole of their fustian jacket.'

In Skelton's hands this became the neckertie. And as national holidays were a rare chance for workers to show their allegiance, the folkloric traditions of these events inspired the headdresses.

There was a sense of authentic imperfection to the waistcoats, collarless shirts, thick twills and too-short trousers. This was reinforced by Skelton's use of street-cast older men who looked like they had lived lives in these clothes rather than simply donned them backstage. Operating in contrast to the fashion system isn't easy, but Skelton presents an alternative view that resonates with these fractured times.
INFORMATION
For more information, visit the Sarabande Foundation's website (opens in new tab)