Fashion
Fledgling fashion designers tailor-making the future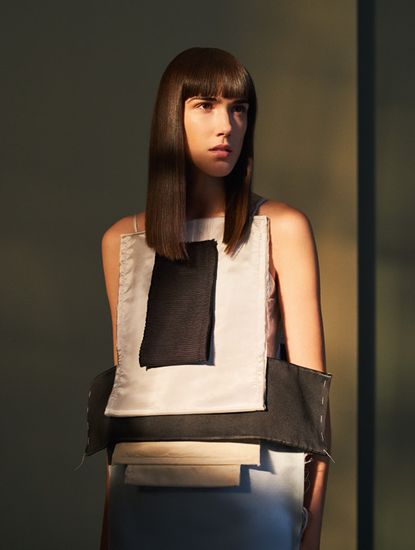 (Image credit: Phil Dunlop)
Taking a very metaperspective on fashion, Mallison zoomed in on clothing labels as the very fabric of her womenswear collection. She compiled them to develop her silhouettes, then constructed garments of outsized versions, enhancing the conceptual feel of her material with enlarged stitching and artful, heavy fraying. Mallison was also chosen to represent Pratt Institute at London's Graduate Fashion Week 2016. kristinmallison.com
With forward-thinking silhouettes, archetypes and materials, these designers are redefining back-to-school fashion and graduating top of the class.
Fashion: Lune Kuipers. Writer: Siska Lyssens
The ambiguous silhouettes and pieces in Evans' menswear hint at historical costume. Subtle accents on the waist, padded shoulders, drapery, ruffles and shimmering knitwear add to the darkly romantic repertoire of the designer, who was mentored by Meadham Kirchhoff. Evans was joint winner of this year's L'Oréal Professionnel Creative Award, a prestigious accolade for CSM students. cargocollective.com/harryevansknit
Presenting her Pack Mentality of I collection as a spoken word performance, McGrady's work revolves around finding new design directions, while retaining a strong tailoring connection. Her all-black collection featured coiled leather trims and structured and deconstructed details. Now at Jil Sander, she appreciates 'the invaluable knowledge' she's privy to, which is 'refining my view of design all the time.' jessicamcgrady.co.uk
The similarities between an August Sander photograph from the early 20th century of three men in fine suits and an image of three punks on a 1980s London street are what drove Zündorf to design a menswear collection that explored the expressiveness of tailored clothing. His garments are archetypes of the male wardrobe, but given personality with spontaneous handwork and re-dye processes. timozundorf.com
Dutch designer Woutera terms her work 'material design' rather than fashion, and her Looming collection is the result of research into the phenomena of a circle and the way circles function – as three-dimensional entities, in connection to the human body, and as sculpture. Her interest in theatre makes her acutely aware of the hypnotising quality of performance, a medium that factors heavily in her work. iriswoutera.com
'I was bored of going to fabric shops,' says Choi about his use of car airbags as the main material for his collection (near left). Getting 'nice' fabrics was not his concern; instead 
he 'tried to visualise the beauty of the mass production process.' He scoured eBay to find the fabrics and replicated the stitching of the Supplemental Restraint System. Many buyers were enraptured, but London-based boutique Machine A got the scoop. choikanghyuk.com
A broken Japanese porcelain tea bowl that had been stapled together was the inspiration for Akasaka's graduate collection, a fashion equivalent to the wabi-sabi aesthetic of his homeland. It resulted in warped tailoring, platform boots and outlandish knitted masks, as well as interpretations of the sakiori technique of hand-sewing together shredded fabrics – in this case, denim. kozaburo.com
Turning the concept of borrowing from the boys on its head, Rauhamäki took feminine staples from the delicates drawer as the basis for her menswear collection. She fashioned suits from lace, nude-coloured tights and stay-ups, and heat-pressed bin bags on lace, tulle, faux leather and vintage flowery wool fabrics, creating textures that seemed at once fragile and expendable. satu-elina.rauhamaki@aalto.fi
Dividing three disciplines between them (womenswear, textiles and jewellery), this trio's collection is based on moving objects frozen in time. Called Animism, it 'reflects the Zen philosophy that non-human entities possess a spiritual essence', says Yui. 'My silhouettes and Yui's headpieces worked well texturally,' adds Gayane. gayaarzumanova.com
Skelton's obsessive interest in class, culture and fashion as a social signifier informs the York-born menswear designer's multi-layered aesthetic. His collection 
of hand-woven, handspun garments made of eco-friendly yarn is now stocked exclusively at East London boutique Hostem, and he was a joint winner of the L'Oréal Professionnel Creative Award. jskelton44@gmail.com
Jack Moss is the Fashion Features Editor at Wallpaper*. Having previously held roles at 10, 10 Men and AnOther magazines, he joined the team in 2022. His work has a particular focus on the moments where fashion and style intersect with other creative disciplines – among them art and design – as well as championing a new generation of international talent and profiling the industry's leading figures and brands.