Fashion
Our in-house experts scour the globe to present our pick of the most exciting fledgling fashion designers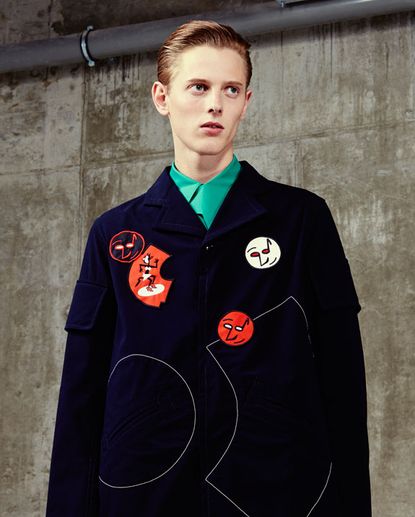 (Image credit: Nicole Maria Winkler)
Daniele Toneatti's Yellow Magic Orchestra collection is a smart mix of skewed proportions in colourful, minimal menswear. The influence of an internship at Raf Simons is evident, but the designer's sense of humour shines through with graphic motifs appropriated from German techno iconography.
The ten tenacious fashion talents profiled here are already well on their way with graduate collections that dare to be different.
Fashion: Zoë Sinclair; Writer: Dan Thawley
Shakhnoza Rizkieva is dedicated to hands-on creation and challenging the industry's production and accelerated turn-over of ideas. She sketches, drapes, cuts and sews all her clothes alone, using contrast tailoring stitches and rough edges to highlight the structures of her folded, origami-like pieces and retain an inherent sense of deconstruction.
The Renaissance concerns of transience and ephemera were apparently on Eva Buehler's mind when crafting the gleaming, sculpted pieces of her graduate collection; clothes meant to evoke the bodily concerns of Flemish vanitas paintings. Perspex accessories accent the retro-meets-baroque mood, working with glossy textiles to transmit Buehler's pointed message of superfluity.
Lisa Sänger's menswear questions our contemporary mores, including the commodification of time. Each outfit is embedded with disparate and idiosyncratic design features; one cycling jersey spells 'slow down' on the sleeves, a shawl collar coat is disrupted by laser-cut grids, and a bomber jacket bristles like a tufted, logoed tapestry.
Drew Henry looked towards his homeland for his MA collection, taking the natural gradient of springbok skins as the starting point for a comprehensive capsule wardrobe. The South African designer worked tirelessly with heat-bonding and embossing techniques to ensure exquisite construction – the kind he continues to explore in his current internship at Céline.
The connection between the Finnish and their idyllic landscapes is not lost on Elina Määttänen (opens in new tab), whose work is bristling with organic textures. An affinity with Japan also comes into play, with the principles of wabi-sabi interior design applied to her garments – explaining the peeling, imperfect layers and hanging yarn that combine with metallic silk, leather and pleated knitwear for a rub of the rough and the polished.
Masculine and feminine dress codes have been applied together with controlled fair in Ayaka Sakurai's Glitching Gender collection, where knit, felt and sequins collide in deconstructed tailoring and athleticwear. The title refers to the 1990s electro music movement that informs the distorted results of Sakurai's asymmetric separates, which are full of movement and raw finishes.
Peter Do regards textile development as one of the few outlets for genuine innovation. His streamlined separates are crafted from slabs of neoprene, pleated micro-suede and other plastic textiles, all manipulated into each other through heat bonding and quilting. He took home the LVMH prize this May and landed an invaluable one-year contract at Céline.
Roshi Porkar is Vienna's quietly rising star, having nabbed both the Chloé prize at this year's Hyères Festival and a solo show at Mercedes-Benz Fashion Week Berlin with her graduate collection, designed under the tutelage of Bernhard Willhelm. Porkar's silhouettes have a sense of theatrical 1980s polish – a look she has honed assisting stylist Karl Templer, and at Lanvin.
Childhood nostalgia is layered into Dennis Bareiro's S-ET > EP -0:21:39 collection, named after the digits on a VHS display. Thinking of home videos his parents shot of him as a child, Bareiro hit rewind – mixing natural and technical fabrics in panelled suiting and creating jersey tunics covered in bonded patchworks. The designer has interned with Raf Simons.
Jack Moss is the Fashion Features Editor at Wallpaper*. Having previously held roles at 10, 10 Men and AnOther magazines, he joined the team in 2022. His work has a particular focus on the moments where fashion and style intersect with other creative disciplines – among them art and design – as well as championing a new generation of international talent and profiling the industry's leading figures and brands.