San Francisco's de Young Museum puts contemporary Muslim fashion in the spotlight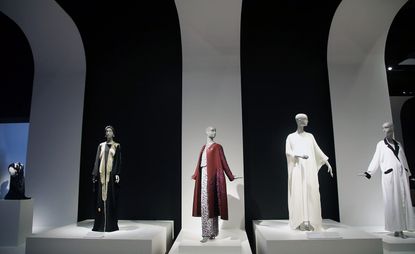 (Image credit: Photography: Courtesy of the Fine Arts Museums of San Francisco)
From couture to sports-casual and swimwear to streetwear, 'Contemporary Muslim Fashions' at San Francisco's de Young Museum, is not a deep retrospective; the oldest piece featured is an Yves Saint Laurent garment from 2000. Instead, the multi-media mix of apparel, accessories, art photography, Instagram images, and videos offers a thoroughly modern view of 'modest fashion', which itself has a broad reach beyond borders and beliefs.

'I use the term modest fashion to refer to the many different ways that women across faiths choose to cover and present themselves in relation to their understanding of holy texts, religious traditions, and community convention,' says consulting curator Reina Lewis.
It's not a new market but it is continuing to gain commercial traction, indelibly shaped by a dynamic confluence of globalization, politicization, consumerism, activism, branding, and, crucially, social media. The reasons for adhering to traditional dress are varied, and can change gradually over time or day to day, depending on the person and their location, age, and ideals. When women across the world can share their own perspective on their own clothing through their own personal filters, the narrative — and accompanying preconceptions and/or misconceptions — around those styles can truly begin to shift and evolve. Capturing and commentating on these moments has raised the voices and profiles of Muslim influencers, opening up their wardrobes, and what they mean, to a growing audience.
Muslim fashion itself is a facet of this larger field, and the exhibition aims to add nuance to the 'diverse, complex, and at times contradictory nature of the Muslim dress code,' says architect Gisue Hariri. She and her sister Mojgan, Iranian-born partners of the New York-based firm Hariri & Hariri, designed the space with thoughtful intent to engage visitors in unexpected ways. The walls leading into the show are completely black. 'This was our interpretation of what may feel like a dark, veiled, impenetrable environment to outsiders,' she says. That attention to the gaze — who is looking, and what they see — is mirrored as guests emerge from that dim entryway; behind a large latticed screen is an image of female eyes peering out towards them, obscured but direct.

Once inside the show, it becomes a 'sensual' experience; vibrant colours and textures abound. Arches, which are common forms in the Islamic world, appear throughout, offering a 'protective' frame for the outfits from 80 designers: fresh takes on robe-like abaya, surfer-inspired burkinis, and unbelievably intricate high-end ensembles. All mannequins are placed on pedestals to 'show respect to the power and beauty of Muslim women,' Hariri says.

Alongside the finery are portraits and selfies which give intimate glimpses into how Muslim fashion manifests itself outside of the museum. 'Very often, women wearing religiously or ethically coded garments are regarded as emblems of an ahistorical collective with an unchanging group identity — not as individuals,' says Lewis. For the 250,000 Muslims in the Bay Area, and the billion or so more across the globe, this spotlight is a timely testament to the breadth, depth, and creativity of the clothes that might embody beliefs, but don't define or confine those who wear them.
INFORMATION
'Contemporary Muslim Fashions' is on view until 6 January 2019. For more information, visit the de Young Museum website
ADDRESS
50 Hagiwara Tea Garden Drive
San Francisco
CA 94118
Receive our daily digest of inspiration, escapism and design stories from around the world direct to your inbox