Artists reinvent Pringle classics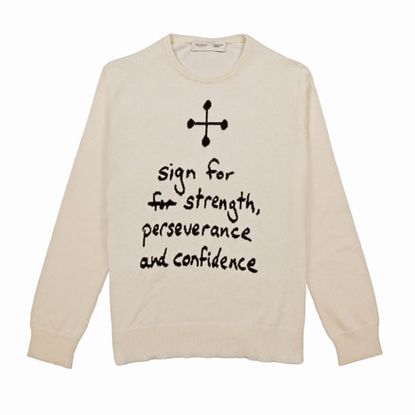 (Image credit: Nick McCarthy)
Convincing art heavyweights to swap the canvas for a twinset might seem an improbable feat, but it's one that Pringle of Scotland has pulled off with remarkable ease. It helps, of course, having the Serpentine Gallery on your side. The fashion label's collaboration with the gallery has already seen the likes of David Shrigley, Alasdair Gray and Tilda Swinton reinterpret the knitwear staple. And now it's the turn of Turner Prize winners, Douglas Gordon and Richard Wright.
Gordon has created a flesh-coloured sweater for Pringle, with a cardigan imprinted with his many tattoos. 'Its strange looking at them as my girlfriend sees them,' says the artist, best known for his Hitchcock-inspired video work 24 Hour Psycho. 'She's always telling me not to have any more. Now I realise if I do, I'll start looking like a circus act.'
For Gordon, Pringle evokes strong memories of the past. 'It's a strange mix: from the football hooligans wearing it, to your uncle, to Grace Kelly, who lent it old school glamour. Whenever my mother was out when I was young, I'd be in her cupboard trying on her Pringle outfits. A twinset and high heels look really good on a 14-year-old boy.'
Watch the behind the scenes film of Pringle's latest ad campaign and the artist collaborations
Gordon's design, like the other artists', is part of the 195 Collaborations project, which marks Pringle's 195th anniversary and the Serpentine's 40th. The new wave of twinsets was unveiled just before the label's S/S 2011 show in London. As shown in our July issue (W*136), it is one of the most interesting fashion-art collaborations of recent years. And for Gordon, it was a no-brainer. 'Hans Ulrich Obrist is always encouraging artists to break out of the art world,' he says of the Serpentine co-director. 'I have collaborated with poets and musicians before so fashion is a natural step. I told Hans, "if you don't get me involved in this I'll never speak to you again."'
For the latest Turner Prize Winner, Richard Wright, however, placing his drawings in someone else's hands was somewhat scary. 'It was very hard letting go,' he says. 'The translation from drawing to material always brings surprises but, thankfully, they were happy ones.'
The London-born but Glasgow-based artist took a customarily studious approach to the project, making 60 or 70 intricate drawings before the final work was turned into silk embroidery. Asked about the implications of an artist working on a commercial fashion project, he replies: 'I don't think that artists are different from others. I don't think I'm above fashion.'
Wright and Gordons' designs are also joined by a new sweater by Nick McCarthy of Franz Ferdinand, emblazoned with a 'sign for strength, perseverance and confidence'. Other highlights from the collection include Luke Fowler's Stockhausen-inspired vest and Tilda Sinton's twinset inspired by her grandmother's much-darned wardrobe. 'The brooch is also based on something her mother wore,' says Gordon. 'I love the idea of an approximation of a memory.'
For Pringle, that's exactly the point. As we noted on our recent trip to the fashion label's Day of Record, the brand is trying reconnect with its rich past while reshaping itself as a luxury brand of the future. But asking an artist to take control always carries with it a risk. Let's just see what the next band of collaborators have in store...