Pringle of Scotland's Day of Record in Hawick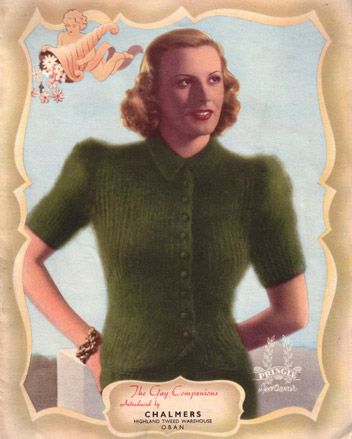 (Image credit: press)
'Do you remember the Faldo days?' asked my cab driver, as we wound our way through the Scottish countryside. 'That was my era,' he said proudly. We were on our way to Pringle of Scotland's former factory in Hawick, where he spent many years of his working life before its closure. Here, the knitwear brand was staging its 'Day of Record', an Antiques Roadshow-style look at its 195-year heritage. Like my driver, for many, the name Pringle instantly conjures images of those Nick Faldo-endorsed, 1990s golfing sweaters. So, if the day was the brand's attempt to make us see past these, things were off to a bumpy start. But, as I stepped through the factory doors, I was met with an unexpected sight.
Hanging from rails, draped on mannequins and piled on tables was an amazing collection of vintage pieces dating as far back as 1912. And a throng of people, ranging from former factory workers to Pringle models from the 1960s, had come laden with clothing and relics from the brand's past. Meanwhile, on the walls were photographs and advertising material, dating from Pringle's early days all the way to its latest campaigns with androgynous current face of the brand, Tilda Swinton.
This Day of Record was the first step in Pringle's mission to create an archive of items from its long history. The brand is trying to reconnect with its past and reposition itself as a luxury heritage brand, in the ilk of Chanel or Burberry. It is calling on people to submit anything relating to its history, be it pieces of clothing, old photographs of people wearing Pringle or even anecdotes, and has deployed a team of Central Saint Martins students to research and catalogue each item. Pringle will later buy back the best pieces for its archive, for sums that could reach thousands of pounds for the oldest pieces.
One of the most staggering collections of clothing came from 1960s Pringle model, Carole Finie. 'It's incredible to see such a large collection of pieces from one person, collected over a relatively short period of time,' said Alistair O'Neill, head of the curatorial degree course at Central Saint Martins, from which the students have come. Items range from a tiny, paisley-printed mini dresses to a pink all-in-one, with an oversized white zip. 'It's Diana Rigg on acid,' Alistair exclaims. Of course there's also a good smattering of twinsets - a term supposedly coined by Pringle.
Another Day of Record surprise was the arrival of Lesley Rankin, Pringle's first female designer and something of a trailblazer for the company in the 1960s. 'I introduced short skirts, trousers and slim-fitting designs,' she said, plucking out of a suitcase a bottom skimming number in an elaborate, blue and pink print. 'It was fascinating working with such skilled, traditional craftsman, who were excited about doing something new. I still love the colours we used after all these years.'
Rankin was very experimental for her time. 'She had quite a DIY approach to her craft,' said current Pringle of Scotland Creative Director, Clare Waight Keller. 'She would literally get out a brush and start painting the knitwear in her attic. She had a lot of creative freedom and really went with it, playing with different yarns and printing techniques. Like me, Lesley was charged with bringing traditional knitwear into the modern era.'
Since Waight Keller took the creative reins, she has revitalized the brand with an impressive stream of ready-to-wear collections, re-interpreting Pringle classics like the Argyle pattern, on waxed silks, which gives them a distinctly modern transparency. For Waight Keller, the archive will be an indispensable resource. 'We had a clear idea of the designs and techniques of the 70s, 80s and 90s but very little before this. Now we are beginning to assemble an incredibly luxurious archive to dip into, plus we're hearing the stories and techniques behind the pieces.'
Shrieks of 'do you remember when...?' could be heard as former factory workers rifled through black and white photographs from Pringle's past, and 'Oh my goodness...' as one of the more outrageous outfits resurfaced. Pringle stalwart, George Cook - who worked in the factory for 50 years - was even spotted searching for his 15-year-old self in a video of a company day trip down the River Clyde.
The fully assembled Pringle archive will go on show in February next year. A group of Central Saint Martins MA fashion students will also design their own pieces in response to the findings, some of which could go into production. 'Designers continually plunder from the past but often only on a very superficial level. Here, meaningful fashion research will help create really meaningful contemporary design,' explained O'Neil. If Pringle can reconnect with this rich and lengthy history, that Faldo moment will soon be forgotten.