Fashion meets food as Mytheresa and Flamingo Estate unite on Hamptons 'inconvenience store' and pop-up
Richard Christiansen of lifestyle brand Flamingo Estate – one of the Wallpaper* USA 300 – talks about collaborating with e-retailer Mytheresa on an auto body shop-themed pop-up in time for a Hamptons summer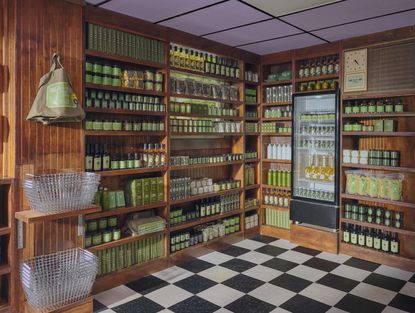 (Image credit: Courtesy of Mytheresa)
Set on the hilltops of Los Angeles, the fabled Flamingo Estate – a sprawling 1940s Spanish-style home surrounded by a lush orchard and gardens – has for close to eight decades provided an Edenic getaway for nature-loving hedonists looking to escape the city's urban sprawl.
Current owner, Australia-born Richard Christiansen – featured in the Wallpaper* USA 300 and founder of New York-based agency Chandelier Creative – continues to encapsulate this back-to-earth philosophy with the home's eponymous lifestyle brand, Flamingo Estate, first launched in 2020. 'A radical celebration of pleasure from the garden,' describes Christiansen of the project, which comprises food, beauty and wellness products made from rare, nutrient-dense ingredients sourced from over 100 biodynamic farms. Inspiration is drawn from the Flamingo Estate's gardens, while production favours slowness and transparency – each ingredient can be traced back to the farmer who planted it.
'The Summer Body Shop' by Mytheresa and Flamingo Estate
This month in East Hampton – just in time for the New York locale's busy summer season – Christiansen and Flamingo Estate are teaming up with e-retailer Mytheresa on an ephemeral pop-up which combines fashion, food and wellness in a former auto body shop. 'It might not seem obvious at first, but we're both obsessed with the same things: craftsmanship, quality, and genuine conversations and friendships with the people who support us,' he tells Wallpaper* of how 'The Summer Body Shop' collaboration first came about. 'We noticed in many of our customers are the same – design-focused and very well-informed about what they like. The Mytheresa team are as obsessed with the quality of bags and shoes as I am with something like olive oil or honey.'
Such pantry essentials will be available in the 'inconvenience store' located in the front of the pop-up, which comprises 30 products that are 'grown, harvested, and handmade by people who pay tribute to the slow, time-honoured, inconvenient way of making things,' as Christiansen describes. 'There's spicy peppers hand-harvested in the mountains of Mexico, chocolate bars made by hand in Santa Barbara, and jars of strawberries from Harry's Berries, the best grower in America. These are the things I want to use every day at home – from amazing morning coffee to caperberries in prosecco. In a world gone crazy for fast fashion and fast food, we are doing the opposite.
Elsewhere in the space – which is opposite the popular East Hampton station and decorated with tyres and classic auto parts – is a selection from Mytheresa's vast product range of luxury fashion for men, women and children. 'The idea was to build a different kind of body shop, everything you need for your "summer body" – from good food to great clothes,' says Christiansen. 'Come in for an oil change, but it's for the best essential oils, lavender, sage, rosemary, and eucalyptus. Or come in for a tune-up, and it's about great skin care. Everything feels very serious right now, and I think we all need to have a little bit of a wink.'
Of having a physical space for both Flamingo Estate and Mytheresa – which trade almost solely online – Christiansen says it is important for people to reach out and touch the products they are buying, whether fashion, food or those used on the body. 'It's not a linear business, and not super simple to understand because we are doing a lot of things,' he says of Flamingo Estate. 'I think the best way to explain that to other people is in a physical space. The Mytheresa customer also wants to touch something, feel something, or try something on. We're also very tactile like that – you need to smell a candle, taste the olive oil, feel the texture of a bar of soap to really love it.'
Adds Heather Kaminetsky, president of North America for Mytheresa: 'The Summer Body Shop felt like the perfect "unexpected" moment to further bring this wonderful partnership to life. We wanted to bring to the sophisticated audience in the Hamptons a combined and truly unique immersive luxury experience – one that allows us to engage and inspire throughout the summer and to bring our curated offering to them in a more physical way.'
The locale – which is one of the United States' most famous holiday spots – has personal resonance for Christiansen who formerly owned a property in the area where he kept bees and harvested honey. 'I knew the area and its flowers and peculiarities. I've been fishing many times off the coast, and know the salt water and green fields,' he says. 'So I really wanted to follow the sun and come out east for summer.'
'The Summer Body Shop' by Mytheresa and Flamingo Estate is open Thursday–Sunday until July 30 2023 at 9 Railroad Avenue, East Hampton, New York.
Receive our daily digest of inspiration, escapism and design stories from around the world direct to your inbox
Jack Moss is the Fashion Features Editor at Wallpaper*. Having previously held roles at 10, 10 Men and AnOther magazines, he joined the team in 2022. His work has a particular focus on the moments where fashion and style intersect with other creative disciplines – among them art and design – as well as championing a new generation of international talent and profiling the industry's leading figures and brands.