Best Use of Colour: Lucia Pica's make-up collection for Byredo Beauty wins Wallpaper* Design Award 2023
Lucia Pica's make-up collection for Byredo Beauty, 'First Emotions', wins a Wallpaper* Design Award for its innovative use of colour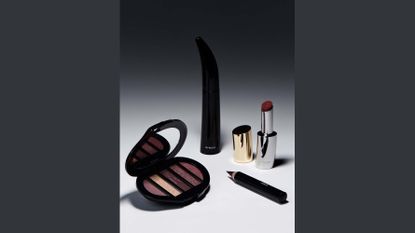 (Image credit: George Harvey)
Since launching in 2020, Byredo Beauty has been at the forefront of bringing a niche interpretation of beauty to a commercial scale. The beauty industry 'was very dictating, it was very linear in saying, "buy this or this, and look like this", which I didn't relate to,' Byredo founder Ben Gorham told us ahead of the brand's debut. 'So my idea was to be inclusive, to the point of saying that this can be anything to anybody. That's how we approached it from the start.'
The result was a five-product range created in collaboration with make-up artist Isamaya Ffrench, which came in space-age packaging and placed an emphasis on the expressive power of colour with multi-purpose 'colour sticks' in unusual shades like car-key green and glossy lilac, and high-pigment eyeshadow palettes with inspirations ranging from a corporate workplace to experimental musician Yves Tumor.
Now, a year after winning Best Grooming Product in the Wallpaper* Design Awards 2022, Byredo Beauty is embarking on its next chapter under the guidance of former Chanel make-up and colour director, Lucia Pica. It is a fitting match, considering Pica has always been a champion of idiosyncratic glamour and, above all, an expert on colour.
Red in particular has always been her favourite colour to work with, notably, while at Chanel, popularising the use of it around the eyes, so what is often seen as a marker of sadness or sickness became a provocative way to brighten the eyes. For Pica, joining Byredo certainly felt like the logical next step. 'I felt like it was really the right place for me to land at this moment in time, where I could still work with a luxury brand, but with the freedom of a creative brand as well.'
Best Use of Colour for Byredo Beauty First Emotions
The melding of luxury and creativity has produced First Emotions, Pica's first collection with the brand, and one heavy on reds – recognised with the nod for Best Use of Colour in the Wallpaper* Design Awards 2023.
The collection comprises five products: a Kajal eye pencil and mascara in burgundy, a five-colour eyeshadow palette with gold, auburns and metallic pinks, and two lipsticks. 'The primal power of emotions is reflected in the colours,' says Pica. 'There is light and excitement in the gold and something darker in the burgundy. There are the different tonalities of love; the different facets – erotic, sincere, unconditional, even unrequited.'
For Pica, emotions felt like a natural theme for this first collection. 'After meeting Ben,' she says, 'it became clear that [Byredo] is about a personal story, working to evoke an emotion or a memory within a person. He was talking about this transparent medium he does with [perfume] and I thought 'this is perfect,' because [to me] colour has always been about evoking emotions as well. Colours are super important in make-up to help you express yourself and also to change your mood.'
And therein lies, for both Byredo and Pica, the power of beauty. It's about 'giving people a medium to have fun, to express themselves, and to enhance what is unique about them. That is what beauty ultimately means.'
The winners of the Wallpaper* Design Awards 2023 are revealed in the February 2023 issue, available in print, on the Wallpaper* app on Apple iOS, and to subscribers of Apple News +. Subscribe to Wallpaper* today
Receive our daily digest of inspiration, escapism and design stories from around the world direct to your inbox
Writer and Wallpaper* Contributing Editor
Mary Cleary is a writer based in London and New York. Previously beauty & grooming editor at Wallpaper*, she is now a contributing editor, alongside writing for various publications on all aspects of culture.