Artist Dozie Kanu and Byredo's Ben Gorham explore the malleability of memory at Milan Design Week
Dozie Kanu's 'Bal d'Afrique' presentation for Byredo is one of the most buzzed about exhibits at Milan Design Week 2023. Kanu and Gorham reveal the process behind its creation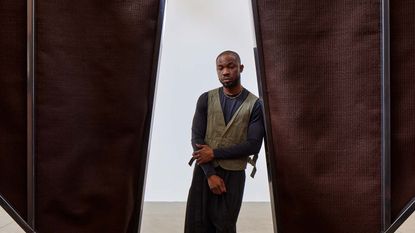 (Image credit: Byredo)
Memories are fickle things. They change, disappear, resurface in different guises, feel deeply personal but then, when you think about it, aren't yours at all but have just been subsumed into your consciousness through stories, pictures, smells.
For his collaboration with Byredo at Milan Design Week 2023, multimedia artist Dozie Kanu has created an exhibit that explores that malleability of memory, and how, despite its delicacy, it is the most reliable conduit we have to other people, places, times and, consequently, ourselves. Specifically for Kanu, born into a Nigerian family in Houston, USA, that means channelling the memories of his ancestors through art-making in an effort to understand where he came from and where he can now call home.
Bal d'Afrique: Dozie Kanu and Byredo explore memory
The conceptual launchpad for the show, installed at Via Achille Maiocchi 10, is Byredo's Bal d'Afrique perfume. For brand founder, Ben Gorham, the fragrance was its own memory exercise, a way to reach across a divide between himself and his father by recreating the latter's diaries, kept over 15 years of living in Africa, through scent.
'Bal d'Afrique drew from a very personal memory, tied to my father and his living in Africa,' Gorham tells me when he, Kanu and I meet near the 'Bal d'Afrique' exhibition space. 'And then as soon as I put it out in public, it became something different.'
Bal d'Afrique fragrance was originally launched in 2009, and is the first featured in a new annual series, where classic fragrances from the Byredo catalogue will be reinterpreted by other creatives.
For Gorham, involving other perspectives has always been an integral part of Byredo, with its first collaboration happening only six months after the brand first launched in 2006. The impulse comes from, according to Gorham, 'the acknowledgment that I don't really know anything. If that's your starting point, then collaboration and learning by doing becomes natural.'
Diversifying the narrative by opening it up to other voices is a key part of Kanu's practice as well. For this exhibit, he invited the London-based archival project Saman Archive to contribute a selection of images from its vast collection of photographic negatives sourced from Ghana. These images line the entranceway of the exhibit, each displaying, in their own way, a moment of unbridled intimacy – a young boy poses with bravado in front of a painted backdrop; a young couple hold each other on their wedding day; a man dances on an empty dance floor.
'When I started to think about how I could justify doing something of this scale and having someone [like Ben] trusting me to crawl towards my full potential,' says Kanu, 'it made me think about the people before me that maybe didn't have those opportunities, people that were very creative and inherently artists but just didn't have the same level of support. So I wanted to pay homage to them in some way.'
The images set the tone for what is to come, like snapshots in the entryway of a family home – a poignant glimpse into something private and emotional before entering the more dynamic space within.
Inside that central space, Kanu has constructed an impressive rattan pavilion and it is the first of what promise to be many more architectural creations to enter his oeuvre. Around and inside the pavilion are pieces from Kanu's archive – objects that tightrope between design and art to explore our definitions of utility and methods of meaning-making. There are also drums, created specifically for this show and made from found objects like washing machine parts, electrical wires and glass.
In the vast hanger-like space, these elements coalesce to create a meditative, even numinous environment. It makes sense, since for Kanu, artmaking is its own kind of spiritual act, a channelling of the same 'collective consciousness' that Gorham has been trying to access through his perfume-making since 2006.
'When I'm making a work, I have to let go of thinking too much and look within,' says Kanu. 'Sometimes it can feel like someone else is working through me, past lives or something else is working through me and I'm not thinking. Then I step back and look at the finished work and I try to figure out where that came from. Because when I'm making it, I'm not really conscious, so that's how I think about involving past lives or past perspectives and how they influence the present.'
And while there may be an otherworldly element to Kanu's work and practice, he wants viewers' responses to be firmly grounded in reality.
'The main thing I want is for them to feel a little bit confused,' he says. 'I want them to leave and ask questions.'
"Bal d'Afrique' is on view through 23 April 2023 at Via Achille Maiocchi 10 in Milan.
Mary Cleary is the Beauty & Grooming Editor of Wallpaper*. Having been with the brand since 2017, she became an editor in February 2020 with the launch of the brand's new beauty & grooming channel. Her work seeks to offer a new perspective on beauty, focusing on the pioneering personalities, product designs, and transformative trends within the industry.