The evolution of Aries: Sofia Prantera on creating the cult streetwear brand's first-ever store
Open now in London's Soho, Aries' first permanent home doubles as an art space, community hub and café. Here, Sofia Prantera tells the story behind the store's distinct design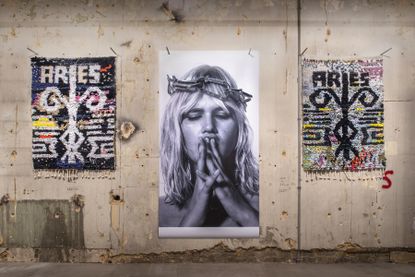 (Image credit: Photography by Louise Melchior, courtesy of Aries)
At the centre of cult streetwear label Aries' new London store – a raw, gallery-like space with exposed concrete walls and vast 4,000 sq m floor space on Soho's Great Pulteney Street – is a staircase, leading shoppers down into the basement below. From afar, it looks constructed entirely from scaffolding; come closer, and each one of the steps is actually made from a different type of marble, sleek and polished. The use of the material, says Sofia Prantera – the British brand's Italian-born founder – was inspired by the work of modernist architect Carlo Scarpa in Venice, as well as the collages of marble seen across city's squares and churches.
'It's the idea of the temple and the rat,' she smiles, a reference to Fergus Purcell's graphics for the brand – Roman-style columns that surround the Aries logo, and a rat motif that reappears across collections. Prantera says the concept encapsulates the way the brand straddles the worlds of luxury design and streetwear (Purcell co-founded Aries with Prantera in 2012, having previously designed Palace's 'Penrose' triangle). 'The marble is very designed, it's very high end, it's the temple,' she says, providing an opposition to the industrial feel of the staircase's construction (initially, they wanted to use real scaffolding, though for safety it is now made from welded metal). '[Since the beginning], our identity is all about this duality – the elevated temple and the decay of the rat.'
Inside Aries' first-ever store in Soho, London
The store marks the brand's first-ever permanent retail space; Aries previously staged a series of pop-ups in collaboration with Slam Jam and New Balance, as well as 'Wiltshire B4 Christ', a 2019 exhibition-cum-gift store at London's 180 Strand alongside Turner Prize-winning artist Jeremy Deller and photographer David Sims. The latter, Prantera says, showed her the potential of a retail space which was not solely restricted to selling clothing. 'Having a place where you can showcase what you do is so important for a brand,' she says, noting that the idea of a permanent retail space had been percolating since Aries was founded. 'But I think after "Wiltshire B4 Christ" I realised I didn't want it to necessarily be just a commercial space.'
As such, Prantera sees the store as a 'changeable' concept and art space, which can host talks, exhibitions, collaborative projects and book launches (upstairs, the store features an outpost of Parisian coffee shop Paperboy, a 'permanent house guest'). A series of exposed metal tracks – originally designed for use in an abattoir – run around the store, on which different elements will be hung to transform the space; currently, in the basement, it is used to hold a projector screen (various Aries video projects play on a loop) and floor-to-ceiling images photographed by Sims, a longtime collaborator. 'The tracks mean it can continuously evolve; you can create an environment that's different every time,' she says.
The store is designed by London-based studio Brinkworth, perhaps best known for a ten-year collaboration with Supreme on its international retail stores – memorably, Brinkworth created an enormous free-floating skate bowl inside the brand's Los Angeles outpost – alongside projects with Marni, Stüssy and Adidas, among others. 'Adam [Brinkworth, its founder] is a really old friend,' says Prantera. 'He's very much part of our subculture; he worked for Supreme and I've known him for years. He loves what we do and is one of our most constant buyers.'
Though the opening marks Aries' first store, Prantera previously had three retail spaces in Japan for Silas, a streetwear brand she founded in the 1990s. 'It was really geared up to retail stores,' she says of its collections, noting that Silas worked with the same distributor as Supreme, making it one of the first brands to work in 'drops' whereby the store would be cleared of product before new limited-edition pieces were released. 'I was really young at the time, and I didn't really realise it, but [it showed me] that having your own space is so important. Wholesale is a great model to have – it allows you to expand in different cities, and things like that – but you are always represented by someone else's point of view. The way you design the clothes ends up being skewed for someone else's market.'
The various objects and furnishings in the store represent the brand's distinct aesthetic, from a series of hand-woven rugs emblazoned with 'Aries' and created entirely from deadstock product to bespoke 'Anfibio' sofas by Giovannetti, made in Italy and decorated with Aries' recognisable 'animal' print. The latter speaks to the ongoing influence of Italian design on the work of Prantera, who was born in Rome but has largely lived in London since coming to study fashion at Central Saint Martins aged 19. 'I've been going back to my roots in terms of the interior; the 1950s, 1960s, 1970s, that golden age of Italian design,' she says.
Ultimately, Prantera hopes the store serves as something like 'a library', whereby the Aries community can gather, whether it is shopping the clothing or not (in this spirit, a bookshop is currently in the process of being installed). 'It was important that people have the feeling that they can hang out here, eat sandwiches, sit and do their work. It's hopefully like visiting a gallery, which will change constantly, and people will have a reason to visit – to come and see a new film, or exhibition.' South London vintage brand Jerks and unisex jeweller Bunney will also be hosted in the space.
A little over a decade since its founding, the most important thing for Prantera is retaining Aries' spirit of independence. 'I think what I picked up from skateboarding is this DIY attitude to things – you don't need everything to make something work, you just need an energy,' she says. 'When people saying the death of streetwear, it's just the death of a kind of streetwear – the type replicated by mass production. But it's not the death of the spirit of streetwear.'
Jack Moss is the Fashion Features Editor at Wallpaper*. Having previously held roles at 10, 10 Men and AnOther magazines, he joined the team in 2022. His work has a particular focus on the moments where fashion and style intersect with other creative disciplines – among them art and design – as well as championing a new generation of international talent and profiling the industry's leading figures and brands.