Yves Behar creates animated limited-edition cover for Wallpaper* June 2021 issue
Each month, Wallpaper* offers a leading creative figure carte blanche to design a limited-edition cover. For our June 2021 Innovation Issue, designer Yves Behar juxtaposed previously unseen sketches with detail shots of his products for an animated cover design that reveals the journey of making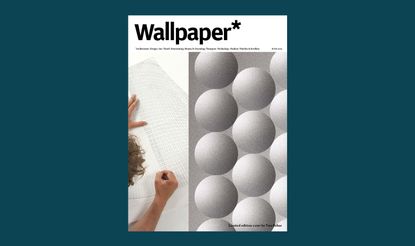 (Image credit: TBC)
Wallpaper* Newsletter
Receive our daily digest of inspiration, escapism and design stories from around the world direct to your inbox
Thank you for signing up to Wallpaper. You will receive a verification email shortly.
There was a problem. Please refresh the page and try again.
The founder of design studio Fuseproject and a serial innovator, Yves Behar occupies a unique place in the creative industries. He played a pivotal role in convincing Silicon Valley that design should be an integral part of building a business, rather than 'a decorative last-minute coat of paint'. From laptops to desk chairs, timepieces to eyewear, a home exercise unit to an internet-enabled self-rocking baby cot, there are few genres that have yet to experience Behar's transformative touch. Naturally, he was Wallpaper's top choice to headline our June 2021 Innovation Issue.
Within the magazine, Behar speaks to our transport and technology editor Jonathan Bell about his upcoming monograph, Designing Ideas (out in July 2021). They discuss how design and technology can combine to tackle key challenges of the 21st century – sustainability, accessibility and diversity – and the importance of putting the human connection at the centre of people's lives.
We invited Behar to create the magazine's limited-edition cover: on the left is an archival photograph of the designer sketching the webbed back of his 'Sayl' office chair for Herman Miller, shot from above and with a crop of his characteristically tousled hair just in view. On its right is a rendering of the pattern of his wireless Jambox speaker. The former, first revealed in the pages of Wallpaper* in October 2010, revolutionised a previously staid typology with its frameless suspension system; the latter led the way in miniature speaker design, and stood out for having woofers and tweeters on one side and the subwoofer on the other – so sound would come out from every side.
In juxtaposing process with product, Behar offers a glimpse of his design process, echoing the key message in Designing Ideas: 'It's not about a marketing solution – the final glossy picture – but showing the slow, winding road, the journey of design.'
The animated cover design by Yves Behar
Given Behar's fluency in technology, it is not surprising that he also opted to create an animated version of his cover, now revealed exclusively on Wallpaper's digital platforms. Like the print cover, the animation begins with the 'Sayl' chair. It then becomes a highlights reel of Fuseproject's prolific and wide-ranging output.
Featured are ingenious pieces of consumer technology: The 'One Laptop Per Child' learning machine, which aimed to bridge the digital divide; the keyless August smart lock system; and 'The Frame' television for Samsung, encased in a minimalist picture frame and programmed to show art when switched off. There's something for every age, ranging from the 'Moxie' robot, a child's companion with a benevolent disposition reminiscent of a Kazuo Ishiguro character; to the Mission One electric motorbike, the world's fastest at the time of its launch in 2009. On the speculative end of the spectrum, there's even an underwater research station, proposed last year to bring fresh awareness of the issues facing the ocean.
Including hand-drawn sketches paired with details of completed designs (or in the case of the underwater research station, a lifelike rendering), Behar's animated cover nods to the adage that a journey of a thousand miles begins with a single step – encouraging us all to embrace our creative instincts and work relentlessly to refine ideas, so they might one day become reality.
Read more about Behar, and discover more fresh perspectives and bold ideas from the creative industries in our June 2021 innovation issue – now on newsstands and available as a free PDF download.
INFORMATION
Yves Behar's cover is the latest addition to the Wallpaper* limited-edition cover series, which features a specially created artwork by a different artist, architect or designer each issue. Limited-edition covers are available to subscribers only; for more information, see wallpaper.com/sub21
Yves Behar: Designing Ideas, $85, published by Thames & Hudson, available from 20 July, thamesandhudsonusa.com
Receive our daily digest of inspiration, escapism and design stories from around the world direct to your inbox
TF Chan is a former editor of Wallpaper* (2020-23), where he was responsible for the monthly print magazine, planning, commissioning, editing and writing long-lead content across all pillars. He also played a leading role in multi-channel editorial franchises, such as Wallpaper's annual Design Awards, Guest Editor takeovers and Next Generation series. He aims to create world-class, visually-driven content while championing diversity, international representation and social impact. TF joined Wallpaper* as an intern in January 2013, and served as its commissioning editor from 2017-20, winning a 30 under 30 New Talent Award from the Professional Publishers' Association. Born and raised in Hong Kong, he holds an undergraduate degree in history from Princeton University.
You might also like
Wallpaper* Power 200: the world's top design names and influencers

It's back with a double helping of provocation and praise. We have plumped up this year's Power List to a meaty two-ton's worth of carefully measured rankings, an upscaled calibration of design achievement. As we strongly suspected, last year's Power 100 caused a considerable stir and provoked strong words. And, as last month's editor's letter made clear, even alarming threats of revenge and recrimination. So this year, unchastened, we thought we would do it all again, but double the dose. To mark our 200th issue, the power 100 has become 200. Or rather 100+100 (normal disservice will be resumed next year). And, in a self-congratulatory nod to our keen eye for talent and perhaps the propulsive effect we have had on nascent design careers, we have trawled the Wallpaper* archives, retraced our expert truffling and recovered the debut appearances of future Power Listers. (Look out for long-lost hair, unlined faces and eyes undimmed).

By Rosa Bertoli Published
View More ▸