Yves Béhar and Dr Harvey Karp are rocking World Sleep Day
Created by paediatrician Dr Harvey Karp, and given a pared-back design by Yves Béhar, Snoo is a baby sleep solution we can all rest easy with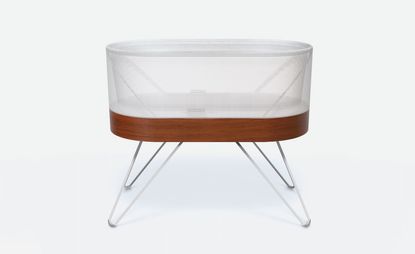 (Image credit: press)
'Snoo is not a bed per se – it's a caregiver, an extra pair of hands,' says Dr Harvey Karp, its paediatrician inventor. 'The number-one stressor that new parents talk about is exhaustion from lack of sleep,' he expands. 'And lack of sleep is not trivial. It leads to postnatal depression, marital issues, obesity, child abuse, absence at work, lack of productivity, car accidents – all sorts of problems.' Indeed, a London School of Economics study shows that the cost of postnatal depression in the UK alone is around £8bn a year.
The background
Karp published a book, Happiest Baby on the Block, in 2002. Based on recreating a womb-like environment to help babies through the fourth, postpartum trimester, it sparked a cult following. 'It was helping people a lot in the day, but still not enough at night,' says Karp. He saw the need for a revolutionary baby sleep solution. An additional concern was cot death. In the US, almost 4,000 babies die every year due to cot death; in the UK, it's around 300. 'I thought, why aren't we doing more?'

Prompted by a colleague, Karp sketched his first thoughts for a vibrating bed on the back of a napkin. His 'simple' idea took five years to perfect, testing with MIT-trained engineers and working with designer Yves Béhar. 'As a father of four children, I am extremely familiar with the repercussions that come with having a newborn; the lack of sleep affects your ability to parent and is a huge factor in postpartum depression with medical and relational implications,' says Béhar. The designer, who aimed to replicate and robotise Karp's baby-soothing strategy using technology and AI, explains, 'It was clear we needed to first develop the mechanics, assembly and tech in a way that beautifully integrates in the home.' Characteristically of Béhar, the design is pared back and leads with purpose.
Using sensors, the Snoo creates a comforting, fourth trimester environment, soothing babies back to sleep by mimicking the sounds and motions of the womb, while ensuring babies sleep safely on their backs. Karp theorises that human babies are born a trimester too early, often leading them to cry inexhaustibly. Unlike our mammal counterparts (think baby zebras and chimps) that can run from danger or safely grab hold of mum from day one, our evolved – and comparatively large – brains mean we need to be born earlier to fit the birth canal. 'The sound in a womb is louder than a vacuum cleaner, the motion is constant,' says Karp. The bassinet comes with an app that allows parents to track their baby's sleep and customise the settings.
The results
But does it work? 'We have now studied over 42,000 babies, by far the largest study ever done on infant sleep, showing that we add immediately one to two hours to a baby's sleep,' says Karp. The Snoo is used by 75 US hospitals in NICU wards. 'In addition,' adds Béhar, 'we just heard that the FDA has accepted the Snoo in its breakthrough device programme as a SIDS (Sudden Infant Death Syndrome) prevention device.'

The bassinet's design credentials have seen it feature in museum shows, including at SFMoMA, the Smithsonian, the V&A and the London Design Museum. Karp's mission is to make this support device democratically available. It is available to rent for six-month periods, cutting down on discarded, outgrown devices. Plus, in the US 60 large corporations give free Snoo rentals, and certain UK employers give it as a gift 'because it's a good investment in their staff', says Karp triumphantly. §
INFORMATION
happiestbaby.com (opens in new tab)
Tilly is a British writer, editor and digital consultant based in New York, covering luxury fashion, jewellery, design, culture, art, travel, wellness and more. An alumna of Central Saint Martins, she is Contributing Editor for Wallpaper* and has interviewed a cross section of design legends including Sir David Adjaye, Samuel Ross, Pamela Shamshiri and Piet Oudolf for the magazine.