Fender looks forwards with a new hybrid guitar design
Justin Norvell, Executive Vice President of Fender Products, discusses the company's latest product and what it means for the future of guitar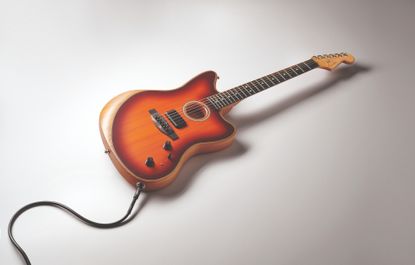 (Image credit: Fender)
Innovation doesn't come very often to the world of guitars. But the recent uptake in demand for musical instruments – spurred on by idle thumbs and fingers twiddling during lockdown – has seen record sales across the industry, with Fender reportedly having its best ever year since its inception in 1946. Before 2020, the image of the guitar was in the doldrums, considered musically passé with its unfashionable and unwelcome links to the old guard.

Fender is still an industry behemoth, selling hundreds of thousands of guitars a year, from high-end custom models to entry-level packages built by their Squier sub-division (sales of which rose by 92 per cent from mid-March to mid-October last year). There's also Fender Play, a subscription-only educational app that is doing remarkable business. Since 2018, the company has been delving into its rich archive of designs to create the Parallel Universe Collection, quirky hybrids that mix and match signature elements from their various iconic product lines.
2019 saw another tech and design debut, the first American Acoustasonic models. Starting with the shape of the Telecaster (1950), followed by the Stratocaster (which debuted in 1954), the Acoustasonic guitars splice a beautifully crafted hollow wooden body with clever electronics, developed by the American music tech specialists Fishman. Although each guitar is perfectly warm and playable on its own, when you plug the guitar in you activate the 'Acoustic Engine,' a processor that transforms the guitar's clear but neutral tones into a variety of different types of guitars. These range from overdriven electric through to Jumbo scale acoustics with five positions in total, each with the ability to blend two types of sound together.

Now there's a new Acoustasonic, based on the more leftfield Jazzmaster bodyshape. When it was launched in 1959, Fender's Jazzmaster was originally pitched at, unsurprisingly, Jazz musicians. It soon found more favour as a twangy surf rock instrument before undergoing a cult revival in the 80s and 90s. In Acoustasonic form, it remains one of Fender's most elegant shapes, with a thin, fast neck that suits any number of playing styles. Pair this instrument with a modern effects processor, and you have a beautifully crafted all-rounder that flatters the everyday player but sounds good enough to use professionally. Available in five off-beat colours - a throwback to its 60s heyday – this new Jazzmaster's contours are accentuated by the mix of mahogany and coloured finishes.
Authenticity is still a potent currency amongst musicians and music fans alike. Although an Acoustasonic guitar is a genuinely compelling piece of kit that beautifully bridges two worlds, it won't be for everyone. Die-hards will inevitably heresy, just as petrolheads bewail the end of the internal combustion engine. Nevertheless, Fender's decision to try something new is hugely creditable, combining craft and technology in a satisfyingly contemporary way.

We spoke to Justin Norvell, executive vice president of Fender Products, about the company's latest product and what it means for the future of guitar.
Wallpaper*: Why do you think Fender in particular has managed to avoid being labelled a 'heritage' company, even though many of its products have stayed consistent in their form?
Justin Norvell: We keep moving forward and are always trying to make better sounding, more innovative playing instruments built for the music and culture of today. Fender has beloved and well-known designs, so we do 'paint inside the lines' – but whilst we often keep the basic framework intact, we always ensure we are innovating in new ways. We embrace new technologies in terms of products but also the processes that help us to keep improving. Back in Fender's earliest days, the brand was always evolving - from the Telecaster, to the Stratocaster, to the Jazzmaster, and so on - and it is important to us to keep that momentum going today.
W*: Were there any particular breakthroughs in materials, manufacturing or electronics that made the Acoustasonic series possible?
JN: All of the above- there are several patents and 'firsts' with the Acoustasonic Series. The design itself is revolutionary - a mix of traditional acoustic construction (for example, the bracing) and brand-new elements like our Stringed Instrument Resonance System which emulates the design of a speaker port in order to maximise output from the smaller body. This instrument is a true hybrid - it's not just an acoustic guitar, nor is it just a vessel for the digital electronics - it is a real balance between the sound of the instrument itself and the ways in which the electronics augment this natural sound. This combination is truly unique.
W*: Were there any structural considerations needed to make acoustic body versions of traditionally electric shapes like the Tele, Strat and Jazzmaster?
JN: Yes, like any guitar we build, there were multiple designs and prototypes built to find the optimal 'voicing' for each of these shapes. The team experimented with the size and shape of the sides, the cavity of the body, the bracing patterns, soundhole location, diameter... Each instrument has its own advantages and challenges in design, and they each have their own unique responsiveness and sound as a result.
W*: The AcoustasonicJazzmaster is priced well above almost all your regular range - does that reflect the complexity of the build?
JN: We actually create guitars at all price points – from our Squier beginner ranges and entry-level Fender electrics such as the Player Series, right up to the tailor-made Masterbuilt creations in the Fender Custom Shop. The American Acoustasonic series is our highest-priced range of acoustic guitars but we believe it's absolutely worth the investment, especially at the professional level. It offers players the sounds of ten guitars in one. I would add that the industry has been defined by "acoustic" or "electric" for decades. With the American Acoustasonic series, Fender is ushering in a new category of guitar - opening up an entirely new set of creative capabilities.
INFORMATION
Fender American Acoustasonic Jazzmaster, £1879
Jonathan Bell has written for Wallpaper* magazine since 1999, covering everything from architecture and transport design to books, tech and graphic design. He is now the magazine's Transport and Technology Editor. Jonathan has written and edited 15 books, including Concept Car Design, 21st Century House, and The New Modern House. He is also the host of Wallpaper's first podcast.