Samsung's modular approach brings bespoke design to the kitchen
Samsung is looking to the future of home goods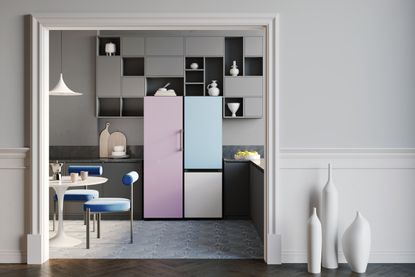 (Image credit: samsung)
Samsung's global home appliance arm spent the best of last year trying to gauge how lockdown living has changed our relationship with our homes. A well-established supplier of high-end appliances, the Korean multinational has launched a bid to become the go-to brand for those looking for a more personal approach. Samsung has a long history of pushing products like the humble refridgerator into new directions, instigating the concept of a smart fridge, for example. The new range is focused on aesthetics, rather than electronics. It's a straightforward approach, doing away with the concept of 'white goods' in favour of a modular design system that allows owners to change colour to match their interior.
We spoke to Harry Choi – Samsung's senior vice president of design – to find out more.
Wallpaper*: We seem to be entering an era when 'white goods' is a bit of an oxymoron. When did Samsung first become aware of the desire for more customisation from consumers?
Harry Choi: We've seen custom designs throughout history, but often only among the privileged classes as tailored products that match individual tastes have been expensive. In addition, customers usually find it more challenging to remove built-in appliances and take to a new home, so for people living in certain regions such as Korea where moving home is a common occurrence, people are often reluctant to buy appliances they think will be difficult to take with them. To meet the demand for customisable, easy-to-move appliances that are accessible to everyone Samsung developed Bespoke. It combines the practicality of freestanding designs with being easy to alter and expand to suit users' tastes and needs like built-in designs.
W*: Does customisation simply mean more choice, or can it go further?
HC: Customisation is as much about personalisation as it is about having more choice. People don't simply want a wide selection—they want options that are meaningful and add value to them and their lives. That's why Bespoke allows customers to pick product types, colours and materials that match their unique tastes and needs. This heightened interest in personalisation — especially in design — is a trend that really took off as a result of the pandemic and our Bespoke line caters to this trend with changeable panels and flexible, modular configurations that blend seamlessly into any kitchen. The days of a one-size-fits-all mentality for kitchen appliances are gone. Consumers, especially Millennials, want to personalise their kitchens to reflect their personal aesthetics. In the future we expect consumers to consider home appliances the way they do stylish sofas or refined coffee tables.
W*: Would Samsung ever consider working with designers, architects or even kitchen specialists like Bulthaup, for example, to coordinate with interior schemes, etc?
HC: With Bespoke we want to create a platform that gives consumers the freedom to create the kitchen of their dreams, providing products and designs that best-reflect our customers' lifestyles. At Samsung we keep at the cutting edge – this includes exploring possible collaborations with other innovative brands. The opportunity to work with independent designers, architects and kitchen specialists is exciting to consider as they would bring new perspectives and creative approaches. We look forward to developing the Bespoke ecosystem in the future.
W*: Can Bespoke be used to emphasise or even enhance important design considerations like efficiency and environmental performance?
HC: We've developed Bespoke to deliver on design and performance while always reflecting our commitment to offering highly efficient, eco-friendly appliances that support a circular economy. It's a modular design that empowers users to separate and combine products and replace door panels, effectively extending the lifecycle of the appliance. Multiple Bespoke fridges can also be "stacked" together, meaning users can add a new Bespoke module rather than replace the one they already own as their family grows, or if they decide to remodel their kitchens.
W*: Will there be material choices as well as colour choices?
HC: When we're designing products, we're constantly study the composition and style of living spaces along with deep analysis of the latest design trends. With that in mind, at CES this year we unveiled a new Bespoke 4-Door Flex where each door panel can be swapped to a different colour and material. Customers can mix and match panels such as White, Grey, Rose Pink, Sky Blue or Navy Glass, and Champagne, Navy, or Matte Black Steel to create the look of their choice. Colours and modules may vary by region, but we will make more options available as tastes continue to evolve.
W*: How does Samsung see home goods evolving? Are size, efficiency, form factor, etc., all due for a reassessment in everything from fridges to TVs?
HC: Across the world as people are spending an increasing amount of time at home, they're becoming more attuned to how objects look and fit into their homes. For many, this has created a desire to redesign their living spaces with an eye towards how their appliances complement their furniture and living spaces. If we look back 100 years ago, the first commercially available refrigerators were designed like furniture, like closets. Now, Bespoke is the first to take home appliances back to this starting point, transforming them into aesthetic objects like furniture again. Bespoke's success to date demonstrates the appetite and opportunity for more customisation in home goods. That's why we're working to expand the Bespoke line up to bring the unique design and leading innovation to more appliances around the home.
samsung.com (opens in new tab)
Jonathan Bell has written for Wallpaper* magazine since 1999, covering everything from architecture and transport design to books, tech and graphic design. He is now the magazine's Transport and Technology Editor. Jonathan has written and edited 15 books, including Concept Car Design, 21st Century House, and The New Modern House. He is also the host of Wallpaper's first podcast.