Syng is rethinking the art of speaker design
Christopher Stringer and Damon Way created Syng in just three years. Here's how.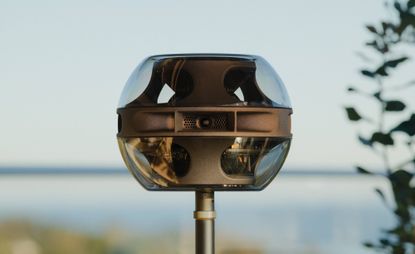 (Image credit: Syng)
Syng was started by Christopher Stringer, a product designer with over 20 years of experience at Apple, where he worked various iterations of the iPhone, iPad, MacBook, and Apple Watch. His co-founder, Damon Way, founded skatewear specialists DC Shoes and was also a partner at accessories specialist Incase. As Syng's Chief Brand Officer, he'll put his extensive experience with artist collaborations to use, while Stringer's role as CEO and Chief Design Officer gives the new company a solid grounding in design-driven products, starting with the Cell Alpha Speaker. As well as the solidity of the components and enclosure, the Cell Alpha incorporates Syng's 'Triphonic' sound, a way of mapping space to help shape the sound, with the 'Triphone' three-horned sound project at the centre of the object shaped using 3D printing.

From the outset, Syng believes in creating devices with longevity. One thing that ultra-high-end audio has in its favour is endurance. Build a product to a sufficiently high standard and it'll be good for decades of use, especially if all the components are available for spares or repair, with a willing network of enthusiasts and specialists to keep things on the road.

We spoke to Stringer about his ambitions and intentions for their debut product, the flagship Cell Alpha speaker system.
W*: How long has it taken you to develop and launch Syng?
Christopher Stringer: We founded Syng three years ago, which is miraculous. Just three years – to not only make a product of this calibre but also build a company with a world class team – is extraordinary. Prior to that, I spent a good amount of time in the year preceding ruminating on thoughts about what I want to do with my time; my thoughts quickly rallied around audio, drawing from prior experience, from childhood obsessions with building speakers when I was 14, through all of the various solutions I worked on in my career. But really with a blank slate, I started to imagine what I would want out of a speaker. I had this incredible opportunity, without the burden of legacy, to not look to the market for solutions but to imagine what I wanted. From this came the simple idea of the Cell, and the desire to start a company.
W*: What is the primary idea behind the Cell Alpha?
CS: We wanted to build something that not only delivered all forms of sound as artists intended, but also an architecture and platform that can sustain creative opportunities and growth for many years to come. This isn't about just launching a speaker – this is about shaping culture. I couldn't imagine a better partner for that than my co-founder Damon, who is an expert when it comes to building iconic brands and communities. We organized our thinking, and approach, across three disciplines – Design, Technology, and Culture, recognising the need to not only deliver true product innovation, but to tell that story through an authentic cultural lens. We are creators, and contributors to the communities we serve, seeing our story as an endemic extension to the subcultures that have defined us.
W*: What were the key inspirations behind the product ethos, as well as the design?
CS: The founding principle of Syng is to create a single device, that can cooperate in any quantity and in any layout such that it forms a single sound field, that can play any form of audio content and fill your entire space with high fidelity sound. From a design perspective, I don't ask what shape that I want to impose on a speaker. I ask, what shape does the speaker want to be? My job as a designer is to get out of the way, to pay attention, find the simple path through the clouds of complexity and artfully embody principle. Speakers are wonderful subjects in that the biggest component is air, so it is an opportunity to have an expressive design. But what you express is its purpose, and our purpose is to shape sound, to distill and find the purest embodiment in support of the founding principle.The product is ultimately the sound field.
W*: How did Triphonic sound come about?
CS: Triphonic encompasses technologies in both hardware and software to fulfill our vision. There are all shapes and sizes of rooms, and all kinds of audio types from mono, via stereo, to an enormous range of spatial formats. This is essentially the problem statement and Triphonic technology is the solution. We can understand the physical characteristics of the room and the placement of the Cell or Cells within it to tune the sound and map the Cells in your space. We also know the shape of how sound is laid out in any type of content and essentially map the sound experience to your space. There is no front, back, left, or right in a Triphonic space. We put the attention on the listener and centre attention on you to place, move, shrink, magnify, and layer sounds as you wish. We are uniting home audio today and throwing open the doors to new media out loud.
W*: The Cell Alpha has a very industrial, robust look. How tailored is the design - is every component bespoke?
CS: At the core of the design are eight custom drivers. These are finely tuned to our specifications to work in harmony as a system. Building out from the source of the sound, the enclosure is an entirely new speaker architecture. This is most evident in two prominent details, firstly in the manner of how we mount the Cell in space, and secondly the use of 3D printing in producing the Triphone, our three-horned sound projector. To get great sound into the home, we offer a short stand and a tall stand at launch. Versatility in where and how you place them is key and we see many more offerings to extend this range in the future, including customisation.

For a super robust structure, the post extends through the bottom woofer to the heaviest part of the system, the drivers. This is where the 3D printed part picks up the structural load in suspending the enclosure from this anchoring point at centre. The Triphone is of a nature and form that defies traditional manufacturing. It was really important structurally for it to be a single part, for sound to have complex uninterrupted pathways and for it to carry all of the individual seals for the system. Simply put, all of the complexity is focused in a single part and the balance of parts is as simple as possible. The result of this principled approach is quite an unfamiliar object, but one with great confidence that literally blends into any environment by use of reflection from, and transparency through, the enclosure.
W*: What is your opinion of smart speakers?
CS: Smart speakers are great at what they do – they're a great interface for controlling a voice assistant. What they're not great at, generally speaking, is delivering sound to its fullest potential. I am intrigued as to how this category has drawn our attention away from the speaker forts that we establish around our TVs, to really thinking about distributed audio in the home. Beyond that, I pay a little attention. What I find important is how do I bring high fidelity, distributed sound around the home? That's what we have done with Syng. I have to say, if you find inspiration in your competition, you're looking in the wrong place. You really have to find your own purpose, your own reason for existence and very single-mindedly go after it. So, I don't really think about the speaker market. The speaker market frustrated me, and drove me to imagine what I thought the idealised audio solution for the whole home should be.
W*: Do you envision creating more products in the future?
CS: Cell Alpha is just the beginning as our flagship product. It is necessary to establish an icon with the first product, to make the product and the brand synonymous. So leveraging the iconic nature of the Cell, we absolutely have a plan to produce more products and to build out a family of Cells. Future products will be very recognizably Syng and will extend our reach in democratizing the sound of future media out loud. In software products, we see enormous opportunities for growth capitalizing on our Triphonic capabilities. We're excited about finding new ways to work with artists and creators to bring immersive audio experiences to life in ways never before possible. To be totally honest, we have no way to imagine all the future possibilities – we build the tools to inspire creativity and we cannot wait to uncover what artists and creators in all forms of audio expression come up with.
INFORMATION
Cell Alpha Speaker, from $1799. syngspace.com
Jonathan Bell has written for Wallpaper* magazine since 1999, covering everything from architecture and transport design to books, tech and graphic design. He is now the magazine's Transport and Technology Editor. Jonathan has written and edited 15 books, including Concept Car Design, 21st Century House, and The New Modern House. He is also the host of Wallpaper's first podcast.