Judy Chicago wins Best Fireworks: Wallpaper* Design Awards 2022
Judy Chicago wins Best Fireworks award for Forever de Young, her biggest ever public performance, staged at San Francisco's de Young Museum. The epic work, created in collaboration with Pyro Spectaculars by Souza also adorns the limited-edition subscriber cover for the February 2022 issue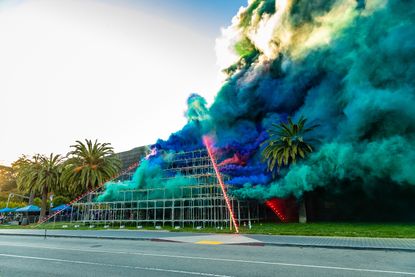 (Image credit: Scott Strazzante)
Judy Chicago's career is defined by a fierce self-belief, prodigious creative flair, a zest for social justice, and a lot of smoke.
In the early days, she injected expression into the emotion-deprived landscape of 1960s minimalism and met acclaim, and notoriety, with The Dinner Party (1979), a work that shook the foundations of art history. What Chicago has created since has been no less prophetic, fearless or radical; it continues to unearth the untold facets of history and penetrate contemporary culture deeper than most will dare to.
Judy Chicago's limited-edition cover for Wallpaper's February 2022 issue features Forever de Young, 2021, a fireworks performance in collaboration with Pyro Spectaculars by Souza. Staged on 16 October 2021 in front of the de Young Museum in San Francisco, Forever de Young was sponsored by philanthropist Jordan D Schnitzer, in memory of his late mother Arlene Schnitzer (1929-2020). Photography: Donald Woodman. Limited-edition cover © Judy Chicago/Artists Rights Society (ARS), New York
Chicago began her Atmospheres series in the 1960s. In these site-specific cinematic works, plumes of pigment gush the air, liberating colour from the rigidity of painting and sculpture. They were an unobtrusive, ephemeral reimagining of what land art could be, but also, as Chicago told us in a recent interview: 'an effort to feminise and soften an exceedingly male-centred art scene.'
RELATED STORY
These days, Chicago's adventures in pyrotechnics (including her recent contribution to our Artist's Palate series) are no less dramatic. On 16 October 2021, in celebration of the artist's first retrospective, at the de Young Museum, San Francisco, Chicago filled the skies with a new smoke sculpture, Forever de Young, created in collaboration with Pyro Spectaculars by Souza. The work, awarded Best Fireworks in the Wallpaper* Design Awards 2022, also adorns the limited-edition subscriber cover for the issue.
The volcanic, multi-coloured smoke performance erupted from a 27ft-high tiered scaffold in front of the museum; non-toxic pigments danced in the wind and light in a spectral chromatic haze. The piece was staggering in scale, concept and choreography, and a fitting reflection on Chicago's epic career. 'I was marginalised for many decades because nobody could fit me into the narrow categories of contemporary art. When I was young, I wanted to fit in, but now I'm old, I'm like, "I don't want to fit in."'
INFORMATION
Judy Chicago's cover is the latest addition to the Wallpaper* limited-edition cover series, which features a specially created artwork by a different artist, architect or designer each issue, available exclusively to subscribers (opens in new tab).
judychicago.com (opens in new tab); deyoung.famsf.org (opens in new tab)
Harriet Lloyd-Smith is the Arts Editor of Wallpaper*, responsible for the art pages across digital and print, including profiles, exhibition reviews, and contemporary art collaborations. She started at Wallpaper* in 2017 and has written for leading contemporary art publications, auction houses and arts charities, and lectured on review writing and art journalism. When she's not writing about art, she's making her own.