From colourful textiles to minimalist glassware, editors' picks from WallpaperSTORE*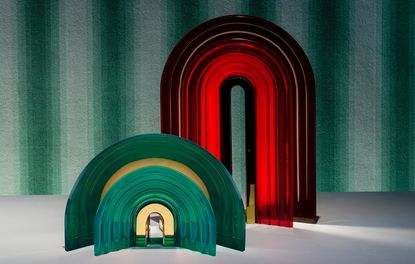 (Image credit: Designed by Mut and created by Preciosa)
Our senior editors have browsed the vast selection of goodies stocked by WallpaperSTORE* and compiled the ultimate wish list to help you navigate the festive season ahead. Whether shamelessly self-gifting or hunting for art gifts for the hard-to-please aesthete or sybarite – we've got it covered for you.

Below, find selections from our architecture editor Ellie Stathaki, Japan editor Jens H Jensen, lifestyle director Emma Moore, art director Jessica Rose, and digital editor Bethan Ryder.
Digital editor Bethan Ryder selects:
Trays, set of three, by Jasper Morrison for Vitra
'Not sure the small one of these would get much use, but these are definitely trays for display. Trust Jasper Morrison to design the archetypal circular tray and every home needs one, if not three.' Trays, set of three, by Jasper Morrison for Vitra, £80
'Chromo' table lamp by Mut for Preciosa
'Created for the Wallpaper* Handmade exhibition this year, these lamps designed by Mut and made by glassmaking masters Preciosa, are extremely pleasing to look at with their art deco, rainbow-like curves. On a deeper level it's possibly the chromotherapy – which they are inspired by – and the healing powers of colour and light that's working the magic. Likely to light up anyone's life in more ways than one.' Chromo table lamp by Mut for Preciosa, small green, £1,962, large red, £2,610
'Sommelier' glassware by Michael Anastassiades and Enrico Bernardo for Puiforcat
'I like almost everything Michael Anastassiades does and for this glassware he worked with sommelier Enrico Bernardo to engineer the best shape to get optimal taste for white/red wine, champagne or liqueurs. Puiforcat does incredible things with silver and these are in keeping with the brand's strong modernist heritage. Not only would these make any table setting look exquisite, but I think it would make drinking more satifsying than usual – the lifting of the light tumbler and then the placing of it back into the base – which may prove trickier as the night progresses.'
'Diamond' black carpet, large by Bertjan Pot for Golran
'This wool and silk rug, which is based on the kilim technique and includes a dash of golden thread, gets my vote. Golran make beautiful rugs and this collection with Bertjan Pot is one of my favourites, with India Mahdavi's a close second.' Black diamond carpet, large, by Bertjan Pot for Golran, £7,130
'Bouquet' vases, by MIST-O for Ichendorf Milano
'Naturally I'd like the entire set of these Bouquet vases by Japanese-Italian studio MISTO-O. I currently have a bit of thing for coloured glass and and these would complete a shelving niche in my bathroom, alongside a Michael Ruh bowl below and a Jochen Holz jug above. Elegantly proportioned, they don't even require flowers and are very reasonably priced too.' Bouquet vases by MISTO-O for Ichendorf Milano, £48-£56
Art director Jessica Rose selects:
'Glaciarium' large bowl, by Fredrikson Stallard for Swarovski
'Is it a glacier? Is it a crystal? Is it a bowl? Is it a sculpture? Whether a piece of design or contemporary art, all I know is that I want Fredrikson Stallard's radiant object of desire to sit on the dining room table, or any tabletop in my house, forever, so that I can stare at it all day long. And forever.' Glaciarium large bowl by Fredrikson Stallard for Swarovski, £1,595

'Pylon Chair', by Tom Dixon
'The perfect-housewarming-gift-slash-ode-to-the-wire-chair, in blue. A chair you just want to have around, to stare at, to sit on – a keep forever kind of thing. Recently back in production since its birth in the 1990s, this wire chair is based on the engineering of electrical towers. Probably impossible to receive in time for Christmas, but worth the wait whenever it arrives.' Pylon chair by Tom Dixon, £4,000

'Gio Ponti', luxury set, 72 pieces, by Sambonet
'Black cutlery. Gio Ponti. For your house. You can't go wrong. Particularly the 72-piece stainless steel set of classic cutlery design with a mirror-polished black finish. What better way to tell your home, and anyone who has the pleasure to dine there: I love you.' Gio Ponti 72-piece set of cutlery by Sambonet, £1,407

Architecture editor Ellie Stathaki selects:

'Bølling' single tray, by Brdr. Krüger
'I just love the work of Brdr. Kruger, ever since I visited their workshop in 2014 and our Wallpaper* Handmade collaboration with them in 2015. It's Danish woodworking at its very best. A simple and elegant design that lets their century-old woodturning craft do the talking.' Bølling single tray by Brdr. Krüger, £158

'Coat dots', by Hella Jongerius for Vitra
'An all-time-classic from Vitra and Hella Jongerius. It's clean, beautiful, effective and can be as discreet as you like, so that it fits every space. I have a set of these in my own home.' Coat dots by Hella Jongerius for Vitra, £59

'Bell' table lamp, by Tom Dixon
'I get serious design envy with Tom Dixon's work. This lamp would make for the perfect gift, could someone get me one please?' Bell lamp by Tom Dixon, £540

'Monkey', by Kay Bojesen
'If you are researching for children's gifts, look no further than the Danish Monkey. It's one of my favourite possessions. A timeless design classic that looks just as good in my son's nursery as it does hanging from my bookcase.' Monkey by Kay Bojesen, £125

'Cantili' tape dispenser, by Poetic Lab for Beyond Object
'Something for the desk, at home or work. Is it a tape dispenser? Is it a piece of sculpture? It's two-in-one.' Cantili tape dispenser by Poetic Lab for Beyond Objects, £90

Japan editor Jens H Jensen selects:

'Fire' match kit, by Fort Standard
'I eagerly look forward to the annual Wallpaper* Handmade collection and as I love the outdoors, what could be more appropriate to take on my next hiking adventure than Fort Standard's Fire match kit, which was designed as part of the 2013 exhibition?' Fire match kit by Fort Standard, £75

'Iconic calculator', by Braun
'I've always wanted the classic Braun calculator, but with an iPhone always handy and excel sheets for more complicated calculations have never gotten around to buying one. Maybe it is about time?' Iconic calculator by Braun, £30

'Turning tray 1', by Finn Juhl for Architectmade
'I use Finn Juhl's turning tray on a daily basis. Love the two-colour tray as you can always turn it around if you get bored with one of the colours, or it to match whatever you are serving.' Turning tray 1 by Finn Juhl for Architectmade, from £115

'Revolution' rocks and martini glass, by Fferrone Design
'While my cocktail mixing tends to gravitate towards a classic Pisco Sour (with egg whites from one of own our five hens), we could use something like these in our bar cupboard for a good Japanese malt on the rocks.' Revolution rocks and martini glass, set of two, £81

Straightedge 'Ueke Bonsai' scissors, by Banshu Hamono
'These scissors would come in very handy in my 'kolonihave' (allotment garden) in Odawara.' Straightedge 'Ueki Bonsai' scissors designed by Osami Mizuike for Banshu Hamono, £162

Lifestyle director Emma Moore selects:

'Tip of the tongue' lamp, by Michael Anastassiades
'Personally, I'd very happily receive anything by Michael Anastassiades. The man is a master of gilded minimalism, and everything he turns his hand to becomes an instant design classic. This globe light, balancing precariously on its brass base would teeter happily in most homes.' Tip of the tongue, by Michael Anastassiades Ltd, £650

Pomba Paloma N°4 ceramics, by Sargadelos
'I remember the excitement when we discovered this Galician gem of a porcelain maker, and went to explore the factory, which has been producing ornamental porcelain uninterrupted since the mid-20th century. The geometrically-patterned, sculptural pieces are Spanish design history, and while this dove is utterly un-useful, it's endlessly decorative – the sort of thing that you might wish for but find it hard to buy for yourself.' Pomba Paloma No.4 by Sargadelos, £71

'Pigmento' pitcher, by Nude
'I was totally enamoured by this collection of cloudy glassware designed by Formafantasma for Nude when I spotted it at Paris's Maison et Objet show earlier this year. The weighty, elliptical carafe in particular is a supremely elegant statement piece.' Pigmento pitcher by Formafantasma for Nude, £82.

'Siena' napkin, by Artek
'I'm a fan of the napkin, not only as a matter of prandial propriety, but as a great way to enjoy textiles in the home. Here's a classic textile design from Alvar Aalto, that would bring refined modernist manners to any table.' Siena napkin by Alvar Aalto for Artek, £8

'Sowden' water bottle, by Hay
'The more mundane an object, the more joy can be got from its upgrading. Hay's new water bottles, designed by the Memphis master George Sowden, are a great way to be eco-conscious and healthy with style.' Sowden water bottle by George Sowden for Hay, £29.
Rosa Bertoli was born in Udine, Italy, and now lives in London. Since 2014, she has been the Design Editor of Wallpaper*, where she oversees design content for the print and online editions, as well as special editorial projects. Through her role at Wallpaper*, she has written extensively about all areas of design. Rosa has been speaker and moderator for various design talks and conferences including London Craft Week, Maison & Objet, The Italian Cultural Institute (London), Clippings, Zaha Hadid Design, Kartell and Frieze Art Fair. Rosa has been on judging panels for the Chart Architecture Award, the Dutch Design Awards and the DesignGuild Marks. She has written for numerous English and Italian language publications, and worked as a content and communication consultant for fashion and design brands.