A walking tour of Venice through art and design
Ahead of the Venice Architecture Biennale (which starts on 22 May 2021), discover Venice by walking through its best art and design locations, with a specially-curated tour led by local creative entrepreneurs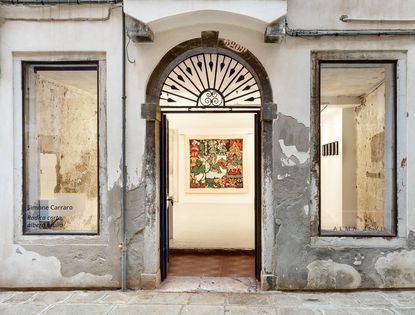 (Image credit: press)
Started in March 2020, just a week before the first Italian lockdown, MAY is a new multidisciplinary communication agency founded by three women combining contemporary and historical approaches to create guided walking tours of Venice.

Claudia Malfitano (whose background is in public, social and political communication), Carlotta Santini (a former events organiser) and Camilla Rigo Langé (who studied graphic design) decided to leave their jobs to create one on their own. They met in Venice while working at communication agency Lightbox Publishing: 'we were a really close-knit group of women with the desire to pursue fun projects together.'

MAY offers three customised walking tours of Venice, called VeniceFor (each specialising in art, design and architecture), and wanderers are equipped with unique welcome kits. Kits include a tote bag (emblazoned with the words 'Venice for Tipsy Gallerinas', 'Venice for Wannabe Archistars' and 'Venice for Sleepless Designers'), and useful tools made of sustainable materials to explore the city: a small brick of water and a printed map of the island made from the same algae that infest the lagoon.
A tour of Venice through its best art and design locations
Lunardelli
Claudia Malfitano says: 'Let's start our tour of Venice from Lunardelli. It is a wood atelier led by a visionary woman, Agnese Lunardelli, who is very much in love with Venice and grew up on "bread and wood chips", because of her family's wooden craftsmanship business. Agnese collaborates with designers and artisans to express the variety of talents and creativity offered by the Venetian territory, but also to explore innovative production techniques with materials of the local traditions such as wood, Murano glass, fabrics.'
Calle Seconda del Cristo, 2210a, 30125 Venezia
lunardellivenezia.net (opens in new tab)
Tessitura Bevilacqua
'One of my favorite collaborations between Lunardelli Venezia and other designers is the one with Tessitura Bevilacqua, which is another amazing stop included in our tours,' continues Malfitano. 'The weaving mill Luigi Bevilacqua is one of the most ancient working mills in Europe, and they still manually produce the unique soprarizzo velvet using the same techniques and high quality required by the Doges, on the original looms of the 18th Century. It is something incredible to see: an ancient mill, where only a few exquisite centimeters of velvet are woven each day!'
Santa Croce, 1320, 30135 Venezia
luigi-bevilacqua.com (opens in new tab)
Negozio Olivetti by Carlo Scarpa
Says Camilla Rigo Langé: 'Walking under the St. Mark's square porticos, you can find a small building that Adriano Olivetti identified as the perfect location to communicate his company's cultural values in a setting that mixes modernity and innovation. As a graphic designer, I believe that Negozio Olivetti is an incredible source of inspiration for its details and coexistence of materials and shapes, and I'm always amazed by the intervention of Scarpa and the history of the space.'
Piazza San Marco, 101, 30124 Venezia
fondoambiente.it (opens in new tab)
Alma Zevi Art Gallery
'In one of the chicest areas of Venice, known for the headquarters of Palazzo Grassi and its futuristic Teatrino designed by Tadao Ando, there is a small gallery with an international flair and a taste for local emerging artists: Alma Zevi Gallery, a true must for contemporary art lovers,' says Carlotta Santini. 'The gallery regularly hosts artists in residence to produce new works in response to the fervent cultural environment of the town. Alma Zevi's gallery represents several young artists including my personal favorite and long-time friend, Marcantonio Brandolini d'Adda.'
Salizzada San Samuele, 3357, 30124 Venezia
almazevi.com (opens in new tab)
LagunaB
'After taking the helm of the glass company LagunaB (founded in 1996 by his mother Marie Brandolini), Marcantonio succeeded through the production and redesign of some historical collections of glasses such as the "Goto" and the development of many other projects,' says Santini. 'The current mission of LagunaB is in fact to offer pieces whose true value lies in their positive impact on current and future generations, while respecting the environment and enhancing the city and its lagoon.'
Dorsoduro 3228, 30123 Venezia
lagunab.com (opens in new tab)
Vino Vero
At the end of each tour, the visits include amazing spots serving natural wines and gourmet food, and are either set in a great location or offer a breathtaking ambiance. 'The final stage of the perfect day in Venice is to meet friends for a glass of wine in Fondamenta Della Misericordia, in Cannaregio, and Vino Vero is the place to be,' adds Rigo Langé. 'Vino Vero opened in 2014 and offers one of the best selections of 500 natural wines from all over the world. In just a few years, it has become a meeting point to savor a glass of natural wine glass at sunset.'
Fondamenta Misericordia, 2497, 30100 Venezia
vinovero.wine (opens in new tab)
INFORMATION
Tours last four hours and are meant for small groups of six – eight people. mayvenice.com (opens in new tab)
Maria Cristina Didero is an independent design curator, consultant and author, who has contributed to many publications over the years; she is currently Milan editor of Wallpaper* . Didero has consulted for companies such as Vitra, Fritz Hansen, Lexus, Fendi, Louis Vuitton, Valextra among others. Based in Milan, she works internationally, curating exhibitions for institutions: some of her most recent projects include Nendo: The Space in Between and The Conversation Show at the Holon Design Museum, Israel; FUN HOUSE by Snarkitecture at National Building Museum, Washington D.C.; SuperDesign a project about Italian radical design, NY; Vegan Design, or the Art of Reduction by Erez Nevi and The Fish and The Crowd by Carlo Massoud, Milan. In April 2022 she curated a Mathieu Lehanneur exhibition at the Triennale in Milan called The Inventory of Life, while in July she debuted a project at the MK&G in Hamburg titled Ask Me if I Believe in the Future, alongside a series of ongoing collaborations. She was appointed 2022 Curatorial Director of Design Miami/. She is currently preparing two projects for Milan Design Week 2023.