Double down: The Future Perfect launches a duet of new collections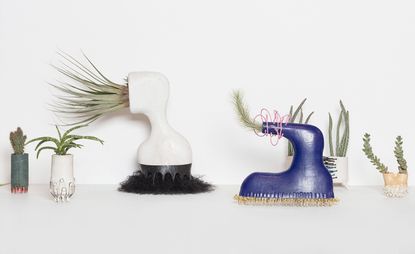 (Image credit: Lauren Coleman)
Last week, The Future Perfect debuted a furniture line by Marta Sala Editions out of Milan and a new collection by Brooklyn-based ceramicist Monty Mattison. Both Marta Sala and Mattison came to The Future Perfect through a thoroughly modern mode: Instagram.

It was during last year's Milan Design Week that The Future Perfect founder David Alhadeff was scrolling through hashtags when he came across one of Sala's sofas. Realising the showroom was nearby, he ran over, met Sala and a collaboration was born. Now, almost a year later, Mara Sala Editions is making its US debut at The Future Perfect in New York.

The furnishings are remakes of pieces architects Claudio Lazzarini and Carl Pickering made for various projects over the years. 'I come from a world of Italian industrial design where architects make furniture for a specific need,' Sala says. 'The [furniture market] is overwhelmed right now, so I thought what do we need? We need very useful, very well-made things.'

Although Pickering and Lazzarini were problem-solving for highly specific contexts, the solutions resulted in universally appealing shapes. 'There's this heritage quality to the work,' says Alhadeff. 'There's a familiarity and yet the forms are completely modern — I've never seen anything quite like this before.'
Each piece of furniture is named for the original client. Case in point: the slightly c-shaped 'Elizabeth' sofa was designed for a woman who was very short, but frequently had guests over who were tall. The resulting curved design allows people of different heights to sit at different parts of the sofa to accommodate different leg lengths. Another example is the 'Wanda' chair, which was designed for Wanda Ferragamo to accommodate the purses of women trying on shoes in a Ferragamo boutique. Every piece has a history, but the collection still feels modern and fresh.

More recently, designer Kelly Behun, who also discovered ceramicist Mattison on Instagram, introduced him to Alhadeff and arranged for a studio visit to share his whimsical, Seussical ceramic vases and sculptures. '[Visiting his studio] was this very emotional experience where it felt like I walked into someone's world,' recalls Alhadeff. 'He had it beautifully set up with these plants and anthropomorphic creatures everywhere.'

Mattison views all of his ceramics as 'ladies', and gives each one a name – the individual personalities become apparent through his unique selection of plants, ceramic forms, feathers and string. He is a prolific ceramicist, but takes the time to pair each piece with the perfect plant. His designs allow for the plants to grow and change over time as well. 'That's the beautiful thing, the evolution is part of the piece. You are forming a relationship with my work. It will change, and if you don't take care of it, it will die,' he explains.

Mattison's ceramics are part of the brand's gallery programme, which helps emerging artists and designers create exclusive collections for The Future Perfect. Sala's furniture will debut later this month at The Future Perfect locations in San Francisco and Los Angeles.
INFORMATION
For more information, visit The Future Perfect website

Photography: Lauren Coleman