Bowie's bounty: Sotheby's presents 'Bowie/Collector' exhibition and auction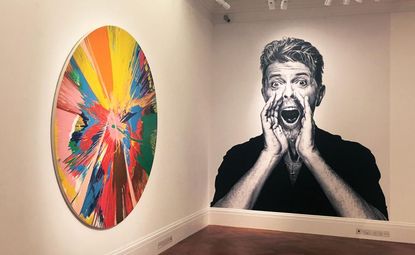 (Image credit: Antonio Camera)
What a thrill to stand in front of David Bowie's record player and imagine him pulling favourite albums by atonal noisemaker Glenn Branca or pioneering Dutch geeks The Electrosoniks from a shelf in his New York home and blasting them out to Iman or Brian Eno, at neighbour-bothering volumes.
Bowie's 1960s Brionvega music centre, designed by the Castiglioni brothers, isn't in mint condition – it's slightly foxed around the edges of the detachable speakers, and Manhattan sunshine has discoloured the unit's white melamine surfaces to a buttery yellow tone – but the unconventional, jolie laide piece of industrial design, exhibited in the George Street foyer of Sotheby's 'Bowie/Collector' sale preview in London, is indicative of the man and his eye, his intelligently informed thing, for art. Someone who collected for love, for beauty, inspiration, contemplation, entertainment and amusement, rather than just for money.
Bowie's fascination with not just art, but also with artists, the art world, art journalism, auction houses and the creative process of design, is well documented. Away from music he was a regular at salerooms, art fairs and ateliers. He befriended advisors and gallerists, enlisted the services of specialist dealers, wrote for art magazines, referenced art in interviews and in song lyrics – 'Joe The Lion' from Bowie's landmark Heroes album ('Nail me to my car and I'll tell you who you are') being a paean to self-harming performance artist Chris Burden.
In keeping with Bowie's eclectic but considered preferences, the modest Sotheby's preview offers insight into a much larger collection that acknowledges established artists – Henry Moore, Jean Michel Basquiat (Bowie purchased Air Power in 1995 for £78,500 – it's now valued at £2.5million), Damien Hirst and Frank Auerbach are all represented here – and delights in championing the work of lesser known talent also.

So, next to the Basquiat is a is a magnificently phallic William Turnbull, an energetic, monochrome abstract by St Ives painter Peter Lanyon and a pair of naive 'outsider art' drawings by residents at Gugging, a psychiatric ward near Vienna, Austria. Bowie and Eno visited the hospital in early 1994, interviewed and photographed its patients, and bought some of their work. Their outsider art experience would become the inspiration for Bowie's 1995 industrial rock album Outside.

An ice-cream array of furniture, lighting and ceramics is the centrepiece for the main room at the Sotheby's show. Bowie collected Memphis – the eccentric, Marmite-ish 1980s movement founded by Ettore Sottsass. The style isn't to everyone's taste – think of it as the Let's Dance to the Patrick Caulfield canvas' Station To Station – but viewed within the context of the Hirst spin painting and the dumpster sculpture pieces by Beninese artist Romauld Hazoumé, you can see how the group's bonkers Milanese take on tribal, pop kitsch appealed.

But it is the dessert-thick, whipped oils of Auerbach's Head of Gerda Boehm that leaves the most lasting impression. A profoundly affecting portrait of the London-born artist's cousin, the painting proved particularly inspirational for the songwriter. 'I can look at it and say: My God, yeah!' Bowie once said of it. 'I want to sound like that looks.'
Look behind the scenes of the unpacking of 'Bowie/Collector' above
The 'Bowie/Collector' exhibition and auction will be staged at Sotheby's New Bond Street in November, preceeded by a preview world tour. For more information, visit the Sotheby's website
(opens in new tab)
Preview World Tour:
London: 20 July – 9 August
Los Angeles: 20–21 September
New York: 26–29 September
Hong Kong: 12–15 October

The Exhibition:
'Bowie/Collector': 1–10 November, Sotheby's New Bond Street, London

The Auctions:
Part I: Modern & Contemporary Art, Evening Auction, 10 November
Part II: Modern & Contemporary Art, Day Auction, 11 November
Part III: Post-Modernist Design: Ettore Sottsass and the Memphis Group, 11 November