Modern master: Charles Hollis Jones' lucite furniture works its magic in LA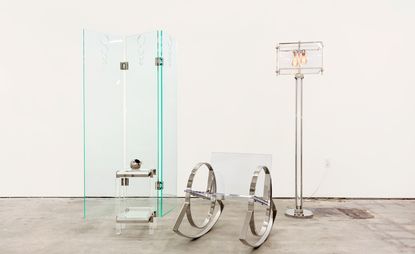 (Image credit: Charles Hollis Jones)
In his six-decade career, Charles Hollis Jones has designed pieces for the likes of Frank Sinatra (he made 40 tissue boxes, 40 waste baskets and mirrors for Old Blue Eyes), Tennessee Williams (the writer and playwright commissioned him to create a writing chair, which resulted in the Wisteria Chair) and Dean Martin, who had Jones make a director's chair for his show. During the opening for Art Los Angeles Contemporary, the furniture designer sat perched atop the Dean Martin Director's Chair — 'See the D?' he asked, pointing to the foot rest — holding court at booth F7, where the Detroit- and Miami-based Michael Jon Gallery presented a solo exhibit of his work.

Jones pioneered the use of acrylic and Lucite in furniture design during the '60s and '70s, particularly when he caught the eye of Modernist architect John Lautner, who tapped Jones to work on 13 houses with him.

'He was like Santa Claus,' recalls Jones. 'He always said to me, 'Design me some bronze doors' — I don't work in bronze. I never did design bronze doors, but he always would ask me every time he saw me, and he said, 'Charles, I can design an obstruction, design me a vista,' and I would do chairs and things like that, and I did lots of Lucite tables. He thought my work made his work show off.'

Lautner's desire to work with him proved that. The late architect admired Jones' work so much that he asked him to contribute to interior designer Arthur Elrod's Palm Springs home in the late '60s. 'Elrod's house was the best house he ever did in Palm Springs, and I did 40 pieces for Arthur Eldrod's house, so that was the biggest job,' Jones says, who also enjoyed working with Lautner. 'John was always just the best.'

The Michael Jon Gallery booth, the only booth dedicated to design at the art fair, presented a selection of pieces by Jones, including the Wisteria Chair, the Box Bar Cart and an Orb table, made with a Lucite orb he originally made in 1980. 'I found a purpose for them, and I make them all one-of-a-kind because the balls are all different,' he says. Just don't associate his work with Midcentury Modern. 'Everybody calls my work Midcentury, but my work is just mine,' he finishes.
INFORMATION
Art Los Angeles Contemporary takes place at Barker Hangar in Santa Monica, California through 31January.