Making shapes: designer Christopher Stuart celebrates distortion in NY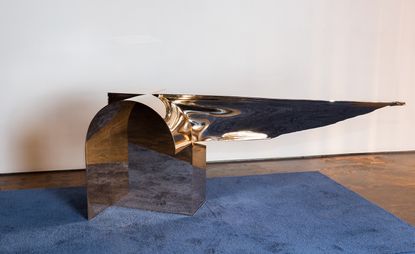 (Image credit: Lauren Coleman)
According to Dieter Rams' ten principles for good design, nothing must be arbitrary or left to chance. 'If I'd followed those rules, this collection would not exist,' says Christopher Stuart, whose functional furniture series, 'Constructs & Glitches', was recently unveiled at New York design outpost, The Future Perfect. A mash-up of geometric shapes in off-kilter arrangements, the objects revel in obscurity, eliciting a slightly uncomfortable sense of bewilderment as one tries to make sense of them. 'Emotion is a function,' Stuart says. 'For me, design can be arbitrary if it fulfills an emotional need.'

Stuart's approach to design mirrors his approach to life, where running headfirst into the unknown is a means of moving forward. Hailing from Indiana, Stuart pursued furniture design at the Herron School of Art and Design. He worked his way up the ladder at a consumer electronics company in Carmel, where he ultimately designed products for General Electric. When he was laid off, he started his own studio, Luur, and published two books on DIY furniture: a culmination of his industrial design research, where he discovered people like himself who were prototyping their ideas using inexpensive materials.

Today, he's constantly looking for ways to grow and experiment with what's available to him. 'At Luur, we work across branding, industrial and interior design,' Stuart explains. 'It helps me understand what I want to do on the self-initiated side, and has shown me there's room for people to do things that are completely different.'

As its name suggests, 'Constructs & Glitches' celebrates distortion. The pieces were created using CAD software, where Stuart encountered program errors when he'd try to do things like assign a radius to a box. Instead of working around the glitches, which appear as incomplete, irregular surfaces, he incorporated them into the design. Stuart worked closely with David Alhadeff, founder of The Future Perfect, to refine the resulting six objects, which are primarily made from folded sheets of aluminum and steel; Glitch 1, a sculptural winged creation, was 3D-printed and cast in bronze.

Each piece contains a surprise: a cantilevered lip of a table (visible beneath its glass top); a bench's flip-flopped, half-moon-shaped seat. 'What I love so much about the design is that it was out of my control,' Stuart says. 'It's about being honest and embracing that.'

Being concurrently exhibited in the space is the 'Equalizer' lighting series, a joint effort between Ladies & Gentlemen Studio and the glass artist John Hogan. The jewellery-like hanging pendants, which feature Hogan's quixotic, phosphorescent glass, are complemented by an assortment of other glass sculptures by Hogan, also on display.
INFORMATION
'Constructs & Glitches' is on view until June. For more information, visit The Future Perfect's website
Photography: Lauren Coleman
ADDRESS
The Future Perfect
55 Great Jones Street
New York, NY 10012