Raf Simons and Kvadrat launch a Shaker-inspired accessories collection
Launching on 10 August 2022, the new accessories collection by Raf Simons for Kvadrat includes cushions, throws, bags, as well as tray, box, magazine holder, cap, and two key chains whose design is driven by functionality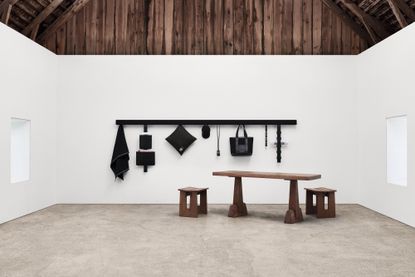 (Image credit: press)
In the eight years since Kvadrat and Raf Simons joined forces to develop an upholstery range, their luscious fabrics have gained a near-mythical status. New launches during Salone del Mobile and 3 Days of Design are always greeted with fervour, and tote bags made from the fabrics and offered to a select few on these occasions have become collectibles among those in-the-know. Thus the arrival of a full Kvadrat/Raf Simons accessories collection in August 2022 is destined to be welcomed with open arms: so confident is the Danish textile brand in this collection's success that they are breaking from tradition to open a dedicated accessories store in Copenhagen.
Kvadrat Raf Simons accessories launch
The collection comprises cushions, throws, a tote bag and a shopping bag, as well as a small tray, an accessory box, a magazine holder, a cap, and two key chains: the last two marking a departure from Kvadrat's long-standing focus on the home. Most of them are made from Vidar 4, a tightly woven fabric from the Kvadrat/Raf Simons range with a gentle satin surface finish (it 'gives a sense of artistry that does not feel industrial,' describes Simons), while a handful incorporate leather. Uniting these items is what Kvadrat and Simons refer to as a 'Shaker System': a horizontal bar based on the peg rail used by Shakers, a Protestant religious group known for its distinctive design and architectural style.

'The collection consists of a unified series, a storage system and edit of accessories honouring utility, function and materiality. While living in the US, I developed a deep appreciation of Shaker culture. Its ordered homes and simple functional furniture are considered the first modern American design,' explains Simons.
The wall-mounted system is striking in appearance: Simons says the choice of material – powder-coated aluminium, upholstered in Vidar 4 – nods at once to the minimalist sculptures of John McCracken, and the work of French decorative arts designer Jacques Adnet, who made cladding furniture in leather his métier. 'This is a major flashback to my early days as a graduate industrial designer. Whatever it is in terms of design, it has to serve the human being and it has to be put in the context of the environment in which people are living. We created the Shaker System to be visually appealing, but the main focus was its functionality.'
Functionality, too, is the driving force behind the individual accessories, which have pared-back forms, limited ornamentation, and a strict colour palette, allowing their materials to truly shine. 'If the product is pure and simple, you have to pay extra attention to your quality – sometimes you hide defects with complicated things and lots of stitches and stuff, but there was nothing to hide here,' he says. Still, Simons is not overly insistent on perfection, and he's particularly excited by the ability of the leather to develop a patina over time. 'A lot of objects here will patinate because you will have them in your hands all the time. That's the beauty, when you feel that it's a living piece.'
The collection is available in four colourways: black, off-white, dark green and pink. Where the materials vary, Simons has taken great pains to ensure that they have the same tone: the Vidar exterior of the cap is carefully matched with its sateen inner lining, similarly, the Vidar body and leather handles and front pocket of the tote bag blend seamlessly together. The visual effect of having multiple accessories in a consistent colour is impressive, though Simons believes that the colours (particularly the dark green and pink) combine well together, and is happy for consumers to mix and match. He's even designed two of the throws to be double-faced, in contrasting colours.
Aside from these throws, which are conspicuously imprinted with the Kvadrat/Raf Simons logo, the designer has kept the branding subtle: a small monogram engraved on the metal buckle of the cap, an embossed logo on the leather front pocket of the Vidar tote bag, engravings on the individual rings of the key chain. Unusually, the lambswool throw and lambswool cushion are adorned with the original Kvadrat label from 1968, a detail that enthuses Simons: 'that May '68 period of cultural and political revolution and its aftermath was an extremely interesting time, where social principles also found their way to the arts, architecture, city planning and design,' he observes. 'It became more about serving the people, functionality instead of solely aesthetic objectives. This '60s attitude is still discernible at Kvadrat: there's this feeling of total freedom, total experiment, reflecting a hippie kind of attitude.'
To present the new collection, Simons is showcasing the accessories on the Shaker System alongside furniture from Swedish designer Axel Einar Hjorth, who was particularly active during the 1920s and 1930s. 'You can instantly see his pragmatic focus on simplicity and functionality as well as its formal connection to the Shakers' aesthetics,' he explains. True to Kvadrat's Danish roots, the dedicated store will be in Copenhagen, but the brand is also collaborating with 48 retail partners around the globe for special pop-ups, among them Dover Street Market in London, Andreas Murkudis in Berlin and 10 Corso Como in Milan. Here, 'people can really immerse themselves in the world of Kvadrat/Raf Simons and feel and see how Raf envisioned the accessories in the home and understand the Shaker concept,' says Njusja de Gier, senior vice president of marketing and digital at Kvadrat.

Ultimately, Simons wants his collection to encourage users to approach accessories with the same care and consideration that they give to larger items of furniture: 'I hope it inspires people to buy small objects with the same mind as when they buy a chair, to put it in the context of their environment.'
INFORMATION
The Kvadrat/Raf Simons accessories collection launches on 10 August 2022. The dedicated store is located on Møntergade 3D, Copenhagen
shaker.kvadratrafsimons.com, kvadratrafsimons.com
Dover Street Market in London will host an exclusive installation, see london.doverstreetmarket.com
Receive our daily digest of inspiration, escapism and design stories from around the world direct to your inbox
TF Chan is a former editor of Wallpaper* (2020-23), where he was responsible for the monthly print magazine, planning, commissioning, editing and writing long-lead content across all pillars. He also played a leading role in multi-channel editorial franchises, such as Wallpaper's annual Design Awards, Guest Editor takeovers and Next Generation series. He aims to create world-class, visually-driven content while championing diversity, international representation and social impact. TF joined Wallpaper* as an intern in January 2013, and served as its commissioning editor from 2017-20, winning a 30 under 30 New Talent Award from the Professional Publishers' Association. Born and raised in Hong Kong, he holds an undergraduate degree in history from Princeton University.