Sprawling Venice showcase 'Homo Faber' displays the pinnacle of European craftsmanship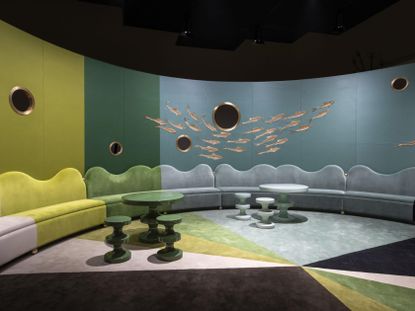 (Image credit: Tomas Bertelsen)
'In a world where machines are eliminating jobs every day, it is vital to recognise exceptional and uniquely human talent,' announced Johann Rupert, chairman of Swiss luxury goods firm Compagnie Financiere Richemont at the launch of his latest venture – a cultural exhibition dedicated to the best in European craftsmanship.

Titled 'Homo Faber' (which translates as Man the Maker), the sprawling showcase of exquisitely made objects is Rupert's way of giving back to the craftspeople that have powered his businesses over the years – his portfolio includes Van Cleef & Arpels, Panerai, Cartier and Montblanc to name a few.

The show itself has been put together by the Michelangelo Foundation, a not-for-profit organisation that Rupert launched 18 months ago alongside former Cartier executive Franco Cologni.

Spread across the rooms of Venice's spectacular Fondazione Giorgio Cini on the island of San Giorgio Maggiore, the exhibition brings together over 900 objects made by over 400 European craftspeople in 18 exhibitions created by an impressive roster of curators including Michele De Lucchi, Stefano Boeri, India Mahdavi, Judith Clark, and Jean Blanchaert. As well as static objects, many of the showcases include craftspeople from ateliers such as Hermè , Cartier and Smythson hard at work in temporary studio spaces.

With another edition planned for 2020, 'Homo Faber's ultimate goal, Rupert says, is to share the skills of these unsung craftspeople, and in turn preserve their livelihoods and culture.
'Creativity and Craftsmanship'
For his 'Creativity and Craftsmanship' exhibition, Curator Michele De Lucchi paired master artisans with contemporary designers to create eight specially commissioned pieces that are displayed under dramatic conical structures hanging from the ceiling in the Fondazione's vast Cenacolo Palladiano.

The only stipulation set by De Lucchi was that each object must have a visible interior. Results include a wooden container designed by Alfredo Häberli and made by Roman Räas using the centuries-old Weissküfer technique, and Tabernacle – a one-minute vase designed by Marcel Wanders who worked with potter Wilma Plaisier from Delftware producer Heinen Delts Baluw.

Fondation Bettencourt Schueller
A hundred artisans who have, in the past 20 years, been recipients of the Liliane Battencourt Prize pour l'intelligence de la main, are displaying their work in a space curated by Alain Lardet and designed by Maison & Objet's designer of the year, Ramy Fischler. The architectural display, made from heavy rammed earth bricks produced in Grenoble, allows visitors to view the works from various different angles through openings in the walls. 'The idea was that the scenography should also showcase a craft not just support the display,' explains Fischler.

'Fashion Inside and Out'
Curator and London College of Fashion professor Judith Clark's show-stopping exhibition occupies the Fondazione's disused swimming pool. Erected in the cavernous empty pool, a wooden platform snakes around mannequins clad in couture creations made from natural fabrics such as straw, hemp, cane and wood using painstaking techniques such as embroidery, pleating, knotting and weaving.

'I wanted to make it lighthearted,' says Clark of her exhibition. 'I didn't want to show ballgowns, wedding dresses and the pieces that are often associated with high luxury crafted dresses. I think that craft can be a muse for the avant garde – it doesn't have to be nostalgic. I wanted to celebrate not only the crafting of the clothes but also the crafting of an exhibition – the wigs should take as long as the dresses to make.'

'Centuries of Shape'
Arranged in two perfect lines along the centre of the Fondazione's spectacular library are a selection of 50 20th- and 21st-century vases taken from the archives of Milan's Triennale Museum. Curated by the Museum team, the vases chart the evolution of European craftsmanship from art nouveau and cubism through to postmodernism and contemporary design, taking in techniques as diverse such as mouth blowing to SLS printing along the way.

'Imaginary Architecture'
Tehran-born India Mahdavi has created two interiors that show off the skills of craftsmen specialising in techniques such as rattan marquetry, mosaic and Venetian mirror work.

'I thought the best thing for me to do was to show how craftsmanship can serve the imagination,' says Mahdavi of her immersive scenography. 'I didn't want to be constrained by any function whatsoever so I created abstractions of rooms. I wanted to create a dream-like state.'

The first room, conceived as a winter garden, features a black and white neo-Byzantine mosaic floor wrapped by rattan and mirror walls, while the second room is a round upholstered boudoir featuring a banquette in chromatic shades of green velvet that curves around its perimeter.

Eilean
Of all the craft exhibits on show at 'Homo Faber', it is the Scottish-built 1936 sailing ketch Eilean that is the most extraordinary. Not least because of its size and stature. The 22m yacht – the quietly elegant star of Duran Duran's 1982 Rio video – will be open throughout the exhibition.

A rare and beautiful object, both inside and out, she was acquired as a wreck in Antigua by Florentine watch marque Panerai. In 2006, she was transported across the seas by cargo ship to a dock in Italy, where a three-year restoration plan was prescribed.

While Eilean celebrates the Florentine watch brand's sea-worthy links by way of its 1940s Italian Navy diving watches, It is the efforts of master Italian craftsmen and engineers that makes Eilean's inclusion in 'Homo Faber' so pertinent. Working from preserved plans from its original designer-makers, the famed William Fife boat engineers In Ayrshire, it has been returned to life with fond regard for its original form and character.

Eilean exists as a working yacht but also to highlight the exquisite achievement of traditionally trained engineers to whom artistry was as crucial a component as machinery. Today, she is as 'fast and bonnie' as Fife envisaged when he first set her to sea in the early 20th century. Unmissable.
INFORMATION
'Homo Faber' is on view from 14-30 September. For more information, visit the 'Homo Faber' website
ADDRESS
Isola di San Giorgio Maggiore 30133 Venezia VE Italy