A transborder glass collaboration forges at Zona Maco in Mexico City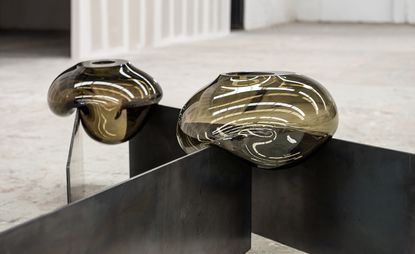 (Image credit: Camila Cossio)
An inventive, transborder design collaboration sees the light of day at the 15th edition of Zona Maco art fair in Mexico City (7-11 February). Two of Mexico's coveted designers, Héctor Esrawe and Emiliano Godoy, have teamed up with the LA-based Brian Thoreen to produce a collection that pushes the boundaries of glass design.

Fifteen pieces are on display this week at the booth of Nouvel Studio, a Mexico City-based glassblowing brand and workshop, who commissioned the project — and more pieces are in the making. Combining functionality and innovation, the design objects incorporate materials like steel, brass and stone, and place them into an unlikely dialogue with glass, where minimalism meets organic forms.

'Our ambition was to confront these materials with glass, and highlight the beauty of Nouvel Studio's craftsmanship,' explains Godoy, a leader in sustainable design. When the brand approached the two Mexican designers (who are long-time collaborators), Esrawe quickly suggested to include Thoreen, who is now in the process of relocating his design studio to Mexico City. 'There's freedom that comes from affordable space, and a culture of pushing creative boundaries,' explains the designer of his new adopted home.
The untitled collection is composed of five different strands, each with a distinctive approach to glass work and materiality. At Zona Maco, the series 'Precarious' is the most represented, and consists of glass pieces formed around steel and brass plates, co-existing in a delicate calibration. 'The contrast is quite severe,' affirms Thoreen, whose previous solo collection 'Unsettled' debuted at Patrick Parrish in New York last year. 'The glass is transparent, while the plates are rougher and less refined,' he continues.

Meanwhile, the series 'Bedrock' and 'The Upside Down' introduce the use of locally-sourced stone. The first consists of light, coral pink rectilinear volumes, gracefully proportioned between an open glass container and the stone-based foundation it delicately rests on. And the second combines a rough, chiseled stone pyramid with a glass cylinder, which, depending on its configuration, can be used as a side table or a vase.

'We left many in-progress concepts and pieces for future collections,' explains Esrawe of the ongoing collaboration. In the midst of the North American Free Trade Agreement (NAFTA) renegotiation, this feels like a timely reminder that innovation across borders continue to advance the creative fields in exciting and, often, unexpected ways.
INFORMATION
Zona Maco is on view until 11 February. For more information, visit the Zona Maco website (opens in new tab), the Esrawe website (opens in new tab), the Emiliano Godoy website (opens in new tab), the Brian Thoreen website (opens in new tab) and the Nouvel Studio website (opens in new tab)
ADDRESS
Centro Citibanamex
Lomas de Sotelo
Hipódromo de las Américas
11200 Miguel Hidalgo
CDMX
Mexico
VIEW GOOGLE MAPS (opens in new tab)