Housden's collection of Gerrit Rietveld's furniture goes on sale at Christie's
Brian and Margaret Housden's daughter shares musings on the legacy of the furniture that lived at Housden House, going to auction tomorrow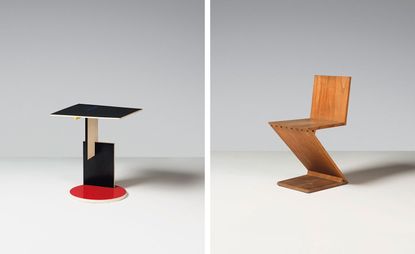 (Image credit: Gerrit Rietveld)
Over a dozen pieces of furniture by Gerrit Rietveld from the collection of late architect Brian Housden are going under the hammer at Christie's. Representing a 'complete survey' of Rietveld's most significant furniture designs, the lot includes thirteen pieces of furniture owned by Housden and his wife Margaret – each piece taken from their 78 South Hill Park home in London's Hampstead Heath.

Describing the collection as being one of a kind in terms of its breadth, Christie's expects the auction to fetch from around £2,000 for a 'Zig-Zag' chair; designed between 1932 and 1934, to around £70,000 for a rare 'Elling' sideboard; designed in 1919 but made in around 1962.

'The sideboard was always in use, a vital piece of furniture for storing crockery, napkins and glasses in the cupboards and the surface areas were used for cutlery, small vases, mats and the much used cheese bell,' said Tess Housden, who is the daughter of Brian and Margaret and has worked with Christie's on this auction.
'After school, we would sit on the Berlin Chair to do our homework as it had a large, flat armrest that could accommodate exercise books, says Tess. 'I remember our dad often sat on the Red Blue Chair to watch television, smoke his pipe and read the daily paper. I would definitely say that this piece of furniture was the most used. This was "his" chair.'

Brian and Margaret's relationship with Rietveld began after the pair took a trip to the Netherlands in the late 1950s. Here, they visited his Schroder House in Utrecht, and began collecting Gerrit Rietveld's furniture after he presented Mrs Housden with a chair.
'Our mother enjoyed telling us and her grandchildren about their first meeting with Gerrit Rietveld in Holland – how she admired the Red Blue chair she was sitting on and Rietveld telling her that she must have it. This was the beginning of a collection of furniture that would then develop over several years,' Tess continues.

According to Christie's, its appreciation for Rietveld's work was somewhat pioneering for the time period, 'the importance of the architect having by then been largely forgotten outside of the Netherlands.'
Eventually, the architect offered to look at plans that the Housden's had drawn up for his family home, encouraging them to rethink and instead create one of the UK's first Brutalist dwellings. In turn, Rietveld gifted the couple with 14 pieces of his furniture, which were scattered around the 78 South Hill Park house, becaming part of its legacy.

'The importance of the furniture came from the fact that our father was very proud of his friendship with Gerrit Rietveld; in many ways, Rietveld was instrumental in encouraging our father to be bold and adventurous with the plans of the house he was to build in South Hill Park,' says Tess. 'In this same way, the furniture Rietveld designed for the house also became a key part of our time there and I cannot think of our time growing up in the house without these pieces.'

'Friends and neighbours would visit frequently to play and we would climb onto the furniture and find fun ways to amuse ourselves with it. Our dad wanted the furniture to be used; they were very much utilitarian.'
INFORMATION