Dinner, drinks and disco: Salone del Mobile's top entertainment installations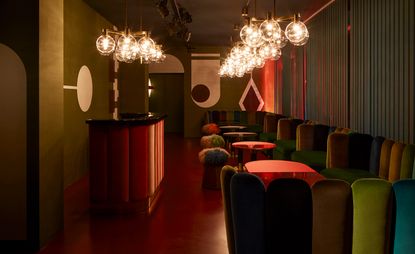 (Image credit: TBC)
Everyone loves to party at Salone del Mobile, there's no doubt about it. But over the last couple of years, we have noticed that the party has definitely started to feed into the exhibitions themselves. New launches are getting paired with a negroni, brands are popping up with culinary installations, and furniture is getting a disco makeover. We invite you to party on with us via our top dinner, drink and disco exhibitions at Milan Design Week...

elit Proun bar, by Carmody Groarke and elit vodka at Wallpaper* Handmade
Inspired by Russian Constructivism and the work of artist El Lissitzky – both references for the vodka brand elit – the Proun bar offered a retox opportunity amid all our Wellness + Wonder. Named after a series of paintings by El Lissitzky – Proun being a Russian acronym for 'project for the affirmation of the new' – Carmody Groarke's totemic composition of aluminium modules is a spatial experiment as much as a fully functional bar space. Its modular composition nods to El Lissitzky's work and will allow the bar to be disassembled and reinstalled at future art events.

17-22 April; Via della Moscova 28
Make A D(w)ish at 28 Posti
During Milan Design Week at Navigli-side restaurant 28 Posti Chef Marco Ambrosini and industrial designer Odo Fioravanti ask: what makes a dish a dish? The duo has created a six-course tasting menu conceived as a tongue-in-cheek meeting of food and design that pits Fioravanti's obstacle course-like tableware against Ambrosini's inventive Campanian-style fare. The menu included patisserie-style macarons flavoured with anchovy, a Duchamp inspired 'ready-made' Pasta al Pomodoro, and a course simply titled 'empty dish' — a nod to the dwindling portion sizes in upscale restaurants. The outcome is a cleverly thought out concept menu that, thankfully, doesn't take itself too seriously. Writer: Laura Todd
17-22 April; Via Corsico 1; www.28posti.org

Disco Gufram at Mediateca
We partied with the likes of 'Charly', 'Betsy', 'Stanley' and 'Tony' in Milan this year with Gufram's soul-powered furniture collection at the Wallpaper* Handmade Mediateca space this year. These Disco-going characters hark back to the Italian brand's disco design past for a playful new collection that is imbued with typical Gufram exuberance. Each collaboration is developed organically: beginning with Dutch artist duo Rotganzen, whose signature disco balls (originally created for site-specific installations) feature on a series of lacquered cabinets (pictured). Read about the rest of the collection here

17-22 April; Via della Moscova 28; www.gufram.it

Chez Nina by India Mahdavi at Nilufar
Puppeteer of immersive wonderlands India Mahdavi masterminded a refined exclusive club environment inside the coveted gallery. Taking its name from Nina Yashar (founder of Nilufar Gallery), the space is all wrapped up in textured De Gournay wallpaper, complete with Mahdavi-drawn geometric patterns on a sweeping silk mural. Opulent furnishings by Gio Ponti, Martino Gamper and more from Yashar's collections pepper the space, alongside bespoke acid candy table tops. This spot was a place for after dark tipples, rumour swapping and relaxation.
17-22 April; Via Della Spiga 32; www.nilufar.com

Gabriel Scott at Bar Basso
Montreal-based design studio Gabriel Scott was inspired by Bar Basso's fierce Negroni Sbagliato for his exhibition at the iconic haunt. Working together with its prolific owner, Maurizio Stocchetto, the pair realised a lighting installation in blown-glass and new custom satin copper, alongside copper hardware and alabaster glass to compliment the original 1960s decor. Courtesy: Gabriel Scott

17-22 April; Via Plinio, 39; www.gabriel-scott.com

Daniel's Café at Swarovski Palazzo
The crystal giants bought a hint of its hometown to Milan this year with a pop-up Daniel's Café. The Wattens-based eatery served up Viennese patisserie to go alongside its glittering new collections. Menu highlights included a twist on Daniel Swarovski's personal favourite, a cake with almonds, chocolate and blackberry jam, and flavoured macarons and praline chocolates.
17- 22 April; The Courtyard at Palazzo Serbelloni, Corso Venezia 16; www.atelierswarovski.com

Bar Anne by Space Encounters
Part exhibition, part bar, and (say its creators) part 'fun happening', Bar Anne was a space 'by designers, for designers'. Amsterdam's Space Encounters presented interactive work from the likes of Mae Engelgeer and Sabine Marcelis, alongside an immersive installation from Children of the Light. This was a place to be at home: guests were free to try and test each design as desired. 'Sit on them, jump on them and even sleep on them'. As the week drews to a close, the latter was necessary.

17-21 April, Corso di Porta Ticinese, 95,; www.klaaskuiken.nl

The Diner by David Rockwell
Over in the vaults of Ventura Centrale, the New York-based architect channeled his skills in hospitality and set design for an all-American diner concept. The Rockwell Group teamed up with studio 2x4 and Surface magazine for the venture that recreated four different environments, within one space. The culinary pop-up took guests on an American road trip that travelled from an Airstream-inspired coffee and pie bar to West Coast lounge via an East Coast-style classic diner.

17-22 April; Via Ferrante Aporti 15; www.rockwellgroup.com

Club Unseen by Studiopepe
Arianna Lelli Mami and Chiara Di Pinto of Studiopepe realised a conceptual 'members only' space at a concealed Brera location. Club Unseen bought together historical and contemporary design with products from global brands including Tacchini, Dedar, Atelier de Troupe and Pulpo. The club continued the Milan-based creatives' exploration of hospitality which last year saw them create The Visit, a sophisticated styled apartment. Read more about Club Unseen here.

By appointment only; www.clubunseen.com

Vino & Design's EustachiORA
Tree-lined Via Eustachi was transformed into a district of wine and design during Salone del Mobile – all in the spirit of sharing. With the aim of overturning natural compeition between traders, EustachiORA united a selection of designers and wine makers in a week-long knees up. Guests were invited to taste, for example, a red 'Natissa' DOC at Polpetta D.O.C, together with the works of artist Paolo Anselmo, all the while learning the insider tricks and traits of Italian wine culture.

17-22 April, via Eustachi
Seletti's Design Pride
Parading around the 5VIE district for the 3rd year on the trot was Seletti's political party of music, dancing and design. Joining forces with Paridevitale agency, Toiletpaper, Gufram, Heineken, Saviola, Hospitality Truck and a whole host of designers, the trail included special rap performances and fabulous floats for individuals to let loose with their creative flair.
6PM on 18 April; Piazza Castello (corner with via Minghetti); www.seletti.it
Lavazza x Toiletpaper bar
Italian coffee experts Lavazza joined forces with Toiletpaper magazine for a graphic pop art-inspired bar inside the Wallpaper* Handmade space this year. The immersive space served Aperitivo treats and reworking's of traditional Italian dishes, while giving guests a taster of its new vibrant coffee machine collection

17-22 April; Via della Moscova 28
Nonostante Marras
Building on the success of last year's pop-up restaurant Italian fashion designer Antonio Marras hosted up to 60 diners again in the events space neighbouring his atelier. This time his Nonostante Marras bistro was created in collaboration with the restaurateurs behind Domus Rana. Dining chairs were upholstered in Saba ecru linen hand-painted like canvases with faces and figures by Marras. Meanwhile vases, tiles and tableware was co-designed specifically for the project by Marras and Vincenzo D'Alba, and made by Kiasmo. Above diners heads a canopy of floral motifs by Wall & Deco added to the decorative, flamboyant feel. Canadian lighting designer Matthew McCormick hosted a dinner at the restaurant, among others.
INFORMATION
Salone del Mobile runs from 17-22 April
Receive our daily digest of inspiration, escapism and design stories from around the world direct to your inbox
Melina Keays is the entertaining director of Wallpaper*. She has been part of the brand since the magazine's launch in 1996, and is responsible for entertaining content across the print and digital platforms, and for Wallpaper's creative agency Bespoke. A native Londoner, Melina takes inspiration from the whole spectrum of art and design – including film, literature, and fashion. Her work for the brand involves curating content, writing, and creative direction – conceiving luxury interior landscapes with a focus on food, drinks, and entertaining in all its forms