Sculpting iridescent forms with Vincenzo De Cotiis
At Carpenters Workshop Gallery in Paris, 'Éternel' showcases 18 new forms by Vincenzo De Cotiis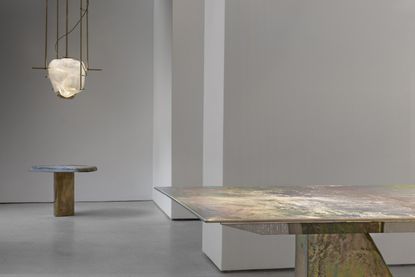 (Image credit: Vincenzo De Cotiis)
By the time Vincenzo De Cotiis went to the Politecnico di Milano to study architecture in the late 1970s, Italy's radical architecture movement was at the forefront of the country's design culture. In that context, it may seem surprising that De Cotiis was more inclined to arte povera's use of rudimentary materials. 'I feel tangent to everything that is artistically expressed through materiality,' says the Italian architect and designer, who set up his studio in 1997. 'Its recyclability has always been part of my artistic path, like fibreglass.'

For his new collection 'Éternel,' launched at Carpenters Workshop Gallery (opens in new tab) in Paris, De Cotiis has produced 18 pieces, including dining and coffee tables, chandeliers, stools and a lounge chair. Simultaneously playing with the vocabulary of furniture and sculpture, the collection combines solemn materials such as iridescent cast aluminium and brass with eastern influences, such as lanterns made of glass with silver foils and cabinet surfaces that emulate Japanese ceramics.
'I have always been passionate about Japanese architecture,' says the Milan-based designer, whose first projects in the 1980s were already infused with eastern references. 'Today, I find this influence in the attention towards the minimal and the intimate.'

While it may be the designer's first solo presentation in France, it certainly isn't his first collaboration with Carpenters Workshop Gallery. In 2018, the London headquarters presented 'En Plein Air,' a 20 piece-strong solo display inspired by late 19th century al-fresco painting.
Meanwhile in Venice, to coincide with this year's Art Biennale, his 17-metre-long wall made of recycled fibreglass and silver plated brass can be seen at the group exhibition DYSFUNCTIONAL, at Galleria Giorgio Franchetti alla Ca'd'Oro, alongside the work of Rick Owens and Michel Lamy, Virgil Abloh, Studio Drift and Ingrid Donat, to name a few.

'I always seem to find myself somewhere between the functionality of the object and its abstract presence,' the designer and architect says of his long-standing artistic inclination. Of his new pieces — which also coincide with the launch of a book published by Rizzoli Electa — De Cotiis says that 'their function is perhaps the last thing to be considered.'
INFORMATION
'Éternel' is on view until 21 December; carpentersworkshopgallery.com (opens in new tab)
ADDRESS
54 Rue De La Verrerie,
Paris, 75004
VIEW GOOGLE MAPS (opens in new tab)