Jonathan Anderson curates 'Chance Encounters' at Loewe in Miami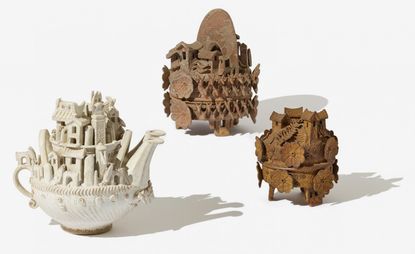 (Image credit: Lewis Roland)
'It's one day of the year when I don't feel like a fashion designer,' says Loewe's creative director Jonathan Anderson, of the whistle-stop visit he will make to Miami tomorrow in time for the opening of Design Miami (5-9th Dec) and Art Basel Miami Beach (6th-9th Dec). 'I love the city. It's exotic, completely opposite to British culture.'

Not that Anderson comes entirely uninvolved. At the Loewe store in the Design District, an exhibition of ceramics by Ian Godfrey, woodcuts by Andrea Buttner and textile works by Anne Low will be unveiled – the fourth in the brand's Chance Encounters series. And Anderson has not only been partly responsible for the curation of the show, but is also one of its major lenders. A significant number of the pieces by Godfrey come from his own collection.

Anderson instituted this annual exhibition when the store opened in 2015, clearing the space of product for the entire Art Basel week. In 2016, it showed the work of British ceramist John Ward, the first practitioner that Anderson had began to collect seriously ten years ago, particularly his elegant black and white hand-built pots. 'They're incredibly sculptural and painterly,' says Anderson, who spends a lot of time placing work. 'Potters have different languages, but they're objects and it forces you to arrange them, to create groupings. You have to build a lot of shelves!'

Anderson also set up the Loewe Craft Prize in 2016, as part of his strategy for the Spanish house's future. 'When I first got the job at Loewe five years ago, I was very enthusiastic about being part of LVMH,' he says, 'but when I got there, I thought what does luxury mean today. I realised six weeks in that this brand is older than everyone living and grounded in skill and understanding materials. You need to communicate that, to build a cultural brand. We fundamentally make bags, and have done for 200 years, but I wanted to talk about that without it being nostalgic.'

Rumour has it that this year's Craft Prize winner, Jennifer Lee, know for her cool, unglazed vessels, is already being courted by some major name art galleries for representation, suggesting that the involvement of the fashion house is also bringing a particular level of attention to those it chooses to spotlight.
Andrea Buttner's woodcut prints include timeless figures, currently on show at Chance Encounters
Back in Miami, the chosen artists' work crosses times and traditions; the exhibition's title, Chance Encounters, suggesting some unexpected dialogues might emerge as it shares the space. Buttner's uses the centuries-old technique of woodblock printing to explore both her own role as an artist in today's society as well as time-honoured issues of humility, shame and religion; the two timeless figures of the beggar and the diver continually and restlessly wandering through her imagery.

Meanwhile Anne Low has learned 18th-century weaving techniques, but uses them to make sensual new work. (One series was installed at the JW Anderson menswear show in Florence in 2017.) Here she has transformed the 18th-century Spanish granary that sits in the Miami store – a delightfully erroneous presence in what is north America's newest city – with layerings of hand-woven silk pillows, mattreses and bolsters, using the stone structure as an unlikely armature for her creations.

It is possible, though, that Godfrey's curious ceramic creations will be the star of the show. Since he died of AIDS in 1992 aged 50, his work and reputation had all but disappeared, with a revival of interest in his work occurring only recently. 'I have become obsessed by him,' says Anderson. 'The story is compelling, but also the work, which is different from what was coming out of the UK at that period.
Ian Godfrey is a personal favourite of Jonathan Anderson's, some of the ceramic works are from the designer's personal collection
Indeed Godfrey trained under Hans Coper and Lucie Rie at Camberwell Arts School, a star pupil who chose to reject his mentors composure and rigour for extraordinary decorative works inspired more by votive pieces and predynastic clay forms from China and the Mediterranean, than 20th-century British modernism. He made small boxes filled with shelves and drawers that opened with flower handles, like ceramic cabinets de curiosités; crazy clusters of blossoms and animals and architecture; a barrel filled with clattering ceramic balls. All were worked on when nearly dry with a pen knife and a ballpoint pen to scratch patterns into the surface, then finished in a thin glaze.

'His work appeals to all ages,' says Anderson, who especially loves the 'Anxiety Balls' barrel. 'Children are fascinated by it. There's the historical referencing but overall there's a surreal quality. I've got a teapot that looks like a mound of sand with a tortoise for a lid.'

Whether Anderson will have time to do any shopping of his own in Miami remains to be seen. 'I managed to buy a piece by Liz Manor, a Canadian artist, a couple of years ago,' he says. A pile of beautifully coloured blankets cast in resin, they were destined for a spot at the end of his bed. 'That's the idea anyway, but the house is still a curatorial mess,' he laughs, and rushes off to get his flight.
Follow more live highlights from Design Miami here

INFORMATION
'Chance Encounters', is on view until 31 January 2019. For more information, visit the Loewe website
ADDRESS
Loewe
110 NE 39th St
Miami
FL 33137