Maria Porro on the Italian furniture brand's Milan reveals and bright future
Forward-thinking, fourth-generation family member Maria Porro is leading the Italian furniture brand Porro towards a bright, innovative future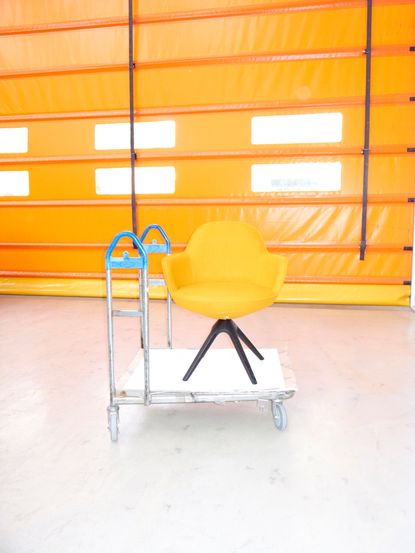 (Image credit: Luca Grottoli)
Porro is a brand that has been ingrained in the Italian design industry for nearly a century. Founded in 1925 by Giulio Porro in Brianza, the company has since been passed down through generations, always keeping its focus on innovation and craftsmanship. Giulio's great-granddaughter, Maria Porro, is now its marketing and communications director, leading the company into the future with a bold vision for design and sustainability.
Maria Porro: a new era of design leadership
In 2021, Porro was also appointed president of Salone del Mobile, a historic moment as she became the first woman to hold this position at the Milanese fair, a place she used to visit as a child. As a pioneering figure, she embodies a new wave of design industry leaders dedicated to promoting values of diversity, inclusiveness and sustainability.
Under Maria Porro's leadership, Porro continues to excel in the design world, with numerous prestigious collaborations, exhibitions and awards to its name. Her vision for the company is to create designs that are not only innovative and functional but also, and most of all, sustainable, eco-friendly and environmentally responsible.
New Milan showroom melds modernity with tradition
One of the most exciting and recent developments for the firm is the upcoming unveiling of its new Milan showroom on Via Visconti di Modrone, after 18 years in Via Durini. 'My father discovered Via Durini. I was with him. [The space] was a hair salon. At the time, nobody could believe it could become our representative store,' says Porro.
The new showroom, designed by Piero Lissoni, is a harmonious mix of modern and classic styles, showcasing the company's latest collections in all their glory. With a hidden glimpse of old Milan, 'the building, with its beautiful brutalist façade, is a mix of brick, glass and metal, covered in ivy', says Porro. 'We loved the showroom's double entrance. It reminds me of the great duplicity of our Milan; some sort of secret garden discovery on Via Ronchetti [the second entrance is on the road behind] in contrast with the frenetic speed of the busy Via Visconti di Modrone.'
The interior is articulated on several levels, full of design possibilities to be explored. And when the new showroom is inaugurated during Milan Design Week 2023, it will host a mysterious and evocative art installation, similar to the imaginative ones that the brand has become famous for over the years, making it an essential stop for any Salone itinerary. The new Milan location is one of many exciting news stories for the brand.
A first space in London
In September 2022, Porro also opened a showroom in London. Launched during the London Design Festival, it is housed in Tom Dixon's Coal Office in King's Cross, a refurbished building that is part of a vast urban renewal project, and is strategically located near Central Saint Martins, a fertile ground for emerging design talent. Maria Porro, who herself hesitated between attending Central Saint Martins and Brera as a 16-year-old (in the end, she settled for the Milanese institution), is particularly interested in fostering future collaborations and encouraging the youngsters of the industry.
Also home to Tom Dixon's headquarters, Coal Office, next to the Regent's Canal, provides the perfect location for Porro's unparalleled approach to designing spaces. This is where innovation and creativity meet craftsmanship and precision, and where new tailor-made projects can be developed, pushing the boundaries of interior design. 'We are very happy about our first space in London, a capital where we wanted to be present for a long time,' enthuses Maria Porro. 'And it is so exciting to be in such an interesting area of the city, with great vibes and exchange of ideas.'
New Porro products debut at Milan Design Week 2023
Milan Design Week sees the company showcasing new products. In the Milan showroom, visitors are greeted by an array of furniture pieces that demonstrate the brand's dedication to bespoke designs. Among these are the new version of the 'Romby' armchair by GamFratesi. 'It is a pleasure to work with GamFratesi,' says Porro. 'Stine Gam and Enrico Fratesi have a great dynamic as a creative couple. I found the special chemistry between the Italian side [Fratesi] and the Danish one [Gam] very interesting.'
A presentation of their creative synergy, 'Romby' was initially launched in 2020, with a striking conical base. The new iteration features four elegant carved legs, available in black-stained ash, which support a semicircular swivel seat. With its rounded backrest and wing-like armrests, the 'Romby' armchair is a balancing act, adding a touch of abstract charm that is quintessentially Porro.
A pledge on sustainability
The company's success is not just a result of its mesmerising creations and collaborations, but also a product of its steadfast pledge to sustainability. With Maria Porro at the helm, the company has placed ecological consciousness at the forefront of its agenda, employing environmentally friendly materials – including white poplar wood, a waste product of the paper industry – and procedures across its product line.
Innovations include a factory roof that is half glazed and half covered in solar panels. The glass allows employees to work under natural light for 80 per cent of the year (working hours vary with the seasons), while the photovoltaic panels supply 30 per cent of the energy needed (a biomass fuelled by wood waste and shavings helps with heating). Thanks to this, the enterprise has achieved remarkable strides in shrinking its carbon footprint, and it remains resolute in perpetuating this trend in the future.
Maria Porro's forward-thinking vision for the brand is a stirring one, firing the imagination with her unwavering commitment to innovation and sustainability. She aspires to keep forging ahead with imaginative designs, while assiduously prioritising quality and environmental consciousness. In her relentless pursuit of creative breakthroughs, Porro aims to unravel new design frontiers and craft something that is innovative, evocative and unforgettable. And her vision for the future? 'Keep
on growing without losing poetry.'  
Porro's new showroom is at Via Visconti di Modrone 29, Milan.
The company is also showing from 18-23 April at Fiera Milano Rho, Hall 7, Stand D15-21/E14-18
Maria Cristina Didero is an independent design curator, consultant and author, who has contributed to many publications over the years; she is currently Milan editor of Wallpaper* . Didero has consulted for companies such as Vitra, Fritz Hansen, Lexus, Fendi, Louis Vuitton, Valextra among others. Based in Milan, she works internationally, curating exhibitions for institutions: some of her most recent projects include Nendo: The Space in Between and The Conversation Show at the Holon Design Museum, Israel; FUN HOUSE by Snarkitecture at National Building Museum, Washington D.C.; SuperDesign a project about Italian radical design, NY; Vegan Design, or the Art of Reduction by Erez Nevi and The Fish and The Crowd by Carlo Massoud, Milan. In April 2022 she curated a Mathieu Lehanneur exhibition at the Triennale in Milan called The Inventory of Life, while in July she debuted a project at the MK&G in Hamburg titled Ask Me if I Believe in the Future, alongside a series of ongoing collaborations. She was appointed 2022 Curatorial Director of Design Miami/. She is currently preparing two projects for Milan Design Week 2023.