Ikea's Space10: a decade of ground-breaking design ideas
Ikea's Space10 has announced it will close on 31 August 2023 after ten years of groundbreaking innovations in food, design and more: see our Space10 top ten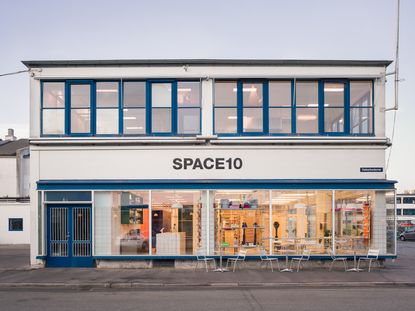 (Image credit: Courtesy Space10)
Wallpaper* Newsletter
Receive our daily digest of inspiration, escapism and design stories from around the world direct to your inbox
Thank you for signing up to Wallpaper. You will receive a verification email shortly.
There was a problem. Please refresh the page and try again.
Space10, the Copenhagen-based design office working exclusively with Ikea on innovative design concepts, has announced it will close at the end of August 2023 after ten years of ground-breaking collaboration.
'Space10 was never meant to last and – after a decade working with Ikea – we have achieved what we initially set out to accomplish,' says Kaave Pour, co-founder and head of the studio. 'We feel immensely proud to have influenced one of the biggest design companies in the world while making our ideas portable and shaping conversations in everything from technology to design, architecture and food.'
From the HQ in Copenhagen's Meatpacking district, the Space10 team has spent the past decade building a portfolio of speculative projects and ideas that were open, democratic, purpose-driven, playful and community-oriented, combining creativity and technology to address the pressing issues of today's living – from climate change to social injustice.
The studio's projects have served as a starting point for Ikea's own work, and its projects were aimed at creating a culture of innovation within the Swedish furniture giant.
'We know the vision and values of Space10 will continue to spread to new places and organisations via our incredible team, the 500 partners we've worked with throughout the years, and the 250,000 people in our community. Space10 will only close as a company, while the mission lives on.'
Says Jon Abrahamsson Ring, CEO Inter IKEA Group: 'The collaboration between Space10 and Inter Ikea Group has been a great learning [experience] with multifaceted achievements and outcomes over the years. Space10 has challenged our mindset of thinking outside the box, they have been our eyes around the corner looking into the future, facilitating new partnerships and business ventures, helping us investigate how we can create a better everyday life for many people. But perhaps most significantly, the partnership between Inter Ikea and Space10 has motivated our internal innovation culture and inspired us in how we approach innovation at Ikea.'
We look back at some of Space10's most innovative ideas.
Space10: a decade of innovation
---
Tomorrow's Meatball, 2015
Among the studio's first projects was an alternative to meatballs to address unsustainable meat production. 'Whether we like it or not, the world's love affair with meat has become one of the largest burdens on the planet,' the team wrote in a text introducing Tomorrow's Meatball, a visual exploration into the types of foods we should be eating in the future. 'Industrialised meat production strains fresh water supplies, is a direct cause of deforestation and grassland destruction, and is linked to massive carbon emissions. Additionally, global food demand is expected to grow by 60 per cent as the world's population reaches 9.7 billion in 2050.'
Following research into technological gastro-innovations, cultural rituals and culinary inventions, the team produced a menu that included The Wonderful Waste Ball, The Nutty Ball, and The Crispy Bug Ball, made using food waste, nuts and legumes, and protein-rich insects – ingredients that nowadays might be considered alternative but that will likely become a normal part of our recipes in the near future.
The Growroom: food-producing architecture, 2016
The Growroom combines sustainable food production, urban greening, and on-demand manufacturing. Presented at Chart Art Fair in 2016 as a one-off project, it soon took off developing into an open-source shareable design that reached users globally. Developed with architects Sine Lindholm and Mads-Ulrik Husum, the structure is imagined as a way to grow food in urban, shared spaces, from offices to homes.
The Growroom can be built with just two rubber hammers, 16 sheets of plywood, and a local maker or workshop to help with CNC milling. Made of wood, it's designed for simple, intuitive assembly. 'Bypassing the pollution of global shipping, we intentionally made the design open source, allowing anyone to download and build their own Growroom where they live,' say the team. 'One month after its release, downloads surpassed the 30,000 mark and that number kept growing.'
Ikea Place, 2017
How can a furniture company remain relevant in the ever-increasing digital and virtual future? Ikea Place attempted to answer this question, through an app that would bring furniture into a user's spaces through the camera on their phone. 'Placing furniture in augmented reality was an obvious use case, yet the potential importance for Ikea was huge,' says a text introducing the project. 'Not everyone lives near an Ikea store, and nearly 40 per cent of people experience an 'imagination gap' – a lack of confidence in taking risks regarding changes in their homes. With augmented reality, Ikea could suddenly meet people where they were. So that is where we started – at home and through the phone cameras people would use to augment it.'
Spaces on Wheels, 2018
Spaces on Wheels explores a driverless future, looking at the potential of self-driving vehicles. 'As self-driving cars find their way onto our streets, it's necessary to explore how they might enable a better everyday life – beyond delivering us from A to B,' say the Space10 team. The project included a history of self-driving cars, a study on their opportunities and challenges, and a collaboration with F°am Studio to visualise seven new ideas for autonomous vehicles for the future. These consist of Flexible Workspace (a roaming shared space that is effectively an office on wheels); Coffee on the Go (a boutique rolling roastery); Healthcare (drug dispensary); Farm (a mobile farmers' market); Play (a pod for augmented reality experiences); Hotel (a sleep station) and of course a shop.
Future Food Today cookbook, 2019
Created in collaboration with design agency Barkas, Future Food Today stews food, technology and science, in a concoction developed from months of research at the lab's test kitchens. The book looks forwards to the sustainable kitchens of tomorrow, highlighting that what we consume today will impact the prospective future. The book reflected Space10's aim to create a positive perception of the future of food, giving people the tools to try out recipes for themselves.
With over 20 unique recipes which challenged 'the category of cookbooks both visually and conceptually', there are takes on sustainable junk food such as the 'dogless hotdogs and algae chips', experimental foods like 'the bug burger', meals to feed a party, zero-waste snacks and many other dishes that 'we could one day be eating on a regular basis'. The recipes reflect seasonal changes and moods, and include inspirations from many cultures.
Open Fabrication, 2019
The Open Fabrication project answers the question: 'How can we apply algorithms to create unique furniture from mass-produced components?' Space10 collaborated with design studio Ransmeier Inc using open-source design principles to transform paper waste into affordable customised furniture. 'For Open Fabrication, we designed a range of prototypes and a conceptual platform for customising furniture from a small but versatile module selection,' they say.
An algorithm can calculate hundreds of furniture designs, starting from eight different modules, creating a range that includes shelving systems, tables, bed frames, seating, and more. 'The modules were made from 100 per cent recycled paper waste, which, if the concept were realised, would actively address a pressing waste challenge. Add aluminium hardware and the result is affordable and customisable furniture that is also recyclable.'
Bee Home, 2020
A click-and-build project designed in collaboration with Tanita Klein and with a digital platform made by Bakken & Bæck, Bee Home is a kit with simple instructions to build and install an insect sanctuary. 'Solitary bees are absolutely essential to life as we know it on this planet,' says Space10. 'For millions of years, these tiny creatures have played a leading role in pollinating flowering plant species. Yet human influences like global urbanisation, the routine use of pesticides, and monoculture farming threaten their place in this world.'
The Ideal City, 2021
Ideal City is a book published with Gestalten exploring how to create a better everyday life in our cities. A compilation of best practice from around the world – 53 cities in 30 countries – the book captures urban projects that are striving to make a difference, gently but inexorably steering towards the impossible goal of 'utopia'. The projects inside range from public toilets to new parks, urban farms, food provision, prisons and wholescale city district regeneration. Divided into five focal areas – The Resourceful City, The Accessible City, The Shared City, The Safe City and The Desirable City – the book includes projects and proposals from featured architects such as SelgasCano, Naruse Inokuma Architects, Gustafson Porter + Bowman, and Urban-Think Tank, along with a host of thinkers and theorists.
Future Forest, 2022
This report explores the potential of technology to support sustainable forestry. 'According to the UN, the world lost 420 million hectares of forest cover in the three decades between 1990 and 2020. Work to reverse deforestation and reforest the planet needs to start immediately,' Space10 writes in the project's introduction. The project evolves from four areas of focus, including ending deforestation, reforestation, traceability, and Indigenous lands, combined with a research into applicable technologies. 'We need to listen and learn about the ways Indigenous peoples interact with forests to understand where, how, and if digital technologies should play a role in local contexts. And provide room for active and ongoing community engagement around the design, implementation, and usability of the technologies,' they say.
Couch in an Envelope, 2023
'Couch in an Envelope' aimed at reimagining the sofa as a flat-packed, modular, and light furniture piece. Designed in collaboration with Swiss studio Panter&Tourron (founded by Alexis Tourron and Stefano Panterotto) and involving AI in the process, the small sofa concept followed the concerns of modern living, from space-saving to circularity.
The design's starting point is the sofa's frame: lightweight (only 10 kg), modular and conceived for easy assembly and disassembly, it is made of 100 per cent recyclable materials. The couch comes flat-packed, in packaging allowing a single person to carry it by a handle, but also allowing wider distribution in a seamless, cost-efficient and more sustainable manner. Materials include an aluminium frame, cellulose-based fabrics and yarns, and mycelium foam.
Additionally, the couch's design takes modern living into consideration: its modular compositions can be adjusted to fit with a person's needs around the home, and changed during the day, from a place of rest to a more social spot.
Receive our daily digest of inspiration, escapism and design stories from around the world direct to your inbox
Rosa Bertoli was born in Udine, Italy, and now lives in London. Since 2014, she has been the Design Editor of Wallpaper*, where she oversees design content for the print and online editions, as well as special editorial projects. Through her role at Wallpaper*, she has written extensively about all areas of design. Rosa has been speaker and moderator for various design talks and conferences including London Craft Week, Maison & Objet, The Italian Cultural Institute (London), Clippings, Zaha Hadid Design, Kartell and Frieze Art Fair. Rosa has been on judging panels for the Chart Architecture Award, the Dutch Design Awards and the DesignGuild Marks. She has written for numerous English and Italian language publications, and worked as a content and communication consultant for fashion and design brands.