'Design is one of the many ways I have to break the rules': inside the colourful world of Gaetano Pesce
As Gaetano Pesce unveils two bag designs for Bottega Veneta at Milan Design Week 2023, we explore the groundbreaking career of the Italian designer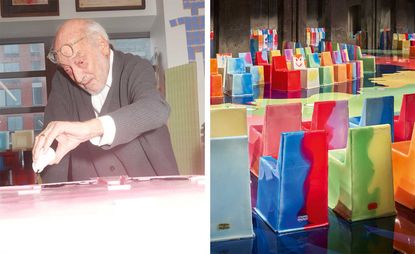 (Image credit: Davey Adésida)
Gaetano Pesce is a master architect and industrial designer by trade. He's also a maverick intellectual, a prankster, and an avant-garde innovator by nature. Since the 1960s, Pesce – born in La Spezia, northern Italy, in 1939, and based in New York for years – has stubbornly pursued every oddball idea that has crossed his path, turning seemingly impossible dreams into reality. He treats each new creation, be it a towering building or a twisting vase as if it's his first love – with boundless passion and endless curiosity.
His oeuvre is nothing short of iconic; a breathtaking showcase of daring creativity that is unmistakably his, and that inspires anyone who comes across it. Pesce has an entire world of wonder to offer and there have been many successes all over the globe. For example, back in 1972, for the notorious MoMA exhibition 'Italy: The New Domestic Landscape' curated by Emilio Ambasz, the designer conceived an installation, The Period of Great Contaminations: Housing Unit for Two People, that played with the notion of temporality, as it was presented as a third-millennium archeologist's discovery of an underground city from a hundred years earlier. Visitors entered his claustrophobic square bunker to discover an empty space, with only two screens showing two naked people walking around. It was a poignant exploration of human vulnerability and our quest for meaning in the face of the unknown.
Pesce's most ambitious project came two decades later, in 1993, with the completion of the Organic Building in Osaka. The mixed-use building's vibrant red façade features steel-encased concrete panels with pocket-like protrusions to support 80 different species of plants and trees, which together form a splendid vertical garden. A triumph of sustainable architecture, it is testament to Pesce's vision of architecture as a means of coexisting in perfect harmony with nature.
However, it is the 'Up 5' armchair and 'Up 6' ottoman – a polyurethane foam structure covered in stretch fabric, issued in 1969 by C&B, the predecessor of B&B Italia – that most vividly capture his deep, daring and unorthodox spirit. A wide and comfortable armchair with alluring feminine curves that seems to cuddle you when seated, bound with a cord reminiscent of a prisoner's shackles to a spherical ottoman, the series challenged societal norms and sparked much-needed conversations about the objectification and oppression of women, demonstrating Pesce's ability to assert the power of objects as potent messengers of social ideals. Beyond its political message, the Up series was also notable for its innovative packaging. The pieces would arrive vacuum-packed in a plastic bag, and only once opened would they inflate. Pesce was already thinking about reducing the volume of shipment 50 years ago.
In 1996, Pesce's radical mind ignited a playful installation for his retrospective at Centre Pompidou, titled 'Le Temps des Questions'. Like a chef crafting a masterful minestrone, Pesce concocted a formula that permeated the entire exhibition space with the scent of the beloved soup. When asked about this aromatic addition, Pesce expressed that he wanted to convey to the public the multidisciplinary nature of his work, as minestrone soup derives its particular aroma from a harmonious blend of diverse legumes and vegetables – and, even with a recipe, every minestrone is different.
His exceptional creativity, emotional intelligence and daring spirit make him a vital and prolific figure in contemporary design, his creations an eclectic mix of remarkable ideas and ingredients, each akin to culinary masterpieces. In recent times, Pesce's unconventional work has been on display in Beijing and Los Angeles. Last year, the Today Art Museum in China's capital held an exhibition entitled 'Gaetano Pesce: Nobody's Perfect', which harked back to his renowned collection of chairs from 2000. The exhibition showcased over 100 pieces spanning more than 50 years of his career, encapsulating Pesce's avant-garde essence and foresight. In March 2023, The Future Perfect gallery in Los Angeles curated 'Dear Future', a beautiful and comprehensive solo show of Pesce's oeuvre that invited visitors to immerse themselves in Pesce's inventive narrative to fully discover it. 
Gaetano Pesce and Bottega Veneta: 'Vieni a Vedere' at Milan Design Week
The trailblazing creative is active and challenges himself on many different fronts: one of his most recent projects is a groundbreaking commission by Italian luxury fashion brand Bottega Veneta. For the Milan Fashion Week unveiling of creative director Matthieu Blazy's Summer 2023 collection, Pesce constructed an immersive catwalk arena adorned with 400 one-of-a-kind resin 'Come Stai?' chairs, each a masterpiece in its own right. Embodying the designer's distinctive, soft and jelly-like aesthetic, the chairs spawned a book with pages that are slightly tilted to mirror their shape.
The project, intended as an homage to the uniqueness and beauty of each human being, captured the hearts of both the fashion and design industries. As Pesce explained at the time, 'We are all different, and this is our defining quality – otherwise, we are just a copy. We are all originals, and this is one of the themes of my design. Everything is different in nature, you cannot find a tree identical to another, or a stone, or a camel… Humans are different too, so why do the major democracies of the world keep talking about equality, making us believe that we are all the same, all equal? In this way, they kill diversity.'
Coloured resins, from gelatinous elastomers to polyurethane foams, are a hallmark of Pesce's work. From his exquisite, glass-like vases to his iconic 'Seaweed' chair, displayed at the San Francisco Museum of Modern Art, and his delicate resin sheets, also known as skins, each piece exemplifies his mastery of the versatile material. With the 'Come Stai?' chairs, Pesce has used resin to a playful yet sophisticated effect. The range of colours, from bold and bright to subtle and muted, gives each chair a distinctive personality and character. Resin's flexibility and resilience also make the chairs comfortable and functional in ways that traditional materials cannot achieve. It's an example of Pesce's continuous commitment to innovation and his willingness to push the boundaries of what is possible in the world of design. He explains: 'This is the progress of materials of the 20th century. Some of them have great values and generosity compared to the traditional ones that are not really high-performance. Resin can be rigid, soft, transparent, opaque, coloured, or not coloured. It has a lot of different qualities that traditional materials don't have.'
And there is more to come. Following on from Come Stai?, Bottega Veneta and Pesce have announced an exciting second collaboration, two limited-edition bags created by Pesce. Launched at Milan Design Week 2023 as part of an exhibition titled 'Vieni a Vedere', the bags feature spiky shapes and bulging forms inspired by mountains and pine trees. Finished with a red top clip that pays homage to sunsets, the design stands for the timeless beauty and raw power of the natural world. The bags are delivered in a beautifully crafted wooden crate, representing the union between Pesce's raw creativity and Bottega Veneta's high craftsmanship.
The 'My Dear Mountains' bag – available in a limited edition of 15 pieces, together with an even more luxurious version, 'My Dear Prairies', in an edition of three pieces – will be presented at Bottega Veneta's Milan store, in a bewildering site-specific installation recalling an eerie contemporary grotto. The journey into the grotto builds anticipation for the final encounter, the bags, which are showcased as rare and curious discovered objects.
According to Pesce, 'when we get to the end, we find innovation, surprise, invention and discovery.' Through his creations, Pesce has proven that objects have the power to tell a story and speak to our most profound beliefs. In his words: 'An object can epitomise or communicate a political statement. An object is way more important than a book that we read and then put back on the bookshelf, where it stays for years. An object constantly speaks to us about its meaning, so in this way, it is more impactful.'
Throughout his career, Pesce has used one iconic creation after another to confront societal and political issues. He has sparked vital conversations that continue to this day, leaving a legacy of innovation and dedication to using design as a means of dialogue and effecting change. With his new collaborations with Bottega Veneta, he has the opportunity to bring his vision and approach to design to a new audience. His designs for the house infuses fashion with political and social commentary, bringing up significant conversations about the role of fashion in society and the intersection of fashion and politics. They have the potential to transcend the realm of style and speak to our most pressing concerns. In this, the architect has been consistent. 'Design is one of the many ways I have to break the rules. Another one is architecture, or a drawing, or a resin skin.' In the end, his legacy will be one of a visionary architect and designer who used his radical craft to effect change in the world.  
Pesce's bags for Bottega Veneta will be on show from 15-22 April at 'Vieni a Vedere'
Bottega Veneta
Via Monte Napoleone 27/A
Milan
Book a slot via bottegaveneta.com
A version of this article appears in the May 2023 issue of Wallpaper*, available in print, on the Wallpaper* app on Apple iOS, and to subscribers of Apple News +. Subscribe to Wallpaper* today

Maria Cristina Didero is an independent design curator, consultant and author, who has contributed to many publications over the years; she is currently Milan editor of Wallpaper* . Didero has consulted for companies such as Vitra, Fritz Hansen, Lexus, Fendi, Louis Vuitton, Valextra among others. Based in Milan, she works internationally, curating exhibitions for institutions: some of her most recent projects include Nendo: The Space in Between and The Conversation Show at the Holon Design Museum, Israel; FUN HOUSE by Snarkitecture at National Building Museum, Washington D.C.; SuperDesign a project about Italian radical design, NY; Vegan Design, or the Art of Reduction by Erez Nevi and The Fish and The Crowd by Carlo Massoud, Milan. In April 2022 she curated a Mathieu Lehanneur exhibition at the Triennale in Milan called The Inventory of Life, while in July she debuted a project at the MK&G in Hamburg titled Ask Me if I Believe in the Future, alongside a series of ongoing collaborations. She was appointed 2022 Curatorial Director of Design Miami/. She is currently preparing two projects for Milan Design Week 2023.
With contributions from