A closer look at Gaetano Pesce's colourful set for Bottega Veneta
Comprising a poured resin floor and 400 unique chairs, Gaetano Pesce created the set for Matthieu Blazy's sophomore outing at Bottega Veneta this past weekend in Milan – a demonstration of the designer, artist and architect's humanist style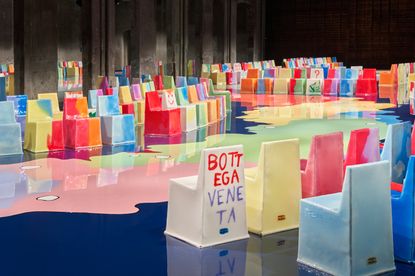 (Image credit: press )
A few days prior to Matthieu Blazy's much-anticipated sophomore collection for Bottega Veneta, the Italian house announced that multi-hyphenate designer, artist and architect Gaetano Pesce would create the show's set in an 'unprecedented commission'.
Comprising a vast poured-resin floor in the vivid saturated palette for which 82-year-old Pesce is known – adorned with a swirled 'Gaetano' close to the entrance – and 400 individually designed chairs, the set was a bold expression of the Italian designer's distinctive humanist approach. Defined by a feeling of play, and often featuring naive motifs, he rallies against repetition, favouring pieces which are entirely unique and one-of-a-kind.
Gaetano Pesce for Bottega Veneta S/S 2023
Such was the case here: chairs might be adorned with hand-drawn smiley faces, bottles of drink and half-full glasses, cartoonish handbags or 'Bottega Veneta', in Pesce's own scrawl. Relatively simple in shape, they mark the first original chair in some years from the designer, and are crafted from cotton canvas which is then dipped in resin. Titled 'Come Stai?', they will go on to be exhibited at Design Miami later this year, where they will also be available for purchase.
'As a designer, I make originals, not standardised series, that's the old way – this is the new way,' Pesce said. 'And this is a fashion company that did a fantastic job in helping me realise such a project. It is a message that is super political – and it is not a museum or a gallery that is helping me convey it. Who makes culture today? The museum or the fashion company? It is food for the brain – not for pay. If we see the same thing each day, then we die.'
It is a rallying call for individualism, something which has been at the heart of Pesce's work since its beginnings. 'This space is a tribute to diversity. It is about the human being; we are all different. We are all different and this is our defining quality – otherwise, we are just a copy. We are all originals, and this is one of the themes of my design.'
It provided an apt backdrop for an adept second collection from Blazy, which the designer said moved between 'the archetypal and the individual', designing 'not just for one woman or one man, but for women and men.' He said that the collection began from a meeting with Pesce, and a shared desire to create a collection which felt like 'the whole world in a small room' – from extraordinary renderings of everyday clothing (a plaid shirt and denim skirt conjured from nubuck leather, for example), to 'the eroticism of ultra-sophistication' (bourgeois trench coats, pin-sharp tailoring, tasselled gowns in colours worthy of Pesce himself).
'The world in a small room: the premise is simple – the collection is about a contrast of characters on the go, invited to travel through Gaetano Pesce's landscape,' said Blazy. 'Here, two distinct worlds are juxtaposed, while our journey of craft in motion and quiet power continues.'
INFORMATION
bottegaveneta.com (opens in new tab)
Jack Moss is the Fashion Features Editor at Wallpaper*. Having previously held roles at 10, 10 Men and AnOther magazines, he joined the team in 2022. His work has a particular focus on the moments where fashion and style intersect with other creative disciplines – among them art and design – as well as championing a new generation of international talent and profiling the industry's leading figures and brands.