Natural remedies for anxiety and burnout
Combat anxiety and burnout with these natural remedies, including mood-boosting supplements, scents, and sound therapies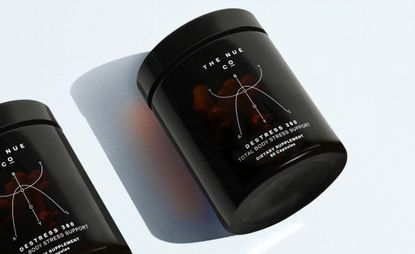 (Image credit: thenueco)
The events of the past year have made anxiety and burnout a familiar feeling for many people. While the future seems poised to get a bit brighter, the physical and mental toll of what we have experienced collectively – a global pandemic, political upheaval – and individually – grief, economic woes, relationship changes – will have resounding effects for some time to come. Natural remedies for anxiety may be one way to try to soothe our souls.

'It's a common misconception that stress only affects us emotionally and that its effects come and go as quickly as our mood changes,' says Jules Miller, founder of The Nue Co.

'We feel stress in our bodies, yet often we don't make the connection between stress and our stomach cramps, or stress and disinterest in sex. Research shows that our body carries physical memories of elevated stress far longer than our emotions do.'

While there are plenty of effective methods for naturally alleviating stress, including exercise and meditation (opens in new tab), the following supplements, scents, and sound therapies can serve as additional boosts when you need help de-stressing.
Co incense from The Noguchi Museum
This incense collection from olfactive art gallery Folie à Plusieurs and the New York-based Noguchi Museum, blends fragrance with experimental music to create an immersive, soothing experience.

The collection includes five different incense packs created by Japan's oldest incense supplier, Kungyokudo, that come with a download link to an album composed specifically to accompany each fragrance, composed by experimental musicians based in Japan and Europe.
shop-folie.com (opens in new tab)
Destress 360 by The Nue Co
Destress 360 is the latest product launch from beloved supplement and skincare brand, The Nue Co. This vegan ingestible is clinically proven to regulate the stress hormone cortisol, while supporting the five bodily functions most depleted by long-term stress – sex drive, muscle tension, immunity, digestion, and focus.

The formulation includes sensoril, a root extract from India clinically proven to reduce cortisol and improve focus; magnesium to support the central nervous system and muscle function; pine bark extract to improve blood circulation to sexual organs; and zinc, which tends to get depleted when we experience high levels of stress.

Most notable, however, is its use of L-theanine (AlphaWave). This green tea extract is intended to support the production of alpha brainwaves, which are associated with a state of relaxed concentration and increased creativity (as opposed to beta brainwaves, which are produced during the adrenaline-pumping moments of high stress).
thenueco.com (opens in new tab)
Mind Unwind by The Hao Life
The Hao Life is a new supplement brand founded by two Chinese-American friends who wanted to reimagine traditional Chinese herbal blends so that they addressed the most common health complaints of modern life.

The brand's Mind Unwind supplement is based on a classic Chinese medicine formula for grounding emotions that dates back to the Han dynasty. It includes reishi, a mushroom used to curb restlessness, coral lily bulb (Bai He) to enhance cognitive function, and jujube seeds (Suan Zao Ren) to aid sleep.
thehaolife.com (opens in new tab)
Camino by Perfumera Curandera
Perumera Curandera aromatherapy oils and perfumes are handmade from Amazonian and Andean plants from the Peruvian and Ecuadorian rainforest. All of the products are informed by Curandero teachings (native healers principally based in Latin America) and made at the brand's small studio in Topanga, California.
Camino is one of the brand's most calming fragrances and is made using what is considered holy wood from the Peruvian Altiplano, mixed with sandalwood, traditionally used to combat anxiety, and clarifying frankincense.
perfumeracurandera.com (opens in new tab)
Worry Not by Flomacy
Flomacy's ingestible tinctures use floral and plant essences to naturally shift unwanted moods. It is a more design-conscience version of Dr Bach's ever-popular Rescue Remedy, but with the same effectiveness. It uses floral essences to combat anxiety in much the same way CBD is used for the same purpose, or St John's wort is used as an over-the-counter remedy for depression symptoms.

You can purchase Worry Not from the Flomacy online store or schedule a one-to-one appointment with the brand's founder, naturopath Hannah Knight, for a tailored made remedy.
flomacy.com (opens in new tab)
Mary Cleary is the Beauty & Grooming Editor of Wallpaper*. Having been with the brand since 2017, she became an editor in February 2020 with the launch of the brand's new beauty & grooming channel. Her work seeks to offer a new perspective on beauty, focusing on the pioneering personalities, product designs, and transformative trends within the industry.