La Bouche Rouge launches fully sustainable makeup collection
We speak to the maison's founder about the brand's expansion and the future of sustainable beauty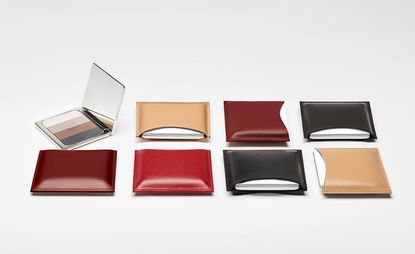 (Image credit: laboucherougeparis.com)
Three years ago, Nicolas Gerlier co-founded La Bouche Rouge with one mission: to bring sustainability to the world of luxury beauty. Free of micro-plastics and housed in customisable, refillable cases, his haute line of lipsticks quickly became a cult favourite. Covetable collaborations with fashion brands including Nanushka, The Attico, and The Webster would quickly sell out, proving that Gerlier's vision had tapped into a growing eco-consciousness in the beauty business.

For Gerlier, an industry veteran who has worked with L'Oréal, Armani, and Lancôme, the lipsticks were just the starting point for his vision of a 21st-century maison de maquillage. Now, La Bouche Rouge is expanding its product range with the release of a complete sustainable make-up range with each piece crafted as a lasting possession.
The design-led collection is micro-plastic and cruelty-free, made using all-natural formulations. It features Le Serum Noir mascara – encased in a recycled glass container, Le Khol Noir – a 98 per cent natural formula eyeliner, Le Crayon à Sourcil – an eyebrow pencil, and Le Sérum Sourcil – an eyebrow serum.

Made of recycled metal and upcycled leather, the Universal Compact is the pièce de résistance – it can be personalised and used to house any of the range's refillable powders including the La Terre bronzer, La Lumiere highlighter, and Les Ombres eyeshadows.
W*: Why did you decide to expand the range into other products?
Nicholas Gerlier: The vision for La Bouche Rouge has not changed. We spent five years developing this vision, and we launched three years ago with the lipsticks. The first three years of the brand convinced us that our concerns around plastic use, accessibility, and sustainability in luxury were shared around the world, and that fashion and design could be used to shape the future in a meaningful way. We are the first French sustainable maison in make-up and it's something we are really proud of.
In 2020, this is more important than ever. Because of Covid-19, we are more interconnected than ever before, we understand what is happening in London, Paris, and Shanghai. We understand the impact that we are now having, that we are a small planet and we need to be careful. The responsibility of the 21st century is not to wait to engage a change, it is to engage a change in our everyday life.

The way you consume beauty, your daily routine, is part of how you shape your future. Today, if you want to create a luxury brand, you cannot destroy the future of the planet. You have to make a commitment. It is really important to us to create objects for life.

It's why we're not using plastic, it's why we're using metal and upcycling metal. In beauty, the idea of responsibility and durability is so important, and when you are using natural ingredients, you also have to consider the fair trade supply chain behind them.
W*: How involved are you with the design of the range?
NG: I designed the new products myself - but it is very much about teamwork. It's a collective work. You want to innovate and to create something strong - to do this alone, you are nothing. You need the craftsmanship and the artisans.
W*: Do you think people's ideas about luxury have changed over the last few months?

NG: More so during Covid we understand that what is surrounding you, what you have around you, is representing your priority. What is the object in your daily life? After Covid, we have accepted the fact that we should not over-consume. We have stayed with our families, stayed in our homes and we have lived with the minimum of things in our life. We have accepted our priorities.
When you are in this very important moment, you are thinking that you want to place things around you that are more aligned with you - in your professional life, your daily life, your family. Luxury of course, is not something you need. It's something to enhance your life. Something that is aspirational to create your dream. You cannot create a dream today that is not respectful of our planet. I think the luxury of the 21st century is starting now.
W*: When you design your products, are you thinking of a particular woman or person?
NG: The craftsmen and I have designed these products with two key focuses. The first is to create something perfect, something extremely precise like an Apple design. We spent three years focused on this project and as with all good design, we have broken and broken it again to create the best version, to try to achieve something perfect in the purest form. We wanted to create something universal and timeless.
The second focus is to stay sustainable in every part of what we do. To make something nice is okay, but how do you make it sustainable? How do you change the rules?

Behind these two pillars, I want to make this line accessible to a maximum of people. Creating luxury today for a small number of people is an option, but the subject of plastic and beauty is something that is in everyone's daily life and I would like to engage with as many people as possible.

When you try to create something precise that is also affordable, that is when it is more challenging. The design was possible to create but the detail was in the price. That's why I'm so proud to have been able to create this range at an affordable price. We don't want to be a niche brand, we want to be the first luxury make-up brand of the 21st century.
INFORMATION
Receive our daily digest of inspiration, escapism and design stories from around the world direct to your inbox