Beauty and the banal: William Eggleston's masterful elevation of the ordinary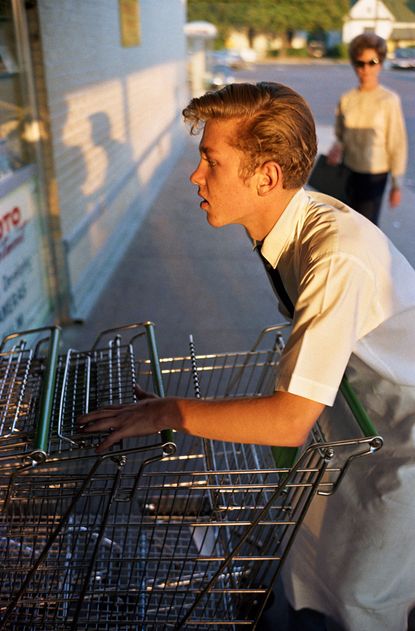 (Image credit: Copyright Eggleston Artistic Trust)
'I'd assumed I could do in colour what I could do in black and white, and I got a swift, harsh lesson. All bones bared. But it had to be,' the American photographer William Eggleston mused once, recalling his first successful colour photograph. 'I had this new exposure system in mind of overexposing the film so all the colors would be there. The first frame, I remember, was a guy pushing grocery carts. Some kind of pimply, freckle-faced guy in the late sunlight.... And by God, it all worked.'

The picture in question is unadulterated Eggleston: unapologetically banal, yet utterly compelling in its divine rendering of colour and light. Currently on view at the National Portrait Gallery, the unnamed photograph (Eggleston has always shied away from titles) is part of a new exhibition opening today in London that encompasses some 100 works by the pioneer of modern colour photography.

Born in 1939 into a wealthy Southern family, Eggleston grew up on his family's plantation farm along the Mississippi Delta (the show includes riveting portraits of Lucille Fleming, a long-time housekeeper for the family, as well as 'house man' Jasper Staples). In 1957 he acquired his first camera – a Canon Rangefinder – and was soon exposed to Henri Cartier­-Bresson's The Decisive Moment and Walker Evans's American Photographs, which most lucidly influenced his earlier work.

A selection of black-and-white portraits – intriguing in their own right – serves as a prelude to the snapshot-style colour photography that has become synonymous with Eggleston. More poignantly, it has been 40 years since the photographer's 1976 MoMA show was universally panned by critics. The New York Times proclaimed it 'the most hated show of the year', while Hilton Kramer seethed, 'Perfectly banal... perfectly boring, certainly.'

If his pictures are ordinary (or so his critics protested), surely his subjects are anything but. Among them was TC Boring, an offbeat dentist with a flair for the florid (his house was the location of Eggleston's seminal 'red ceiling' photograph). A casual nudist and drug addict, Boring was murdered in 1980 by an axe to the head before his home was set on fire with him in it. In one Polaroid, Boring is pictured tending to his garden, bare feet rooted into the earth. In another dye-transfer print, he stands alone in a graffiti-scrawled room, stark naked, scratching his head perplexed and awash in an unsettling cast of crimson. It's an uncanny foreshadowing of the violent end Eggleston's friend would meet.

Elsewhere, a tender moment is captured as Eggleston's cousin Lesa Aldridge comforts a morose Karen Chatham, who had been rebuffed earlier that evening by Alex Chilton, the lead singer of cult Memphis band Big Star. (Aldrige would later be involved in a volatile relationship with Chilton himself, as well as lead an all-female punk band, The Klitz, with Chatham.) The scene reads like a Dutch Master painting, its hues quietly romantic and more delicate than Eggleston's usual palette.

Naturally, Eggleston's prodigious way of seeing drew evermore creative characters into his orbit: portraits of Dennis Hopper, Joe Strummer, Fred Dowell and Andy Warhol 'Superstar' Viva are all on show too, seamlessly knitted with images of his family, friends and strangers.

Eggleston's photographs are vignettes; overtures to the dynastic chronicles, love triangles, melancholy and glee that unfurl from beyond his decisive moment. Perhaps this is why his portraits are so captivating in their sheer mundanity – his offhandedness is so curiously at odds with the intricate entanglements of the people he photographed. His firm refusal to title photographs make them all the more tantalising. 'Whatever it is about pictures, photographs, it's just about impossible to follow up with words,' he once said. 'They don't have anything to do with each other.'

Hoarding tropes of Americana – from the Old South to cars, friends, family, backyards and suburbia – he catalogued them relentlessly and indiscriminately. Sometimes the most ordinary of things are the most beautiful. And Eggleston's ability to capture them is extraordinary.
INFORMATION
'William Eggleston: Portraits' is on view until 23 October. For more information, visit the National Portrait Gallery website (opens in new tab)
ADDRESS
National Portrait Gallery
St Martin's Place
London, WC2H 0HE
VIEW GOOGLE MAPS (opens in new tab)