Tomás Saraceno's Cloud Cities Barcelona: utopian ecology, education, and epic city views
Staged inside the canopy of the new Mirador Torre Glòries, Argentine artist Tomás Saraceno's permanent installation Cloud Cities Barcelona proposes a new kind of interactive civic space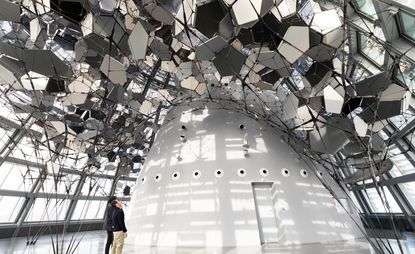 (Image credit: Studio Tomás Saraceno)
'I hate it that people are so clean, we are exterminating the spiders! Where are the spiders?' It was an unexpected answer to a question asked to Tomás Saraceno about whether his latest artwork is child-friendly. But Saraceno does not think – or make – the expected. This installation, Cloud Cities Barcelona, is no exception – seemingly soaring into the Catalan sky from a height of 125m, it fills the 360-degree viewing platform inside the summit of the Mirador Torre Glòries, designed by Jean Nouvel and Fermín Vázquez.
Saraceno's practice also leads to unexpected responses; weaving between architecture, ecology, sculpture, and invention, there are recurring themes, including the aforementioned spiders. For his takeover of the cavernous Palais de Tokyo, the Argentine-born, Berlin-based artist (and 2018 Wallpaper* guest editor) 'collaborated' with 500 live spiders filling the space with their webs. And in Florence's Palazzo Strozzi, he constructed a weblike structure, trapping large geometric pods, which now reads as a scale model for this enormous intervention.
His other overarching interest is clouds, and the delicate, disappearing ecologies they represent. Since 2002, his Cloud Cities series has explored porous modes of utopian, networked inhabitation as large-scale, interactive sculptures. Inspired by the post-war radicals like Buckminster Fuller, Yona Friedman, and Archigram ('Peter Cook was my professor for one semester,' Saraceno recalls), he seeks within these reflexive environments to consider ways of finding new relationships to each other, nature, and architecture.
Cloud Cities Barcelona is the most complex work in the series yet. A carefully composed cradle of slender cables wrapping the light-filled loft – three office floors transformed into one space to facilitate the structure – is not solely a sculpture to gaze at alongside panoramas of Barcelona, but a unique, interactive experience – for those who dare.
After squeezing through a small opening, a tunnel formed of geometric panels is ahead, though the destination remains unknown. It is an unreliable passage, slippery underfoot, occasionally moving as an unknown stranger elsewhere struggles within, and at times claustrophobic – in a space barely larger than an adult body, the only way to progress is sometimes to clamber up or down.
It is tiring and disorientating. Soon a feeling of simply being within, with vertigo in each direction, takes over.
Some of the 113 pods offer cushions as an invitation to pause from the struggle, to relocate oneself within structure and city, maybe flicking through one of the numerous books on form, politics, and nature that Saraceno has laid around what he considers a 'reading space'. 'When at university in Argentina, I was living in a very small apartment and it was impossible to study – me, my brother and sister in one room. The only way to study was to go to a public library, which opened all day and night. For me, I have great respect [for] public libraries in cities.'
For Saraceno, this is not just a touristic spectacle of adventure and city views, but a provocation towards a new type of space for thinking and learning. It's a permanent installation, which eventually he wishes residents to 'use as a public square', and proposes that one day, instead of the current entrance fee, someone could turn up and 'show a book, or say, "I want to read one inside"' for free entry; he talks of a space that 'you can have access [to] because you need it – you need a space in the city'. With nature's clouds disappearing due to climate change, Saraceno speaks of how such networked webs could also be constructed outside, wrapping around existing glass buildings to provide internal shade, as well as a new kind of explorable civic space.
Saraceno's studio contains numerous workers, rooted in collaboration and ingenuity in ways he hopes can benefit the non-artistic world beyond. One of his architects, Tomas Charil, explains that each of the 256 cable-connecting joints in Cloud Cities Barcelona is unique, outputted from the 3D design through a software script. The engineering required to create such tiny detailed elements, as well as how the meshwork interjects into and connects with the building's existing structure, is impressive and, for something which reads as so ephemeral and light, is incredibly robust and resilient.
In commissioning Saraceno, the building's new owners may have been expecting a more conventional touristic viewing experience. Instead, only the most intrepid and agile explorers will find their path through. Saraceno tires of art that is experienced at speed, 'maybe for a selfie, see it, check it, next. It's painful.' Cloud Cities Barcelona is not that, requiring physical labour, and then a desire to pause, perhaps to read a new book, or have an unexpected conversation with a nearby stranger within the web-cloud. Or maybe it's just a space to stop and look from within a man-made cloud down, through nature-made clouds, and towards the city grid below – a space removed, other, and freeing.
INFORMATION
studiotomassaraceno.org
Will Jennings is a writer, educator and artist based in London and is a regular contributor to Wallpaper*. Will is interested in how arts and architectures intersect and is editor of online arts and architecture writing platform recessed.space and director of the charity Hypha Studios, as well as a member of the Association of International Art Critics.