High line: Barcelona's elevated public space brings a bucolic bent to the cityscape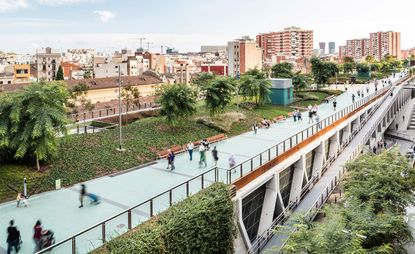 (Image credit: Adrià Goula​)
In the late 1980s, Barcelona's City Hall decided to tear down defunct industrial buildings in the large working class district of Sants and create public parks. This has resulted in some of city's more unusual landscapes, such as the Parc d'l Espanya Industrial with its postmodernist lighthouses and lake, and the Parc de l'Excorxador – once the site of an abattoir, now filled with palm trees and a surreal sculpture by Joan Miró. Now, a new High Line-type project completes the set.

Named the Jardins de la Rambla de Sants, the scheme effectively encloses a corridor of six railway lines, deemed too costly to move underground, and provides a plant-filled urban space in a congested area next to the city's main train station. The 800m long promenade takes shape with prefabricated concrete boxes in the form of Warren beams, which recall classic railway bridges. The triangles of the boxes are filled with glass, which cuts down on noise, while still affording views of the passing trains from ground level.
Large light boxes illuminate the promenade and rooftop gardens in the evening
The top level, or roof, is covered with a variety of plant life, arranged into stylised gardens of Mediterranean bushes and herbs, and miniature forests of rosewood and flowering Koelreuteria trees. With time, creepers will take over the triangular supports of the 'beams', filling the air with the scent of jasmine, while futuristic pergolas and sleek wooden benches provide places to gather.

Sergi Godia and Ana Molino are the architects behind Jardins de la Rambla de Sants. Godia has a strong portfolio of striking civic buildings and public spaces and says the principal challenge with this one was creating a structure 'of large dimensions that was light, transparent and compatible with its surroundings'.

At a cost of 120 million euros the solution didn't come particularly cheap, and further criticism has been directed at the close proximity of the rooftop promenade to the balconies of surrounding apartment buildings. However, like some of Barcelona's other daring public spaces, Jardins de la Rambla de Sants will probably just take a bit of getting used to. If there is one thing Barcelona excels at, it's having the confidence to repurpose its public domains.