An old theatre in Barcelona is reimagined as a live/work space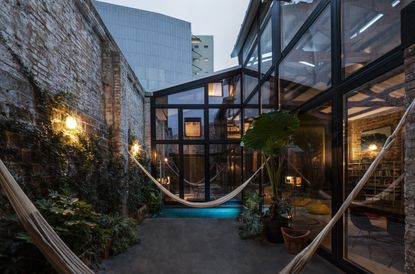 (Image credit: Sandra Pereznieto)
In the heart of Barcelona, in the Poblenou technology district, a lofty timber-framed village theatre had been adapted into a warehouse. Now, the building has been adapted for a new use as a live/work space – and named 'The Theatre' in honour of its colourful past. The renovation and redesign has been imagined by Cadaval & Solà-Morales, an architecture firm originally based in New York, now operating from Mexico City and Barcelona.

Captivating and preserving the history of the building's previous functions, The Theatre retains its large diaphanous loft, where original textures such as wood, metal, brick and stone have been maintained and celebrated in their raw state. The wooden doors of the theatre have been preserved, yet the combination of the wall of framed glazing and the removal of part of the roof from the previous warehouse has completely opened up the space to new light and fresh ventilation.
A new patio extension filled with plants and a cool pond provides a shady oasis of calm – much valued in the busy Barcelona neighbourhood. From houses in the countryside to inner-cty offices, the varied projects of of Cadaval & Solà-Morales each show a consideration for landscaping.

Two double-height studios lie on each side of the main co-working space, featuring a mezzanine on the upper floor for living and a kitchen on the ground floor. The spaces have been furnished with plenty of personality to feel like home – upon entry to the house, you'll be greeted by a vintage Porsche 911, now acting as a sculpture it occupies a space that was initially reserved for parking.
INFORMATION
For more information, visit the Cadaval & Solà-Morales website