Through the lens of Wallpaper* contributor Crista Leonard
'Through the lens' is our monthly series that throws the spotlight on emerging photographers who are Wallpaper* contributors. Every month one photographer is commissioned to capture the upfront Newspaper section – an artist's residency in print form – here we explore their vision further.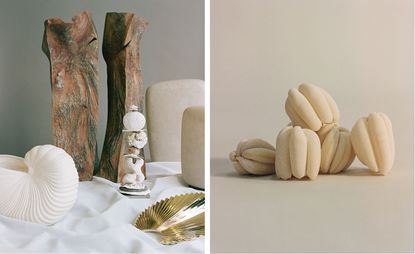 (Image credit: Crista Leonard)
Crista Leonard is a portrait, documentary, fashion and still-life photographer based between London and New York. She honed her serene and suggestive style at Goldsmiths University in London, applying it to both her commercial and personal work for over a decade.

Wallpaper*: Tell us about some of the inspirations behind your shoot with us.
Crista Leonard: It was important for me that each image would be a world in itself, one in which the objects interacted with their surroundings in a way that allowed each image to stand on it's own.

W*: You work across analogue and digital, could describe your style of work and process?
CL: I mainly work analogue and I think that comes from a fascination with the tactile element of film, its path from silver through liquids and onto paper. Having said that, digital is a beast of its own and I don't like the idea of limiting my process, so I try to approach digital with a curiosity for its possibilities.
W*: Is there a tangent that runs through the broad disciplines you operate in (editorial, advertising and travel)?
CL: We're a family of (amateur) photographers and one of my favourite things has been to be able to pour over family albums of photos, the sensation of nostalgia is almost too much to bear at times.

I think it's very powerful to be able to share the way you see the world, because of the significance you can give to a moment or to an object; I suppose that's what I'd like to think is some sort of a tangent that runs through my work.
W*: How much does the subject of a photograph, whether a person or object, inform how you photograph?
CL: I think every person and every object has a personality, so it's interesting to adapt to that and try and find each other somewhere in the middle. Communication is important for building the connection that makes the image.

W*: Alongside your photography, you are editorial director of Hercules Casa and creative director of Philistine Mag, how has this informed your practice?
CL: I think the three positions work very much hand in hand and it's very cathartic to be able to work with different photographers to see the world I've imagined them creating. It also helps broaden my perspectives, discover subjects, artists and worlds I didn't know about.
W*: Who or what made you want to be a photographer?
CL: I wanted a job that allowed me to play continually!

W*: Do you feel that your international background has contributed to or informed your practice?
CL: I think it has, but in a weird way; I have a lot of attachment to places and the objects within them. I think that comes from moving around a lot. And now of course, it informs my need to document spaces and the 'spirits' of the people who interact with those spaces.

W*: What advice would you give to young, budding photographers?
CL: Photography is a way to travel through yourself and spill out, through your eyes, into the world. Make sure you always work on developing your own voice as opposed to being swallowed alive by what can be, at times, a quite brutal and homogenising world.

W*: What's currently on your radar?
CL: I'm looking forward to seeing the Lee Krasner exhibition at the Barbican. I want to see the movie Thunder Road. I'm into Tine Bek's foam sculptures, Dello Studio's installations and Oscar Piccolo's (from the Dello duo) lamps, I love Valentina Cameranesi's vases, Clair Catillaz's ceramics, Gala Colivet Dennison's jewellery and Jermaine Oscar's curated furniture and design store in south London. I'm also working on relaunching Philistine magazine at the moment and I'm burying myself deep into the concept of spaces and how we interact with them.
INFORMATION
artlistparis.com (opens in new tab)