Inside Stefan Brüggemann's epic new studio and residency in Ibiza
Stefan Brüggemann's new Ibiza studio and retreat doesn't miss a beat. The artist offers us an exclusive look at his creative utopia, designed by Alberto Kalach. Explore more in the June 2023 Travel issue of Wallpaper*, on newsstands 11 May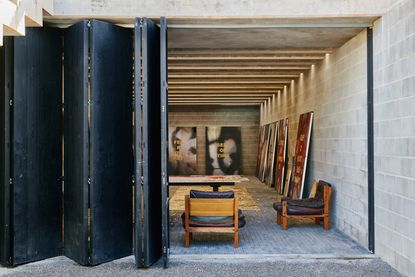 (Image credit: Daniel Schäfer)
Stefan Brüggemann's incisive artworks draw on the political punch of street art, the freedom of punk music, and the clean lines of minimalism. The Mexican artist is now opening a studio and residency space in Ibiza, on a 30,000 sq m plot situated in the centre of the island. Working with his compatriot, architect Alberto Kalach, Brüggemann has brought his genre-defying approach to the project, which comprises a pavilion with domestic, studio and exhibition uses, a botanical garden, and a pool designed to fit seamlessly into the natural environment. It is a place for Brüggemann to live and work between studios in London and Mexico City, and to host a lively residency programme for poets, novelists and fellow artists.
'A friend of mine was interested in buying the plot of land and, for some reason, he didn't go for it. I thought, "Why not?"' he says when we meet at his east London studio, where gold leaf and spray-paint works line the walls, and towering plants cover the mezzanine. 'I was thinking about what it means to be a contemporary artist. I didn't want a warehouse with 100 assistants, or a factory. That sounds very 1980s New York.
'During my research, I found stories about German philosopher Walter Benjamin coming to Ibiza during the Second World War. It reads like the romantic story of an island. It's a place you might go if you're heartbroken or trying to figure out your place in the world. That gave me the idea of a residency for writers and artists, surrounded by nature. It's a place where I can work, live and invite people to be part of discussions. It's a place to explore ideas,' he says.
This is the first European project for Kalach, whose practice is based in Mexico City. The building stands in stark contrast to the white mansions that puncture Ibiza's hills. Formed from utilitarian concrete blocks, the structure is surrounded by plants and bright red sand. Inside the main living space, the gold leaf-clad walls are covered with the artist's text works. A soundtrack of friend and collaborator Iggy Pop reading Brüggemann's text plays in the background. The floor is made of recinto, a Mexican volcanic stone formed from solidified lava. Black burned yakisugi wood features heavily throughout the pavilion and veranda roof.
Brüggemann shared an initial brief with Kalach, and says little changed in the architect's drawings. Kalach saw his role as choreographing the artist's idea of bringing art, architecture, sound and nature together harmoniously. 'I didn't want the house of a football player,' Brüggemann explains. 'He did something really exciting with simple materials, light and space.'
A circular pool situated close to the main building takes on the appearance of a natural pond, surrounded by layered banks of plants. It is cone-shaped rather than cylindrical, allowing distance to swim but saving water capacity. 'I moved all this earth around the pool so that there is more height,' he tells me. 'My idea was that when you're inside, there are all these layers of colours. The idea is that you can go inside and be immersed in nature as if you are in a river.'
The garden has provided a surprising creative venture for Brüggemann. 'My work is about immediacy. I grasp the moment. With nature, it's the other way around. It has been an exercise in giving up control. You can kill a plant by trying to accelerate it. I think the garden is an artwork. I have started around the pool and will keep extending outwards. Maybe I will become a worse artist and a better gardener,' he laughs.
It's a busy year for Brüggemann. In spring, he opened his first UK institutional exhibition 'Not Black, Not White, Silver' at Mostyn in Wales. The show features his ongoing series of Headlines and Last Lines in Movies: paintings overlaying news headlines with the final sentences uttered in classic films to a point of near illegibility. These pieces speak to the cacophony of information overload in the 21st century. 'The details might change but the conflicts stay the same,' he says. 'It's money, sex, loyalty, religion. I'm not making a point about the specific noise that we have, it's about the noise itself. The political act is showing it as it is.'
Later this year, Brüggemann has shows opening at Hauser & Wirth in Los Angeles and the National Museum of Art in Mexico City: sites of political and personal resonance that the artist has previously confronted (in 2020, he installed a double-sided red, white and blue neon work spelling the word 'LIE' on the US/Mexico border). Asked if his work reads differently when he exhibits in these cities, he says: 'If something happens in the US, it affects everybody. They have a position of global power. The Los Angeles show is more politically charged. Most of the conflicts and narratives I talk about are happening there. The show in Mexico City is going to
be more specific. That is about Mexican legacy. I grew up with lots of great street art happening in Mexico and unconsciously understand that the work comes from there. I am doing that in a more contemporary way.'
Brüggemann's approach to art making, fluidly mixing elements from minimalism, street art, conceptualism and other art forms can be seen throughout his career. 'My reason [for coming] to London was music related,' he says. 'I got to hang around [punk impresario] Malcolm McLaren for the last few years of his life. He understood all the different disciplines, art, music, politics, on the same level.' This has had an enduring influence on Brüggemann's work. 'Malcolm's whole idea with the Sex Pistols was taking these guys who couldn't dance or sing and putting them together because they had a great attitude,' he considers, linking these ideas with his vision for the Ibiza studio, and his work more broadly. 'The garden was a little bit like that for me. It's also like that with painting. It's not a great skill, [like] life drawing. It's the way you activate it, the compositions you create, that make it unique.' 
See more of Stefan Brüggemann's new Ibiza studio in the June 2023 Travel Issue of Wallpaper*, on newsstands and available to subscribers from 11 May 2023.
'Not Black, Not White, Silver' is on show until 17 June at Mostyn, Wales, mostyn.org. 'White Noise' is on show from 14 September at Hauser & Wirth LA, hauserwirth.com, stefanbruggemann.com