Sarabande Foundation to expand footprint with new studio spaces in north London
Sarabande Foundation – established by Lee Alexander McQueen – will open 15 new studio spaces for artists, craftsmen and designers in the heart of London's Tottenham in the new year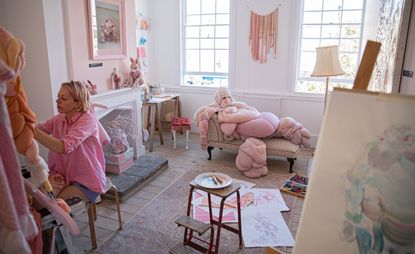 (Image credit: © Sarabande Foundation)
Sarabande Foundation has just announced plans to expand its footprint in the new year with 15 new studio spaces in Tottenham as part of the borough's new creative hub, Paxton17.
Established by late visionary fashion designer Lee Alexander McQueen, the Sarabande Foundation has long championed young creative voices who are blazing trails across the creative landscape.
The charitable foundation's existing headquarters, a listed stable block in Haggerston, opened in 2015 and has since housed more than 130 creatives from 31 countries, offering practical advice and mentoring to talented artists, craftsmen and designers, as well as heavily subsidised studio spaces and free platforms to exhibit work.
Those who have received support from the foundation include fashion designers, performance and digital artists, painters, ceramicists, jewellers, milliners and silversmiths. Among the most noted alumni are menswear designers Craig Green and Bianca Saunders, painter Michaela Yearwood-Dan, engraver and jeweller Castro Smith and photographer Sam Rock.
The expansion, which will house creatives while Sarabande's permanent Tottenham home is restored a few doors down, will broaden the foundation's mission to nurture emerging creative talent at vital stages in their careers. As Trino Verkade, founding trustee of Sarabande Foundation, said in a statement, 'The need for inexpensive artists' studios is higher than ever. There is also a dearth of practical advice for emerging talent – and Sarabande responds to these issues. Tottenham is recognised as an economically deprived area but one field where it is flourishing is within the creative industries. Sarabande High Road will be a big part of creating a new cultural hub in Tottenham, much like how Peckham has been transformed through its burgeoning art scene.'
In keeping with the theme of historically significant spaces, the new studios will be homed in imposing Georgian townhouses, originally constructed around 1715 to 1720 on Tottenham High Road. Following years of vacancy and neglect, the buildings were made weathertight in 2007 by English Heritage, and will be each let at a nominal £1 per square foot, allowing artists and designers to develop their practices ready for the next leap in their careers.
'This project will also support local regeneration by restoring and developing historically significant Grade II* Georgian townhouses,' continues Verkade. 'Local artists and designers will be given space in the studios and the foundation aims to become an integral part of the community. It also means that local residents will not have to travel into central London to experience cutting-edge art and culture, it will be right there on their doorstep.'
INFORMATION
Harriet Lloyd-Smith is the Arts Editor of Wallpaper*, responsible for the art pages across digital and print, including profiles, exhibition reviews, and contemporary art collaborations. She started at Wallpaper* in 2017 and has written for leading contemporary art publications, auction houses and arts charities, and lectured on review writing and art journalism. When she's not writing about art, she's making her own.