Samuel Fosso wins Deutsche Börse Photography Foundation Prize 2023
Samuel Fosso is announced winner of the Deutsche Börse Photography Foundation Prize 2023; see his work, and that of all the nominees at The Photographers' Gallery, London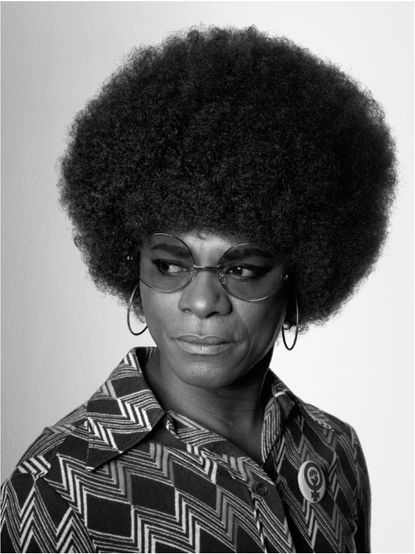 (Image credit: © Samuel Fosso Courtesy of the artist and JM Patras, Paris)
Cameroonian artist Samuel Fosso has been announced winner of the Deutsche Börse Photography Foundation Prize 2023, at a ceremony at The Photographers' Gallery, London, today (11 May). Fosso's work, alongside that of three fellow nominees, all exploring contemporary themes with dynamic approaches, is on display at the gallery until 11 June.
Samuel Fosso, winner of the Deutsche Börse Photography Foundation Prize 2023
Fosso, nominated for his exhibition at the Maison Européenne de la Photographie, Paris, France, has been described as a 'man of a thousand faces', drawing identity into question through his self-portraits. His series African Spirits is a disruptive re-staging of authoritative portraits from the history of Black resistance.
Fosso explains his inspiration is 'everything I have experienced in my life, such as the Biafra war when I was still a child, or the assassination of my friend and neighbour Tala in 1999. But also the story of slavery and all those who freed me, the Senegalese Tirailleurs during the two world wars, the economic weight of China in Africa… What I am trying to express is History. I use my thoughts and my body to tell stories: it is nothing more than that.'
Shoair Mavlian, director of The Photographers' Gallery and chair of the jury, said of Fosso: 'His sustained exploration of self-portraiture uses a traditional, studio-based approach steeped in history, while at the same time, his work remains relevant and addresses contemporary political issues of today with humour and authenticity. His work has created an extraordinary platform for Black voices and artists throughout his career.'
Also on the jury were: Natalie Herschdorfer, director of Photo Elysee, Lausanne, Switzerland; Mahtab Hussain, artist; Thyago Nogueria, head of contemporary photography at Instituto Moreira Salles, São Paulo, Brazil; and Anne-Marie Beckmann, director of Deutsche Börse Photography Foundation, Frankfurt/Main.
Meet the other nominees, also showing at The Photographer's Gallery until 11 June
Frida Orupabo
Frida Orupabo works with multi-layered collages and Instagram posts using material circulated online to ask questions on race, sexuality and identity, as the Norwegian Nigerian artist and sociologist creates archival reworks that reject one-dimensional depictions of Black lives. Nominated for her exhibition 'I have seen a million pictures of my face and still I have no idea', originally shown at Fotomuseum Winterthur in Switzerland, Orupado explains: 'My work is a way of sorting things, sorting emotions and thoughts I have. It's a way of speaking…'
Arthur Jafa
This thread of creating a voice through a reworking of existing material continues in Arthur Jafa's 'Live Evil', nominated for its showing at LUMA, Arles, France which consisted of visceral films, installations and disquieting photographs. While The Photographer's Gallery has a capsule of the original large-scale curation on show, Jafa's critical questioning still rings out loudly 'How can visual media – such as objects, static and moving images – transmit the equivalent power, beauty and alienation embedded within forms of Black music in US culture?'
Bieke Depoorter
Questioning of a different nature is explored in Bieke Depoorter's series, 'A Chance Encounter', previously shown at C/O Berlin, as the magnum artist tests the limits and ethics of creative friendships, performance and authorship through collaborative projects with her subjects Michael and Agata. Both relationships have severed in different ways, Michaels with a mysterious disappearance, while Agata withdraws her collaborative consent. Across both contexts, Depoorter shows radical transparency of the process. 'More and more I realise that unconsciously how you are brought up, the things that happen in your childhood, for example, are shaping your creativity. I am trying to find ways to listen to that and to be guided by that.'
The Deutsche Börse Photography Foundation Prize 2023 exhibition will be on view at the Photographers' Gallery, London, until 11 June 2023. It will then tour to the Muzeum Fotografi w Krakowie, Krakow, Poland (30 June to 17 September 2023), deutscheboersephotographyfoundation.org; thephotographersgallery.org.uk
Sophie is currently Photography Editor at Wallpaper*. Sophie joined the team following the completion of her photography degree in 2018, and works with Photography Director Holly Hay, where she shoots, commissions, produces, and writes on photography. Alongside this, she continues her art practice as a photographer, for which she was recently nominated for the Foam Paul Huf Award. And in recognition of her work to date, Sophie was nominated by the British Journal of Photography for the Futures photography platform in 2021.