Through the lens of Wallpaper* contributor Jack Wilson
Introducing the third edition of our monthly series in which we throw the spotlight on emerging photographers who are Wallpaper* contributors. Every month one photographer is commissioned to capture the upfront Newspaper section – an artist's residency in print form – here we explore their vision further.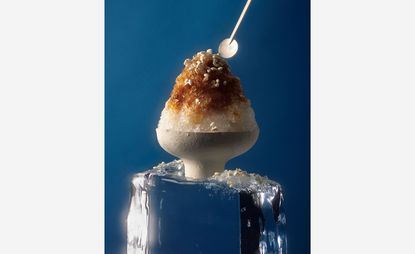 (Image credit: Jack Wilson)
Still life photographer Jack Wilson was born and raised in Sheffield, he moved to London to study sculpture at Central Saint Martins and transitioned into photography after leaving university. His work is featured in our December 2018 issue (out now), and we caught up with him to hear about his working practice.

Wallpaper*: Describe your style of work and process.
Jack Wilson: There's an organised chaos in still life I always consider. I enjoy the tension in creating something on the edge of being discordant. This can come from a clash of colour, texture or opposing forms unified through composition. I want the work to have a sense of movement, which is always a good challenge when dealing with objects. To feel unconstructed is more powerful than engineered.
W*: What made you want to be a photographer?
Wim Wenders book Written in the West must have had some profound effects early on as that's what instantly springs to mind. Later on I remember 'referencing' Hans-Peter Feldmann's 2008 book Album and Wolfgang Tillmans Truth Study Centre a lot during university. Painting has, and always will be a source of inspiration; work by Robert Motherwell, Howard Hodgkin and John Hoyland in particular.

W*: What's currently on your radar?
The Map and Territory by Luigi Ghirri, published by Mack Editions – a comprehensive survey of the Italian photographer's illustrious career. Also Bright Restaurant in Hackney – from the talented guys behind P. Franco. And I keep revisiting Ellen Arkbo's excellent album from last year For Organ & Brass on Subtext Records. §

See more from the Wallpaper* December 2018 Entertaining Special
INFORMATION
For more information visit the Jack Wilson website
Harriet Lloyd-Smith is the Arts Editor of Wallpaper*, responsible for the art pages across digital and print, including profiles, exhibition reviews, and contemporary art collaborations. She started at Wallpaper* in 2017 and has written for leading contemporary art publications, auction houses and arts charities, and lectured on review writing and art journalism. When she's not writing about art, she's making her own.