Patrick Caulfield exhibition at Tate Britain, London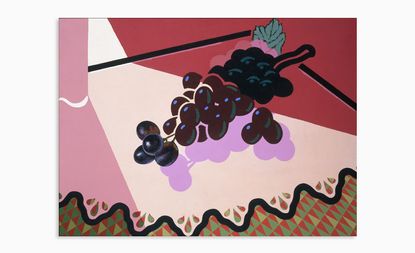 (Image credit: The British Council Collection)
The late British artist Patrick Caulfield (opens in new tab) is, or rather was, in many ways at least, very Wallpaper*. He didn't just paint chairs, he painted chairs by Saarinen (opens in new tab), Eames (opens in new tab) and Bertoia (opens in new tab). Caulfield had taste. He was an architecture buff and fan of Le Corbusier (opens in new tab) and indeed the first of his works you see on entering Tate Britain (opens in new tab)'s new Caulfield show features an early modernist villa in Czechoslovakia, painted in 1963.

'There's a little figure sitting in 'Concrete Villa, Brunn' which is a self-portrait,' Caulfield once said. 'That was really because I was in love with that architecture. I thought I would like to have a house just like that, with tubular steel and iron windows and concrete.' (Interestingly, the gallerist Robin Katz (opens in new tab) showed the painting at the 2011 PAD (opens in new tab) design fair in London, rather than a straight-ahead art fair, and got his asking price of £450,000.)

Caulfield studied at the RCA (opens in new tab) alongside David Hockney (opens in new tab) and was part of the New Generation exhibition at the Whitechapel Gallery (opens in new tab) in 1964, one of those rare shows that heralds not just new but lasting ideas. He was soon called a 'pop' artist - clearly, people said, covering some of the same ground as Richard Hamilton (opens in new tab). Caulfield, though, always rejected the pop tag. He was not in love with, or even fascinated by, America, not in the way Hamilton, Blake and Hockney were. Nor by commercial imagery, certainly not in the way Lichtenstein (opens in new tab) and Warhol (opens in new tab) were.

'People were doing Pepsi Cola tins, girlie magazine images, American trucks, skyscrapers, whatever was up to date,' he said. 'I felt there was more scope in not choosing that kind of subject matter. It was coming mainly from American culture as far as I could see. I don't think that was really the sort of life one was leading. One wasn't leading the polished chrome, racy life that these images suggest.'

He had studied graphic design and had a clear appreciation of the sign-writer's art. He painted flat areas of colour on board using gloss paint, and used heavy black lines. But he was looking to Juan Gris (opens in new tab) and Matisse (opens in new tab) for inspiration, rather than advertising and comic books (though you do feel that, at any moment, Tin Tin (opens in new tab) and Snowy might burst through the famous massed urns of 1969's 'Pottery').

And his subject matter was domestic. Caulfield was an acute observer of post-Festival of Britain shifts in taste and ideas of sophistication, Conran (opens in new tab)'s democratisation of good (Scandinavian) design and Elizabeth David (opens in new tab)'s zealous advocacy of continental cooking. Moreover he did it with wit, an elegant, economic line and an incredible control of colour. And while he has some of Lichtenstein's ironic distance, coldness even, he was more celebrant than satirist.

His interiors were often taken from vintage design books and magazines. And in 'Foyer', from 1973, loaned to Tate Britain by a certain David Bowie (opens in new tab), there is a sense of wonder at the sudden cultural and culinary plenty (in certain parts) of a decade earlier and the late arrival of larger-scale modernism in Britain a decade before that. But there is also something of Edward Hopper (opens in new tab)'s dreamy dislocation. These are pictures about what we might remember of a scene, what might remain vivid, what detail might be lost.

Tate Britain is selling the Caulfield show as a two-for-one deal with a complementary Gary Hume (opens in new tab) retrospective. Which makes sense. Hume is another master of colour and line (and fan of gloss paint).
ADDRESS
Tate Britain
Millbank
London SW1P 4RG
VIEW GOOGLE MAPS (opens in new tab)
Harriet Lloyd-Smith is the Arts Editor of Wallpaper*, responsible for the art pages across digital and print, including profiles, exhibition reviews, and contemporary art collaborations. She started at Wallpaper* in 2017 and has written for leading contemporary art publications, auction houses and arts charities, and lectured on review writing and art journalism. When she's not writing about art, she's making her own.